Best Grilled Pork Chops With Balsamic Glaze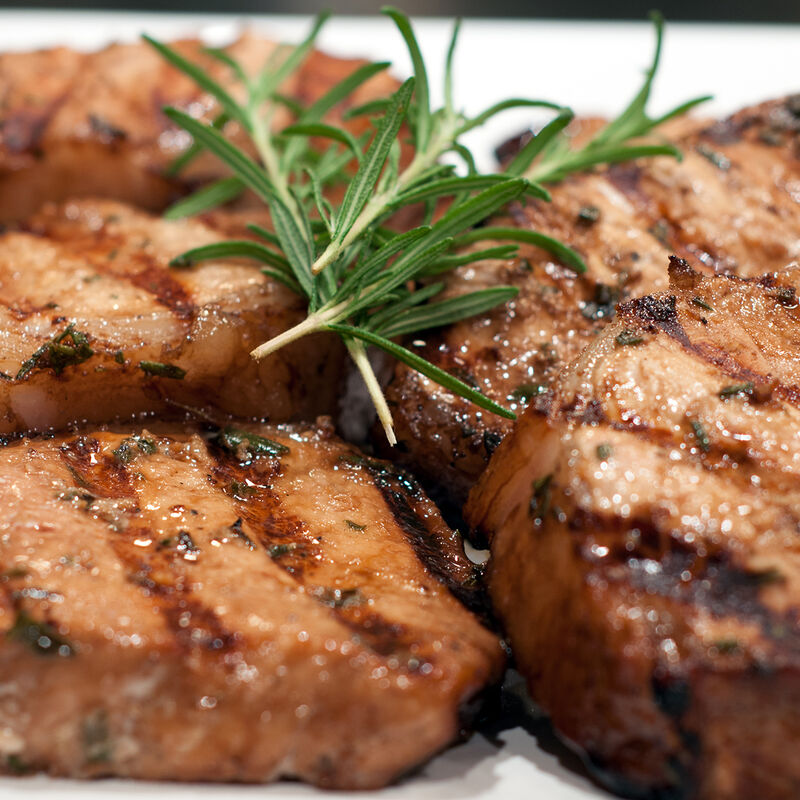 Best Grilled Pork Chops With Balsamic Glaze
The secret to these succulent pork chops is in the garlic-infused marinade and vinegar and brown sugar dipping sauce, that takes minutes to make and can be stored for several months. Use sauce to top chicken, veggies or even a bowl of ice cream!
Nutritional information
Calories

390

Protein

28g

Sodium

350mg

Sat. fat

7g

Sugar

3g
Nutritional information
Servings per recipe: 4
Amount per serving calories: 390
% daily value
Total fat: 27 g
Saturated fat: 7 g
Cholesterol: 80 mg
Sodium: 350 mg
Total carbs: 5 g
Sugar: 3 g
Protein: 28 g
Vitamin A: 2%
Vitamin C: 2%
*Percent Daily Values are based on a 2,000 calorie diet.
The link to Best Grilled Pork Chops With Balsamic Glaze has been copied
Ingredients
Ingredients
large garlic cloves, minced
cup chopped fresh rosemary
cup extra virgin olive oil
Step One
Step One
Place the pork chops in a single layer in a baking dish. Combine the garlic, rosemary, vinegar, olive oil, salt and pepper in small bowl and whisk together. Pour over the pork chops, lifting to ensure marinade is coating the chops on both sides. Cover and refrigerate for at least an hour or up to 8 hours.
Step Two
Step Two
Heat grill to high heat and pat pork chops dry of marinade to prevent flare-ups. Reduce heat to medium and grill until about 145 degrees internal temperature for medium well, about 4 to 5 minutes per side.
Step Three
Step Three
Remove the meat to a cutting board, tent with foil, and let meat rest for 10 minutes before serving with Balsamic Glaze for dipping.
Step Four
Step Four
To make glaze, combine vinegar with brown sugar in a small saucepan and bring to a boil. Reduce heat to medium and simmer until reduced and thickened, about 15 minutes. Remove from the heat and let cool. If the glaze is too thick to use when cool, simply reheat for a few seconds in the microwave. Store extra glaze in a covered container in the refrigerator for up to 6 months. It makes a great topping for chicken, Parmesan cheese, roasted vegetables, strawberries or even vanilla ice cream.