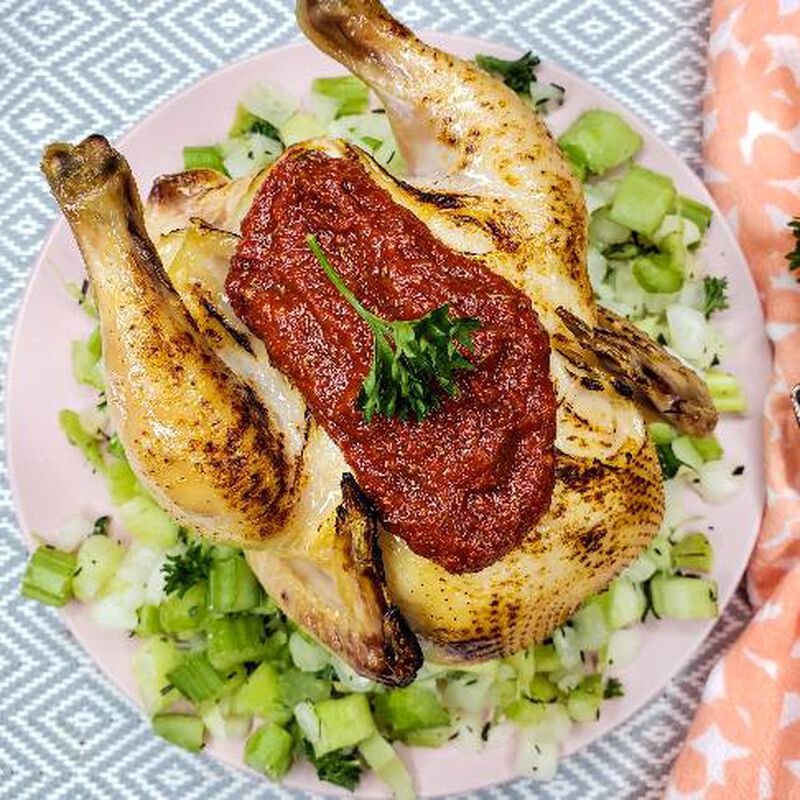 Just like the drink, this tender, crispy Cornish hen recipe includes all the flavors of a scrumptious Bloody Mary, from spicy notes of horseradish and Worcestershire to dill and tomato. While this recipe suggests topping cooked hens with Bloody Mary sauce, you can of course decide to coat the entire hen with it before baking. Just be sure to cover the hen to avoid charring the tomato. Feel free to add a spin from your favorite Bloody Mary recipe, like a squeeze of lime or pinch of celery salt, to this recipe. This simple sheet pan meal is a filling, all-in-one dish that cooks in just 30 minutes.
Nutritional Information
Calories

723.0

Protein

59.0g

Sat. fat

13.0g

Sugar

7.0g
Nutritional Information
4 servings per recipe
Total Carbohydrate: 13.0g
*Percent Daily Values are based on a 2,000 calorie diet.
Ingredients
Ingredients
tablespoons Worcestershire sauce
tablespoon grated horseradish
Salt and pepper, to taste
Step One
Step One
Preheat oven to 400 F. Place Cornish hens on a sheet pan and sprinkle with salt and pepper. Cook for approximately 35 to 40 minutes.
Step Two
Step Two
Mix together chopped celery, onion and seasonings; set aside
Step Three
Step Three
In a small bowl, mix together tomato paste, Worcestershire sauce, horseradish and dill. Plate Cornish hens on celery mix and drizzle with "Bloody Mary" sauce.