---
by Perdue Farms Corporate Chefs
|
January 2021
|
Yield: 8 Servings
---
This premium cut of beef is often reserved for special occasions, but we suggest that you make a place at your table for Niman Ranch's bone-in rib roast no matter what the day of the week.
For best results, marinate beef, covered, overnight and be sure to rest roast for several minutes before slicing.

Ingredients
1/2 cup Dijon mustard
2 tablespoons garlic, minced (approx. 3 to 4 cloves)
2 tablespoons soy sauce
2 tablespoons Worcestershire sauce
1/4 cup coarse black pepper
3 tablespoons kosher salt
1 tablespoon dried thyme
1 tablespoon dried rosemary
1 tablespoon dried Mediterranean oregano
1 tablespoon cornstarch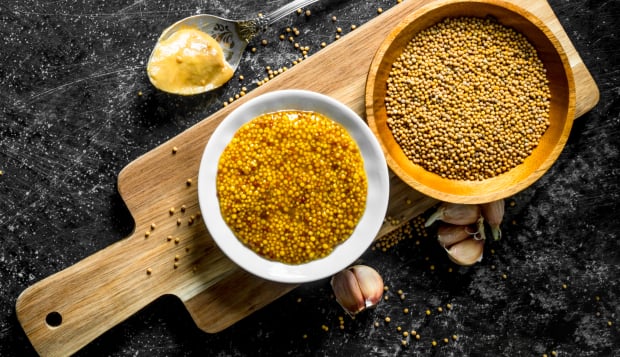 Step 1: Marinate Roast
Remove the rib roast from package, and pat dry. Mix other ingredients together to combine in a mixing bowl. Liberally cover the rib roast with the savory herb paste on all sides. Marinate in the refrigerator, covered, overnight or at least for 2 hours at room temperature before cooking.
Step 2: Roast in Oven
Place roast on a roasting rack in a shallow roasting pan, fat side down, and place pan, uncovered, in a 275 F oven for about 2 hours. Flip the roast to fat side up, and cook for an additional 1 hour or until a meat thermometer, placed in the thickest portion of roast, measures 115 to 120 F.
Step 3: Caramelize Crust
Rotate the pan 180 degrees and turn the oven temperature up to 450 F. This final roasting step will help create a caramelized crust, and finish cooking roast to the desired internal temperature. For a nice mid-rare, pull the roast out at between 125 to 130 F, and for mid-well to well, leave in until roast reaches 150 to 155 F. The roast will carry over an additional 5 to 10 degrees while resting.
Step 4: Remove from Oven
Rest for 15 to 25 minutes before slicing.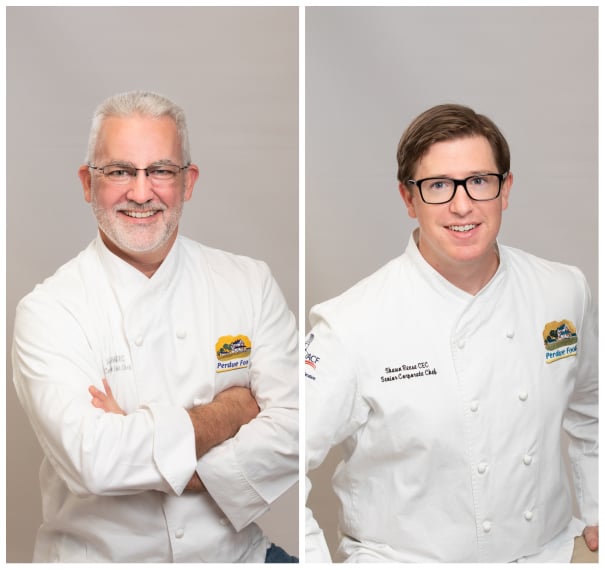 Meet the Perdue Farms Corporate Culinary Team
Chef Chris Moyer, CEC, CRC, and Chef Shawn Reese, CEC, CRC, bring decades of combined culinary experience to their roles at Perdue Farms. Day to day, the chefs contribute to recipe development, culinary ideation and all culinary aspects of the company business. Along with keeping a close eye on emerging trends, new flavors and innovations in the industry, Chefs Chris and Shawn are involved in food photography for Perduefarms.com and head up planning and preparation of meals for both internal corporate functions and external consumer-focused events. The duo represents Perdue Farms and its brands at food shows across the country and remain 100% focused on a positive consumer experience with Perdue Farms products. "We truly love what we do," they say, "and it is exciting to be in an environment that allows us the freedom to be innovative."
LEARN MORE