Recipe Source

by the Perdue Farms Culinary Team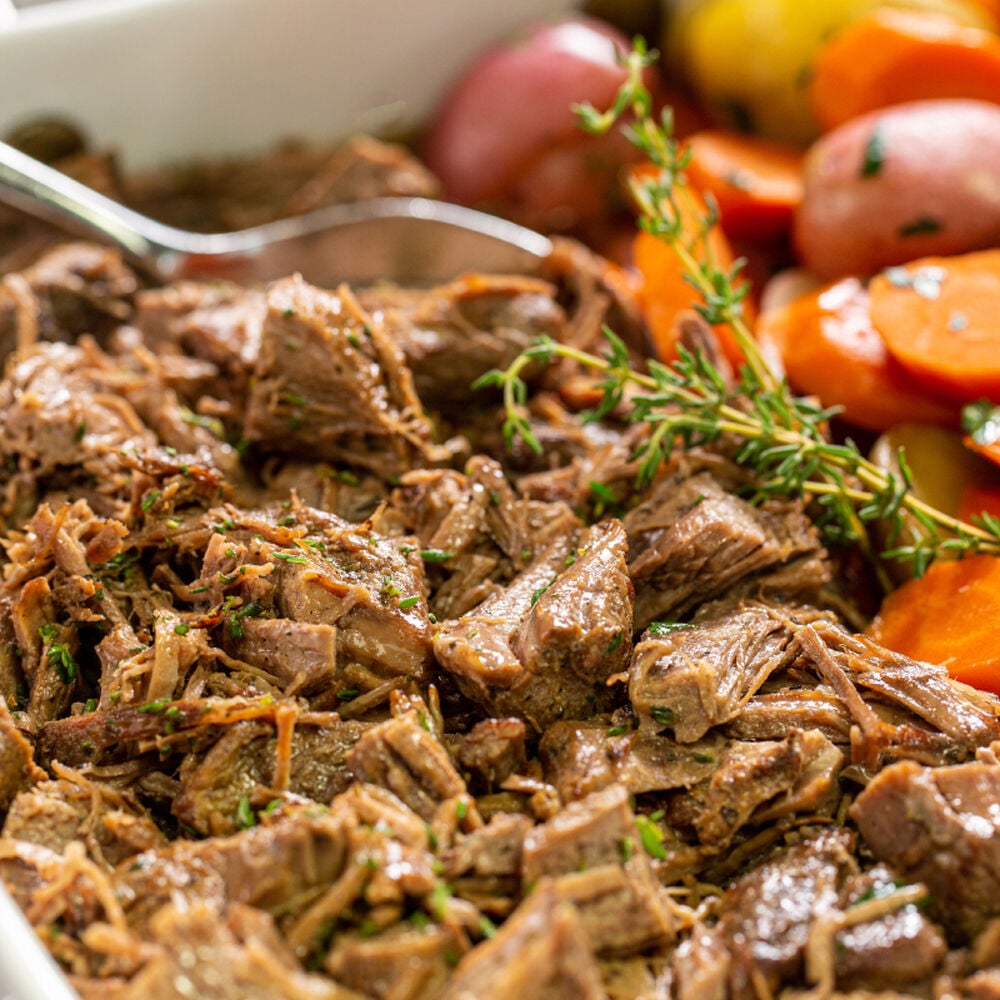 Recipe Source

by the Perdue Farms Culinary Team
No ordinary pot roast! Mediterranean harissa spice paired with grass-fed, grass-finished tri-tip produces a taste sensation! This one-pot dinner is perfect for fall and winter weekends, when you have time to cook. And it makes a great addition to any game day spread!
Nutritional Information
6 Servings Per Recipe
Total Carbohydrate: 42.7g
14%
*Percent Daily Values are based on a 2,000 calorie diet.
Ingredients
Ingredients
1 2 1/2- to 3 1/2-pound Panorama Organic Grass-Fed Tri-Tip Roast
1 yellow onion, roughly chopped
1 fennel, ends removed and sliced into wedges
3 carrots, peeled and rough chopped
2 pounds new potatoes
4 celery stalks, rough chopped
5 cloves garlic, peeled and smashed
6 sprigs thyme
3 bay leaves
1 cinnamon stick
3 star anise pods
1 teaspoon cumin seeds
1 cup dry red wine
1/4 cup sherry vinegar
6-ounce can tomato paste
4 cups beef stock
1/4 cup red harissa paste
1/4 cup sugar
3 tablespoons canola oil
Salt and black pepper to taste
Step 1
Step 1
Lightly coat the tri-tip in oil, and generously season with kosher salt and black pepper. In a preheated, heavy bottom stockpot, brown roast on all sides. Transfer tri-tip to a braising pan.
Step 2
Step 2
Remove burnt oil from stockpot, being careful not to remove browned bits. Add 2 tablespoons of oil, plus star anise, cinnamon and cumin seeds, to pot and set over medium heat. Slowly toast ingredients until slightly browned and aromatic. Add fennel, onions, leeks, garlic, celery and carrots to the pot, and sweat over medium heat for 5 to 6 minutes. Mix in tomato paste and continue to cook, stirring occasionally, until slightly caramelized (approximately 5 more minutes). Deglaze the pan with red wine and vinegar. Cook until the liquid is reduced by one-third. Add the beef stock, sugar and harissa paste to the mixture and reduce by one-third again.
Step 3
Step 3
Add contents of stockpot, bay leaves and thyme to the braising pan with the tri-tip. Make sure between one-half to two-thirds of the meat is covered by the braising liquid. Cover the pan tightly with aluminum foil, and place into a 325 F oven for 2 1/2 to 3 1/2 hours. After about 1 hour of cooking, add the potatoes to the braising pan and cover tightly before placing back in the oven. Cook for approximately 1 1/2 to 2 1/2 more hours or until meat becomes fork tender. Let the tri-tip rest in the braising liquid for added moisture and flavor.
Step 4
Step 4
Fast Method: Brown roast on all sides, then place in a pressure cooker and cook for 45 minutes. Relieve pressure, and check meat for doneness. Texture should be shreddable, but not soft and falling apart.
The Perdue Farms Culinary Team
Chef Chris Moyer, CEC, CRC, and Chef Shawn Reese, CEC, CRC, bring decades of combined culinary experience to their roles at Perdue Farms. The chefs contribute to recipe development, culinary ideation, and all culinary aspects of the company business.
MEET THE CHEFS