Cast Iron Skillet Pork Chops with Pan Gravy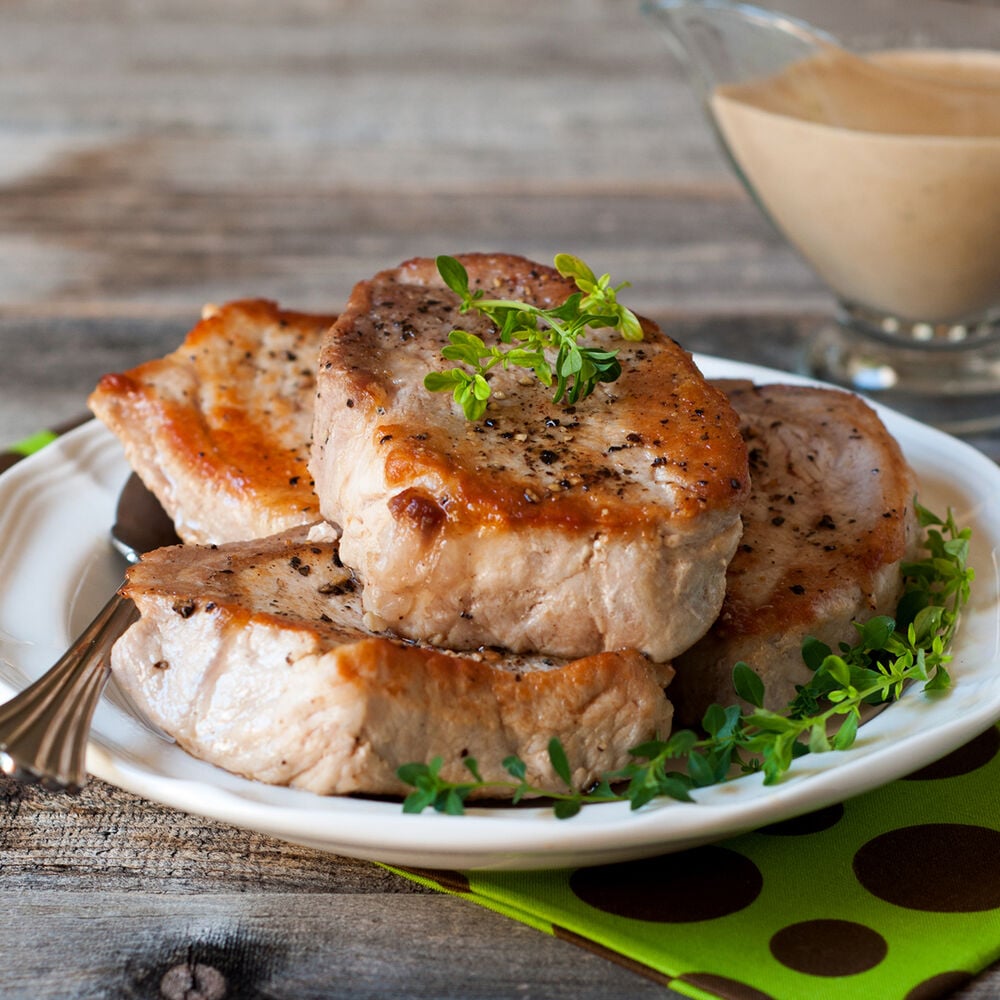 Cast Iron Skillet Pork Chops with Pan Gravy
This tasty dish is perfect for busy weeknights, when you don't have time to prep ingredients or wait for protein to slow roast. Boneless pork chops sear up quickly in a cast-iron pan and pan drippings make a delicious gravy to pour overtop. Serve with a salad and side of vegetables for a well-balanced meal.
Nutritional Information
4 Servings Per Recipe
Total Carbohydrate: 4g
1%
*Percent Daily Values are based on a 2,000 calorie diet.
Ingredients
Ingredients
4 Coleman Natural Boneless Pork Chops
Salt and pepper
2 tablespoons extra virgin olive oil or canola oil
1 tablespoon butter
1 tablespoon flour
3/4 cup half-and-half, milk or stock
11-oz. pack of flavor-packed boneless pork chops ― 2 chops total
Step 1
Step 1
Season the pork chops liberally with salt and pepper on both sides.
Step 2
Step 2
Heat a large stainless steel or cast-iron skillet (do not use nonstick or pork chops will not brown very well) over high heat and add the oil. Carefully lay the pork chops into the pan, watching for grease splatters, and cook on high for 3 minutes to achieve a golden-brown sear on the first side.
Step 3
Step 3
Turn pork chops over, reduce heat to medium, cover, and cook until a meat thermometer inserted into the center of a pork chop registers 130 F, about 4 to 6 minutes.
Step 4
Step 4
Remove pork chops to a platter and wrap tightly in foil to allow the meat to rest and the pork chops will continue to cook, raising the internal temperature to medium.
Step 5
Step 5
While the pork is resting, melt the butter into the pan with the pork drippings over medium-high heat and add the flour, stirring to cook the flour for a minute or two to remove the raw taste. Whisk in the half-and-half a little at a time, whisking constantly until everything is incorporated and smooth. Pour any juices from the pork chops that have accumulated while the meat was resting into the gravy and continue to cook until thickened, another minute or two.