Cheese Brats With Rice and Beans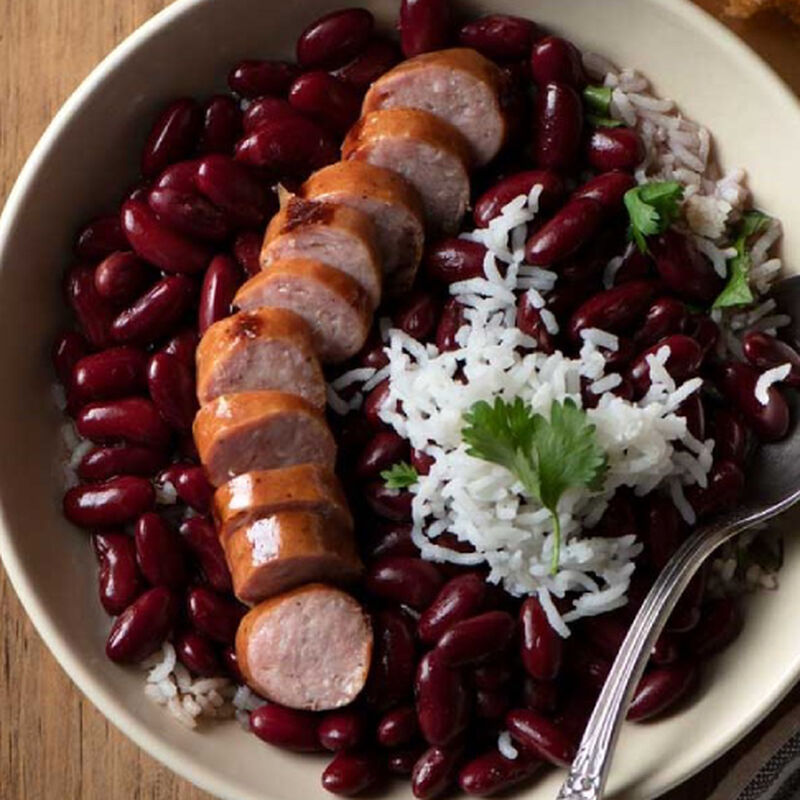 Cheese Brats With Rice and Beans
A comfort food favorite that never goes out of style! Here, a traditional rice and beans recipe is upgraded with Niman Ranch's beer-infused cheddar bratwurst. This stick-to-your-ribs supper is just as good for Sunday dinner as it is any night of the week.
Nutritional Information
Calories

410

Protein

18g

Sodium

300mg

Sat. fat

4g

Sugar

3g
Nutritional Information
*Percent Daily Values are based on a 2,000 calorie diet.
Ingredients
Ingredients
4 fully cooked cheddar bratwurst
1 pound dried red beans, soaked overnight
3 cloves garlic, chopped
1 onion, chopped
2 celery stalks, medium diced
2 carrots, peeled, medium diced
2 tablespoons olive oil
4 to 6 cups cooked white rice
1 bunch parsley, chopped
Timing
Timing
Prep
8 minutes
Cook
1 hour, 30 minutes
Step One
Step One
Add olive oil to a large bean pot or stock pot and place on burner over medium-high heat. Add onion, garlic, celery and carrot and sauté for 5 to 8 minutes, stirring occasionally until slightly tender.
Step Two
Step Two
Place soaked beans in the pot and add enough water to cover them by 2 inches. Simmer beans over medium heat until tender, 1 to 2 hours. Continue adding water as needed.
Step Three
Step Three
Meanwhile, cook rice and keep warm
Step Four
Step Four
In a heavy-bottom skillet (preferably cast iron), sauté sausage until heated through and slightly browned.
Step Five
Step Five
To serve, place approximately a cup of rice in bottom of each serving bowl, add beans and bean liquor to bowl, top with sausage and garnish with parsley. Serve immediately.