Chicken and Artichoke Stuffed Cheesy Bread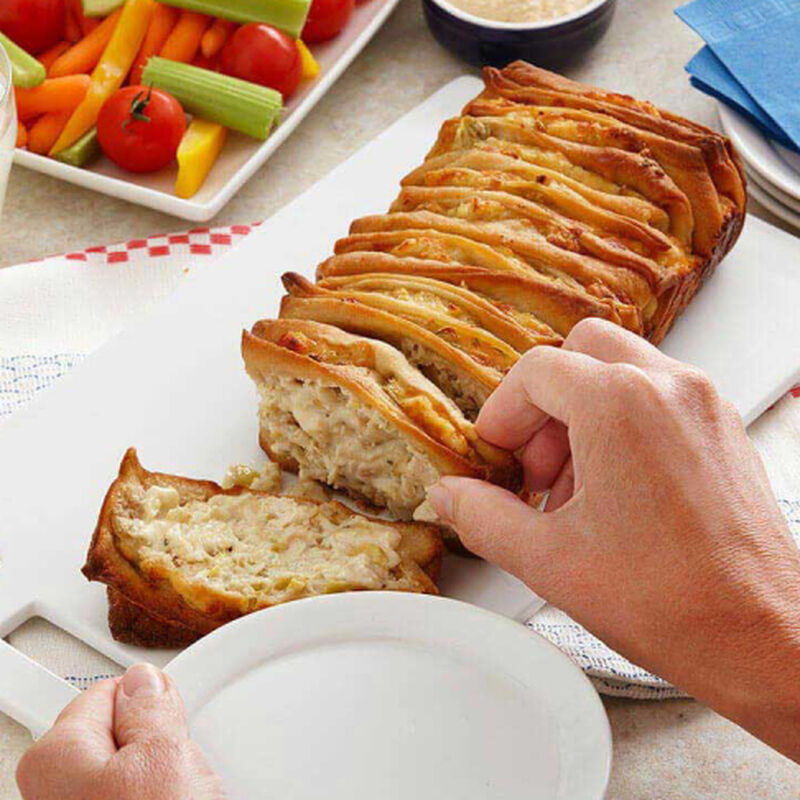 Chicken and Artichoke Stuffed Cheesy Bread
If you love artichoke dip, you'll love this cheesy and delicious pull apart bread, the ideal appetizer for a casual gathering or a quick and easy weeknight treat. Pair with a glass of your favorite wine or beer and enjoy!
Nutritional Information
Calories

540.0

Protein

35.0g

Sat. fat

20.0g

Sugar

2.0g
Nutritional Information
6 servings per recipe
Total Carbohydrate: 26.0g
*Percent Daily Values are based on a 2,000 calorie diet.
Ingredients
Ingredients
cups shredded mozzarella cheese
ounces garlic and herb cheese
cup artichoke hearts, finely chopped
(16-ounce) can refrigerated pizza dough
Step One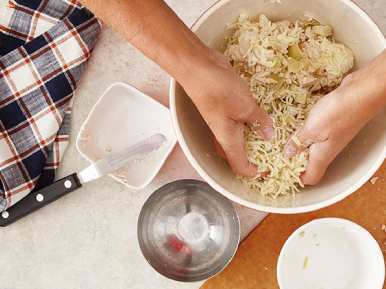 Step One
Preheat oven to 350 F. Using a food processor or two forks (one in each hand), shred chicken strips. In a bowl, combine the shredded chicken, shredded mozzarella, garlic-herb cheese, chopped artichokes and Parmesan cheese. Mix well.
Step Two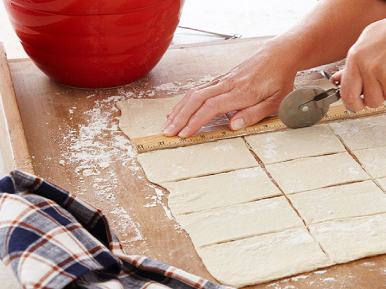 Step Two
On a lightly floured surface, roll out the pizza dough into a 12 x 18-inch rectangle. With a pizza cutter or a sharp knife, cut the dough into 16 (3 x 4-inch) rectangles. Dollop a heaping tablespoon of chicken mixture onto each dough rectangle. Leave one rectangle without the spread and set aside. Press the mixture to evenly cover each rectangle.
Step Three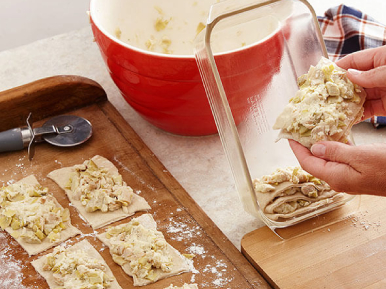 Step Three
Spray a 9 x 5-inch loaf pan with cooking spray and prop it up vertically. Use a spatula to layer the rectangles into stacks of 3 or 4. Place the stacked layers into the loaf pan, chicken side up. Top with the uncoated dough rectangle that you set aside. Sit the pan horizontally.
Step Four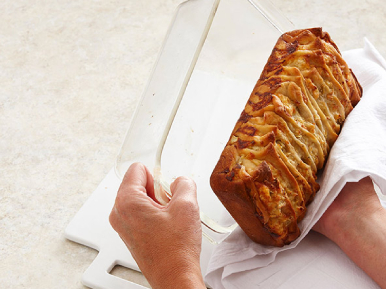 Step Four
Bake the loaf for 1 hour, or until well browned and cooked through. Let cool for 5 minutes and then turn the loaf out of the pan. Serve while warm and let people peel off their slices.

TIP: The inside stays just a bit doughy due to the moisture in the chicken, so make sure to cook it until the top begins to brown.