Chicken Caesar Salad Wraps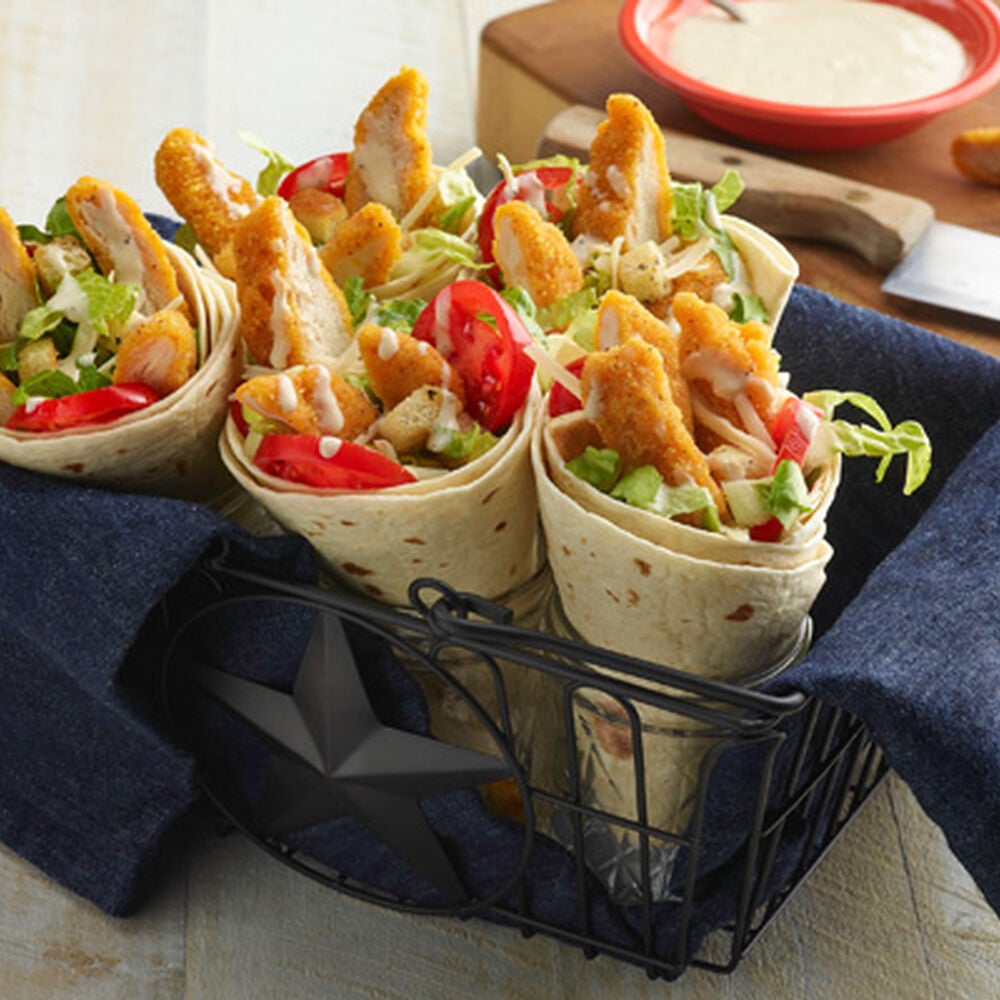 Chicken Caesar Salad Wraps
Lunch on the go never tasted so good! A new spin on classic Caesar salad, crispy chicken strips, tomatoes, lettuce and dressing are served up in a tortilla. Wraps can be eaten immediately or rolled in parchment paper and stored in the refrigerator.
Nutritional Information
4 Servings Per Recipe
Total Carbohydrate: 49g
18%
*Percent Daily Values are based on a 2,000 calorie diet.
Ingredients
Ingredients
8 ounces Perdue Crispy Chicken Strips
2 cups of romaine lettuce, chopped
1 tomato, diced
1/4 cup small croutons
1/4 cup Parmesan cheese
1/4 cup Caesar salad dressing
4 ten-inch burrito flour tortillas
Step 1
Step 1
Heat the chicken strips according to package directions. Let cool.
Step 2
Step 2
Combine the lettuce, diced tomatoes, croutons and 3 tablespoons of the cheese in a bowl.
Step 3
Step 3
Fold a tortilla in half then form it into a cone shape. Use a small drinking glass as a stand and place the tortilla cone into the glass and microwave for 30 seconds.
Step 4
Step 4
Carefully remove and stuff with a quarter of the salad mixture and a chicken strip. (You may have to cut some of the larger strips into smaller pieces). Sprinkle the remaining cheese on top and drizzle with some extra Caesar salad dressing.
Step 5
Step 5
Serve immediately or wrap in parchment paper and eat later.