Simmered Chicken With Kimchi Sauce and Egg Noodles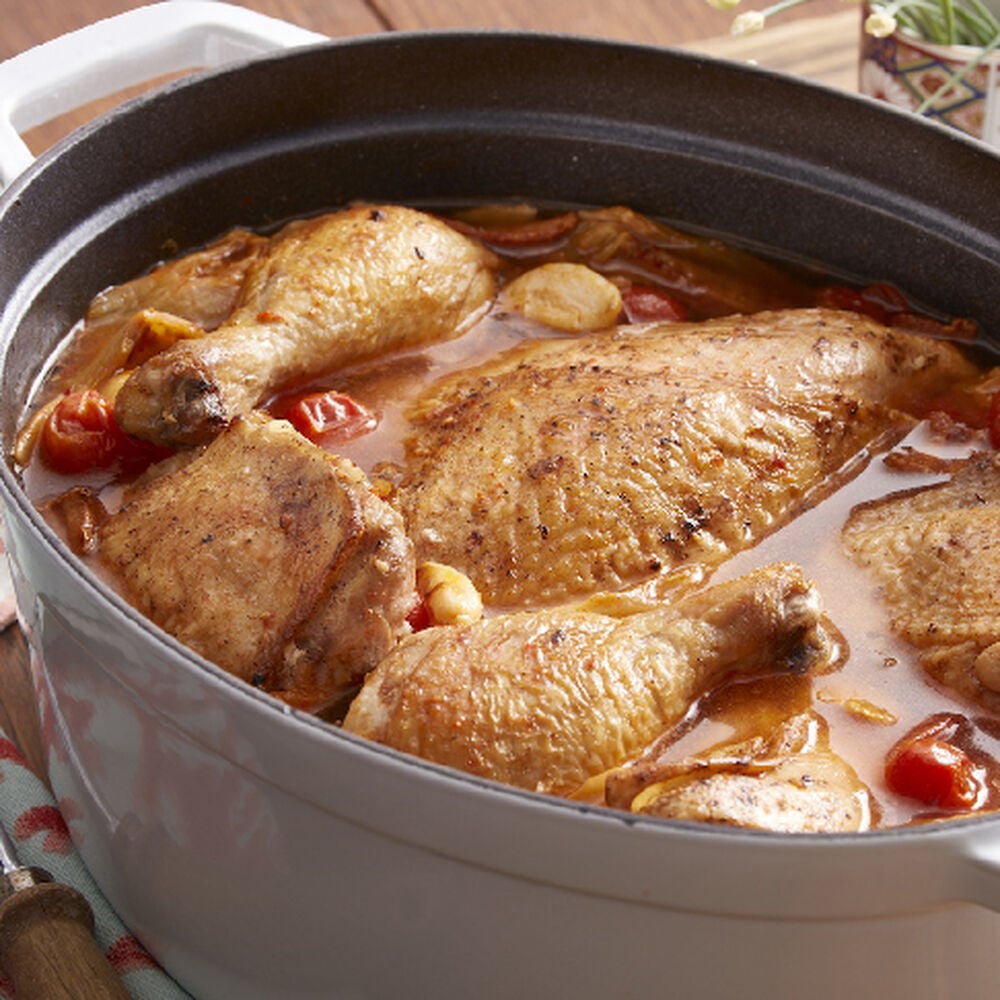 Simmered Chicken With Kimchi Sauce and Egg Noodles
A flavor profile most popular in Korean cuisine is borrowed for this one-pot dish, which slow simmers on the stovetop. Whole chicken and kimchi sauce can be served over noodles or your favorite pasta.
Nutritional Information
4 Servings Per Recipe
Total Carbohydrate: 34.4g
11%
*Percent Daily Values are based on a 2,000 calorie diet.
Ingredients
Ingredients
1 Perdue Harvestland Organic Whole Chicken
4 slices Niman Ranch Applewood Smoked Uncured Bacon, sliced 1/4-inch thick, cut crosswise into 1-inch pieces
1 tablespoon vegetable oil, or as needed
Kosher salt
Freshly ground black pepper
8 garlic cloves, crushed
1 pint cherry tomatoes
1 cup dry white wine
2 cups kimchi with juices, divided
6 ounces egg noodles
2 tablespoons butter
2 tablespoons chives, sliced
Approx. 4-lb. plump, tender and juicy organic whole chicken
Your Price
Limited Time Only Save 45%
Regular Price
$34.99
Sale Price
$18.99
Each
avg/ea
Step 1
Step 1
Start with a cold, large Dutch oven or skillet. Cook bacon over medium heat, stirring occasionally, until lightly crisped, about 8 to 10 minutes. Transfer to a plate. Add oil to bacon fat in pot, enough so the oil and bacon fat cover the bottom with a thin layer. Season chicken with salt and pepper. Place chicken, skin side down, in pot and cook until skin is a crispy golden brown, about 12 to 15 minutes. Transfer to the plate with the bacon. Keep skin side up so the juices run to the plate, keeping the skin as crispy as possible.
Step 2
Step 2
Add garlic to the pot and swirl. Then add the tomatoes and continue swirling the pot. Somewhere between 3 to 5 minutes the tomatoes will start to wrinkle and the garlic will be lightly browned. At this point add the wine and carefully stir with a wooden spoon to scrape the bits of goodness off the bottom of the pot, trying to keep the tomatoes as intact as possible. Bring to a boil and reduce by three-fourths. Once the liquid has reduced add the chicken, skin side up, along with the bacon, half of the kimchi and any juices from the plate. Bring to a simmer and cook until chicken is cooked through, 45 to 60 minutes. Note: Chicken is cooked through when the internal temperature reaches 165 F.
Step 3
Step 3
Turn oven on and set to warm. Bring a large pot of salted water to boil. Transfer chicken to an oven-safe plate and place in oven to keep warm. Bring the braising liquid to a simmer. Cook for 8 to 10 minutes, until slightly thickened. Place egg noodles in the boiling salt water and cook until al dente. Drain pasta in a colander, reserving 1/2 cup of the pasta liquid. Return noodles to the pasta pot and add butter and 1/4 cup pasta liquid. Toss until pasta is coated with the buttery sauce, adding more of the reserved liquid as needed. Season with salt, fresh ground pepper and 1 tablespoon chives. Toss again to combine. Stir remaining kimchi into braising liquid, bring back to simmer, taste and adjust seasoning with salt and fresh ground pepper if needed. Place chicken, skin side up, in braising liquid, sprinkle 1 tablespoon chives over chicken. Serve chicken and kimchi sauce over buttery noodles. Enjoy!
The Perdue Farms Culinary Team
Chef Chris Moyer, CEC, CRC, and Chef Shawn Reese, CEC, CRC, bring decades of combined culinary experience to their roles at Perdue Farms. The chefs contribute to recipe development, culinary ideation, and all culinary aspects of the company business.
MEET THE CHEFS