Oven-Baked Lemon-Herb Chicken Breasts
This easy chicken breast recipe is perfect for dinner any night of the week!
---
by Perdue Farms Corporate Chefs
|
January 2021
|
Yield: 4 Servings
---
A classic pairing — citrus and garlic — elevates the flavor profile of this easy weeknight chicken dinner recipe.
For best results, use Perdue boneless, skinless chicken breasts. To create a healthy, well-balanced meal, serve chicken atop a bed of brown rice or couscous, with pan sauce drizzled overtop, a side of green beans and a salad of spring greens.

Ingredients
Kosher salt and cracked black pepper
2 tablespoons olive oil
1 tablespoon roughly chopped fresh thyme
4 cloves garlic, minced
1 tablespoon light brown sugar
1 tablespoon soy sauce
1 lemon, half juiced and half cut for garnish
1 lime, juiced and zested
1/4 teaspoon red pepper flakes
1 tablespoon butter
2 tablespoons roughly chopped green onions or cilantro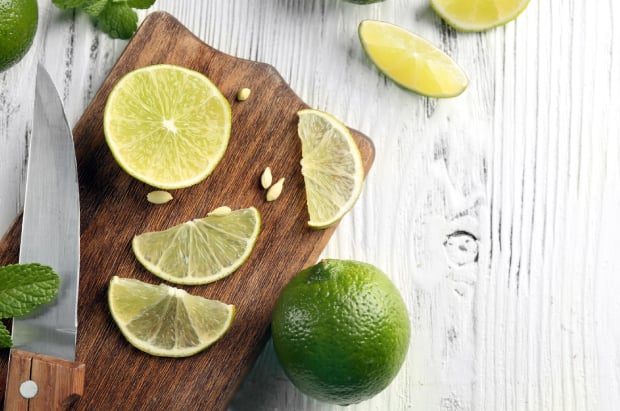 Step 1: Make Citrus Sauce
Preheat oven to 425 F. Heat olive oil in a saute pan over medium heat; add garlic and thyme. Cook 2 to 3 minutes, stirring until garlic begins to brown. Add citrus juice, soy sauce, brown sugar and red pepper flakes. Remove from heat and stir to combine.
Step 2: Prep Chicken and Bake
Season chicken breasts with salt and pepper on both sides. Place chicken in pan, and pour citrus pan sauce overtop. Place pan in oven and roast for 15 to 20 minutes or until a digital meat thermometer, inserted in the thickest portion of breasts, measures at least 165 F.
Step 3: Garnish and Serve
Remove pan from oven. Plate chicken. Toss a knob of butter and citrus zest in pan and stir with cooking juices until combined. Drizzle pan sauce over chicken breasts and garnish with green onions. Serve immediately.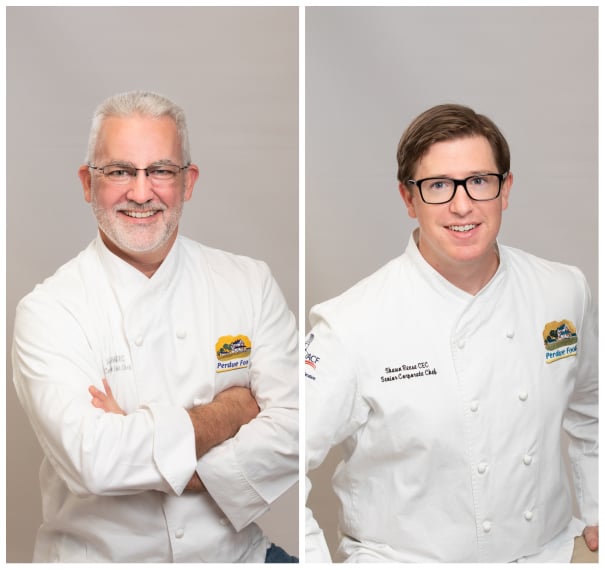 Meet the Perdue Farms Corporate Culinary Team
Chef Chris Moyer, CEC, CRC, and Chef Shawn Reese, CEC, CRC, bring decades of combined culinary experience to their roles at Perdue Farms. Day to day, the chefs contribute to recipe development, culinary ideation and all culinary aspects of the company business. Along with keeping a close eye on emerging trends, new flavors and innovations in the industry, Chefs Chris and Shawn are involved in food photography for Perduefarms.com and head up planning and preparation of meals for both internal corporate functions and external consumer-focused events. The duo represents Perdue Farms and its brands at food shows across the country and remain 100% focused on a positive consumer experience with Perdue Farms products. "We truly love what we do," they say, "and it is exciting to be in an environment that allows us the freedom to be innovative."
LEARN MORE