Corned Beef Brisket
A great St. Patty's Day recipe that's perfect for Sunday dinner any month of the year!
---
by Perdue Farms Corporate Chefs
|
March 2021
|
Yield: 6 to 8 Servings
---
Ingredients
Brine
1 gallon water
1 cup kosher salt
1/2 cup brown sugar
1 yellow onion, rough chop
1 fennel bulb, trim ends off and slice into wedges
2 cinnamon sticks
6 cloves garlic, peeled and smashed
10 sprigs thyme
1/2 cup pickling spice
5 teaspoons pink curing salt
3 bay leaves
3 star anise
Braising Liquid
4 cups beef stock
3 large carrots
1 yellow onion, peeled and rough chopped
6 sprigs thyme
1 tablespoon pickling spice
3 bay leaves
4 star anise
1 pound small red potatoes and 1 green cabbage (cored and quartered) (optional)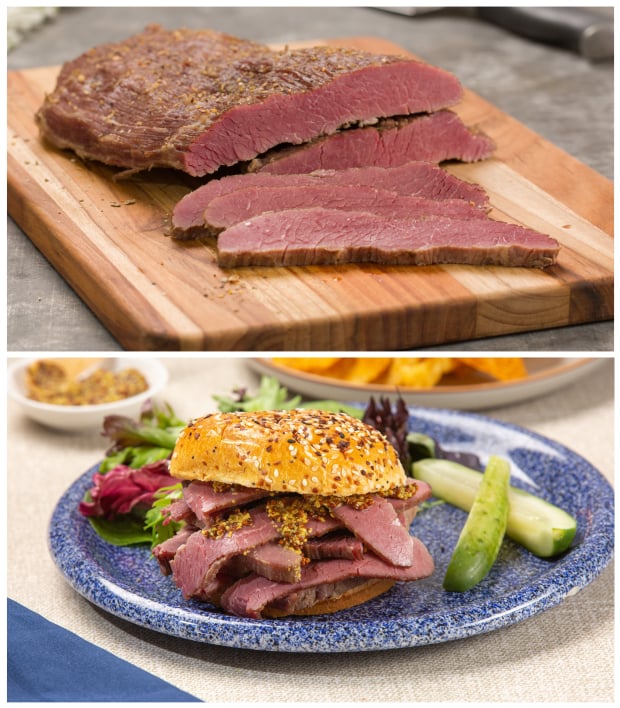 Step 1: Make Brine
Bring all ingredients to a boil in a large stock pot; stir to dissolve sugar and salt, and cool. Once the brine has cooled to below 70 F, add the trimmed brisket flat and the brine to a large zipper-lock bag/non-conductive food storage container that is big enough to store the whole brisket while submerged in brine.
Step 2: Cure Brisket
Refrigerate the brining meat for five to seven days; flip a couple times throughout the week to evenly cure.
Step 3: Cook
Once brisket is cured, rinse meat under cold water, then add to a Dutch oven or coverable roasting pan. Add the braising liquid ingredients to the pan, cover and place into a 350 F oven. Cook for 3 1/2 to 4 hours. Corned beef is ready when it is fork tender but not quite falling apart.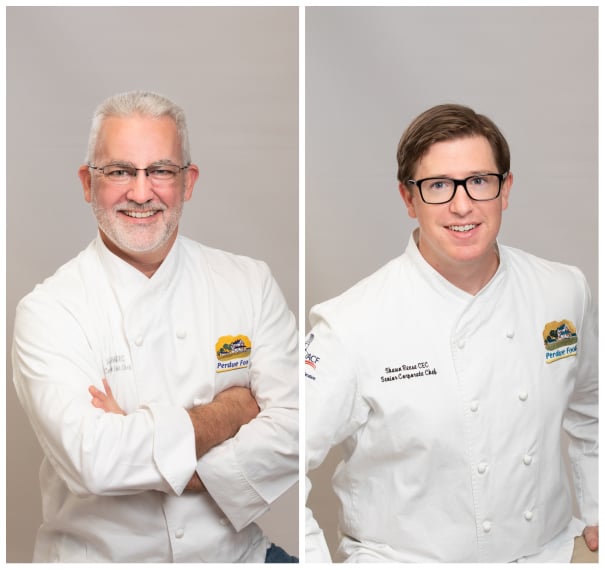 Meet the Perdue Farms Corporate Culinary Team
Chef Chris Moyer, CEC, CRC, and Chef Shawn Reese, CEC, CRC, bring decades of combined culinary experience to their roles at Perdue Farms. Day to day, the chefs contribute to recipe development, culinary ideation and all culinary aspects of the company business. Along with keeping a close eye on emerging trends, new flavors and innovations in the industry, Chefs Chris and Shawn are involved in food photography for Perduefarms.com and head up planning and preparation of meals for both internal corporate functions and external consumer-focused events. The duo represents Perdue Farms and its brands at food shows across the country and remain 100% focused on a positive consumer experience with Perdue Farms products. "We truly love what we do," they say, "and it is exciting to be in an environment that allows us the freedom to be innovative."
LEARN MORE