Hens Normandy With Apples
Recipe Source

Mitzi Perdue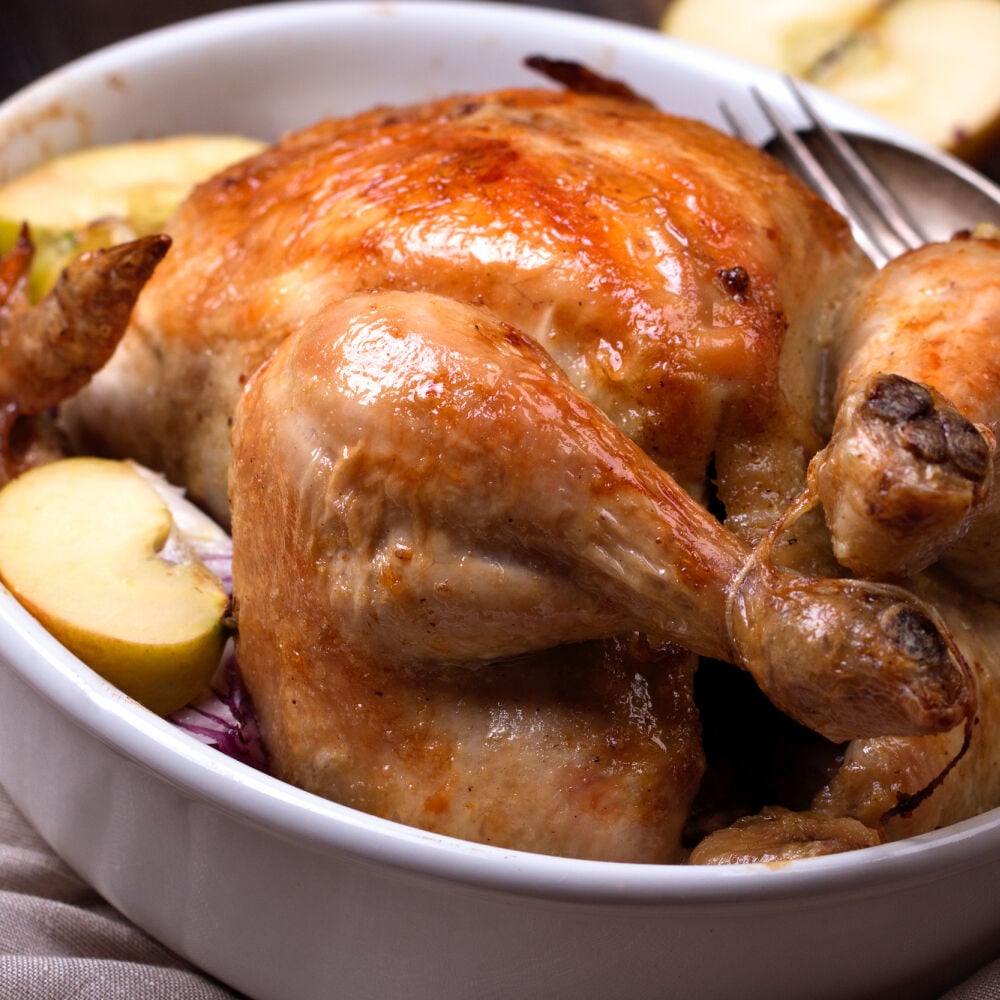 Hens Normandy With Apples
Recipe Source

Mitzi Perdue
The perfect harvest-time main course! Here, Cornish hens are slow roasted with apple juice and apple slices for a sweet and savory flavor. Dripping from the pan, plus white wine, make a delicious sauce to serve overtop.
Nutritional Information
2 Servings Per Recipe
Total Carbohydrate: 23.4g
*Percent Daily Values are based on a 2,000 calorie diet.
Ingredients
Ingredients
2 Perdue Cornish Hens
Salt and pepper to taste
1 tablespoon minced, fresh sage or 1 teaspoon dried
3 tablespoons butter or margarine, melted
2/3 cup apple juice
2 Golden Delicious apples
1/3 cup chicken broth or white wine
1/2 cup heavy cream
1 tablespoon minced fresh parsley
Step 1
Step 1
Preheat the oven to 350 F. Season hens inside and out with salt and pepper. Pult half of the sage in each cavity. Tie legs together and fold wings back. Place hens in a flame-proof baking pan just large enough to hold them comfortably. Brush with melted butter. Add apple juice to baking pan.
Step 2
Step 2
Bake for 30 minutes, basting several times. Core and quarter apples; add to pan and baste. Bake 30 minutes, until hens and apples are tender, and internal temperature of hens registers 180 F, basting several times. Remove hens and apples to serving platter; keep warm.
Step 3
Step 3
On top of stove, bring pan drippings to a boil; add broth or wine and cook until reduced by half. Stir in cream; cook 2 to 3 minutes until slightly thickened. Pour sauce over hens and apples. Sprinkle with parsley and serve.

Source: The Perdue Chicken Cookbook by Mitzi Perdue, ©2000. Perdue Farms.