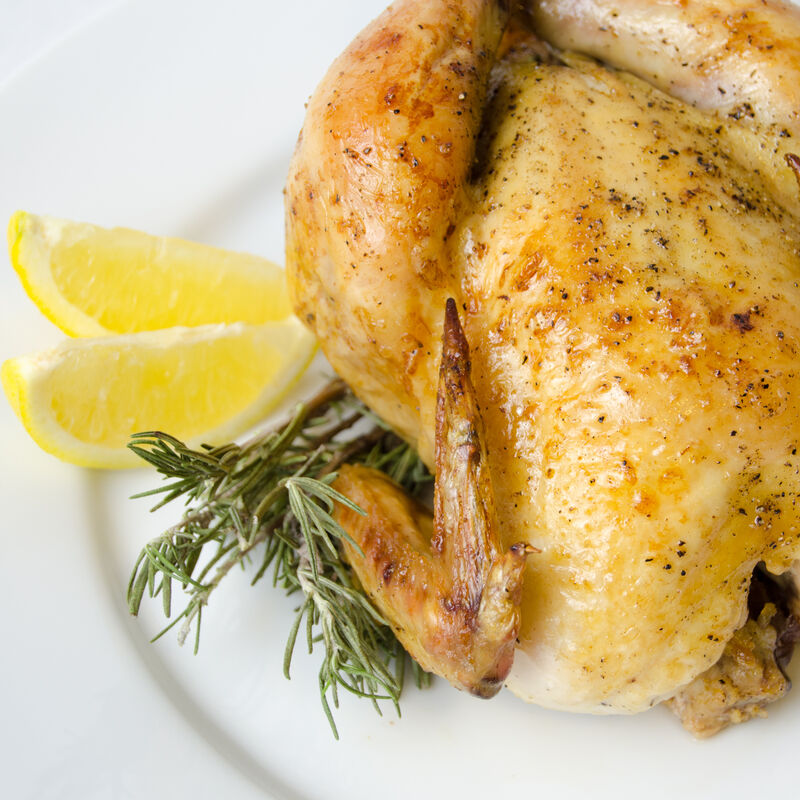 This zesty fresh-from-the-garden dish is the perfect main course to serve at an end-of-summer dinner party. To save time, use store-bought pesto sauce. And serve with a fresh garden salad, couscous and your favorite dry white wine.
Nutritional information
Calories

316.5

Protein

32g

Sodium

160mg

Sat. fat

3.3g

Sugar

.1g
Nutritional information
Servings per recipe: 4
Amount per serving calories: 316.5
% daily value
Total fat: 18.8 g
Saturated fat: 3.3 g
Cholesterol: 128.4 mg
Sodium: 160 mg
Total carbs: 2.1 g
Dietary fiber: .2 g
Sugar: .1 g
Protein: 32 g
Vitamin A: 161.7%
Vitamin C: 10.7%
*Percent Daily Values are based on a 2,000 calorie diet.
The link to Cornish Hens Pesto has been copied
Ingredients
Ingredients
cup fresh basil or 1 tablespoon dried basil
tablespoons grated Parmesan cheese
small clove garlic, minced
teaspoon salt or to taste
can (8 ounces) minced clams, drained
tablespoons dry white wine (optional)
Step One
Step One
Preheat oven to 400 F. Halve hens lengthwise and remove backbones. Place a half on each of four 14-inch squares of heavy duty aluminum foil. Turn up edges of foil.
Step Two
Step Two
In bowl, blend oil, basil, parsley, cheese, garlic and salt. Add clams and wine. Divide among packets, spooning over hens. Bring two opposite sides of foil together and close packets securely using several folds and turning up ends to seal.
Step Three
Step Three
Bake in oven for 30 minutes.

Source: The Perdue Chicken Cookbook by Mitzi Perdue, ©2000. Perdue Farms.