Easy Dim Sum Delight Sausage Dumplings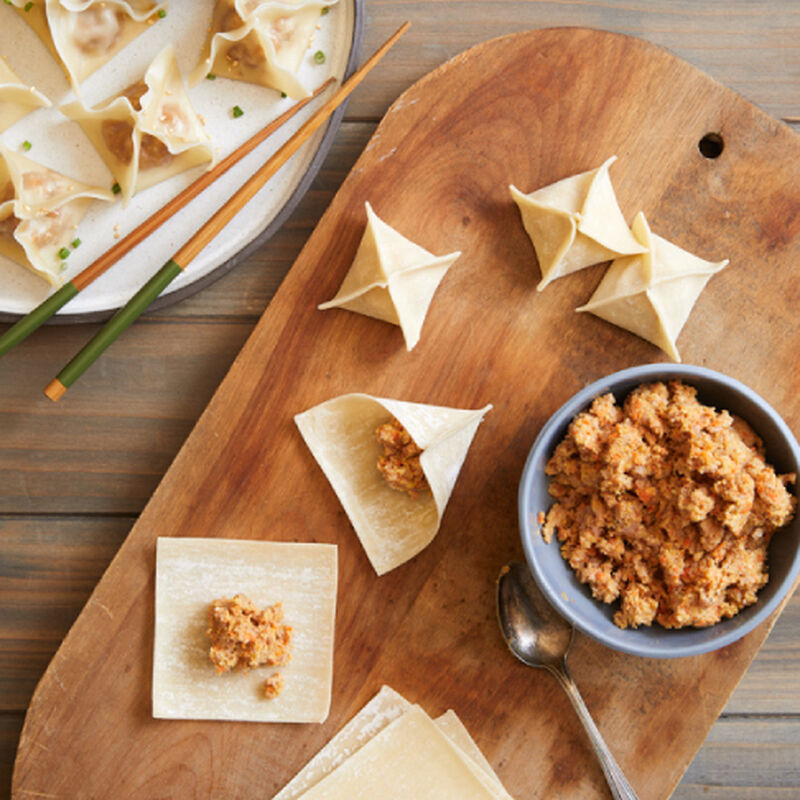 Easy Dim Sum Delight Sausage Dumplings
Planning your own dim sum party? Here's how to make Chinese dumplings that your guests won't be able to resist. This easy potsticker recipe calls for wonton wrappers and filling made with Niman Ranch's sensational Italian Sweet Sausage. Serve up with your favorite dipping sauce or make a batch of your own.
Nutritional Information
Calories

70

Protein

3g

Sodium

105mg

Sat. fat

1g

Sugar

1g
Nutritional Information
*Percent Daily Values are based on a 2,000 calorie diet.
Ingredients
Ingredients
4 fully cooked Italian sausage links, cut into pieces
1 4-inch piece of a large carrot, peeled, or 6 baby carrots
1 1/2-inch piece fresh ginger, peeled
2 garlic cloves
1 1/2 teaspoons sesame oil
2 tablespoons rice wine vinegar
3 tablespoons chopped cilantro, plus more for garnish
1/4 cup chopped scallions, plus more for garnish
18 wonton wrappers, 3-inch squares
2 teaspoons toasted sesame seeds
Dumpling dipping sauce
Timing
Timing
Prep
10 minutes
Cook
3 minutes
Step One
Step One
Process carrot, ginger and garlic in the bowl of a food processor until very finely chopped. Add sausage, and pulse to chop. Add sesame oil, vinegar, cilantro and scallions. Process until sausage comes together in a soft mixture.
Step Two
Step Two
Working one at a time, place a level tablespoon of sausage mixture in the center of a wonton wrapper. Dip your finger in water and wet the edges of the wrapper. Lift two opposite corners of the wrapper together, and press together at the tip. Bring the remaining two corners to meet the first over the sausage mixture. Press and pinch to seal together at the tip and edges. Repeat until all of the filling is used.
Step Three
Step Three
Bring a pot of water to a boil. Boil dumplings, a few at a time, for 2 to 3 minutes. Remove with a slotted spoon and drain on a paper towel-lined plate. Sprinkled sesame seeds and herbs over and serve with sauce.