Wine-Country Cornish Hens
Recipe Source

by Mitzi Perdue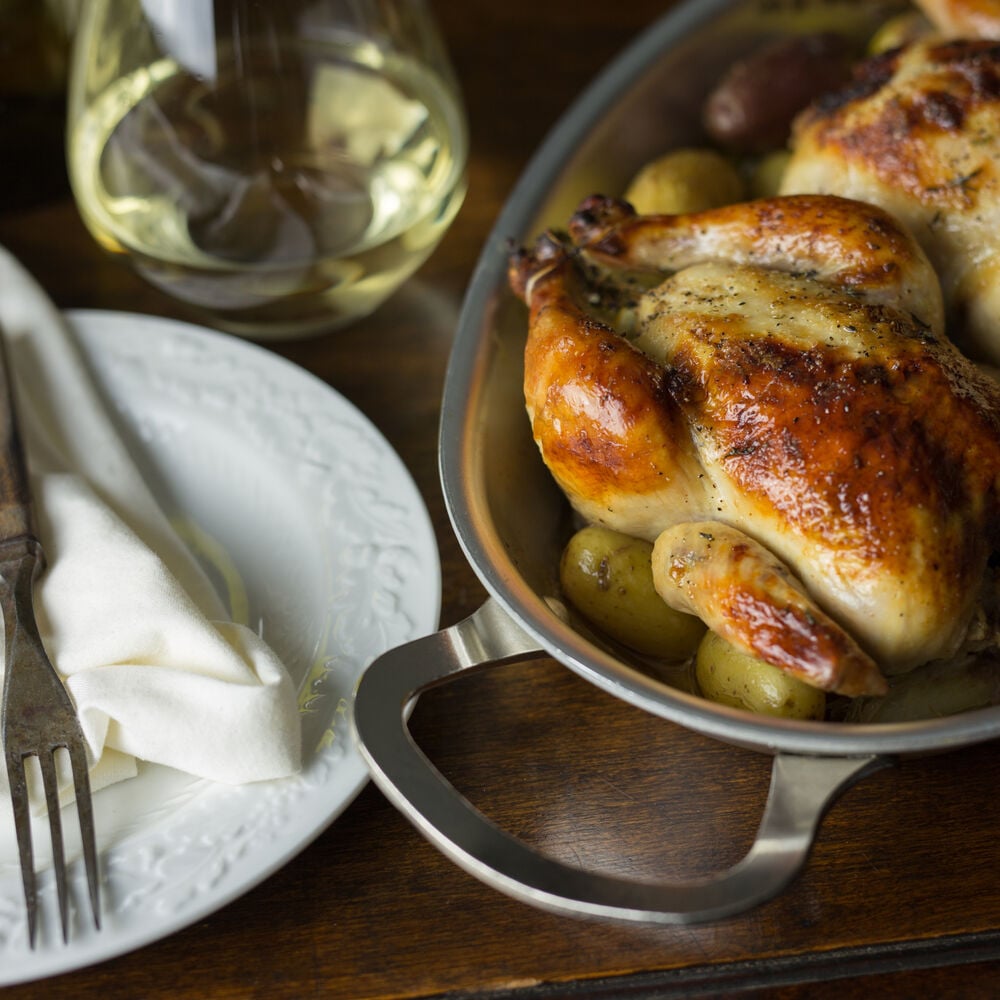 Wine-Country Cornish Hens
Recipe Source

by Mitzi Perdue
The perfect dish for Sunday dinner, Cornish hens slow roast in a Dutch oven. Dry white wine, tomatoes, garlic and herbs form a delicious broth that can be served overtop. Enjoy with rice or mashed potatoes.
Nutritional Information
*Percent Daily Values are based on a 2,000 calorie diet.
Ingredients
Ingredients
4 Perdue Whole Cornish Hens
Salt and pepper to taste
3 tablespoons olive oil
1 large onion, thinly sliced
2 cloves garlic, minced
1 tablespoon flour
1/2 cup dry white wine or vermouth
1/2 cup chicken broth
2 tomatoes, peeled and chopped
2 tablespoons tomato paste
1 1/2 teaspoons minced, fresh oregano or 1/2 teaspoon dried
Step 1
Step 1
Season hens inside and out with salt and pepper. Fold wings back and tie legs together.
Step 2
Step 2
In a Dutch oven large enough to hold all four hens, over medium-high heat, heat oil. Brown hens on breast sides. If pan is not large enough to brown four at a time, do two at a time. Remove hens and reserve.
Step 3
Step 3
Add onion and garlic and saute for 5 minutes. Stir in flour. Add remaining ingredients and season to taste with salt and pepper. Stir.
Step 4
Step 4
Return hens to Dutch oven, breast side up, and bring liquid to a boil. Reduce heat to medium-low, cover and simmer for 45 minutes. Cornish are doine when jices run clear, no hint of pink when thigh is pierced, and internal temperature reaches 180 F.

Source: The Perdue Chicken Cookbook by Mitzi Perdue, ©2000. Perdue Farms.