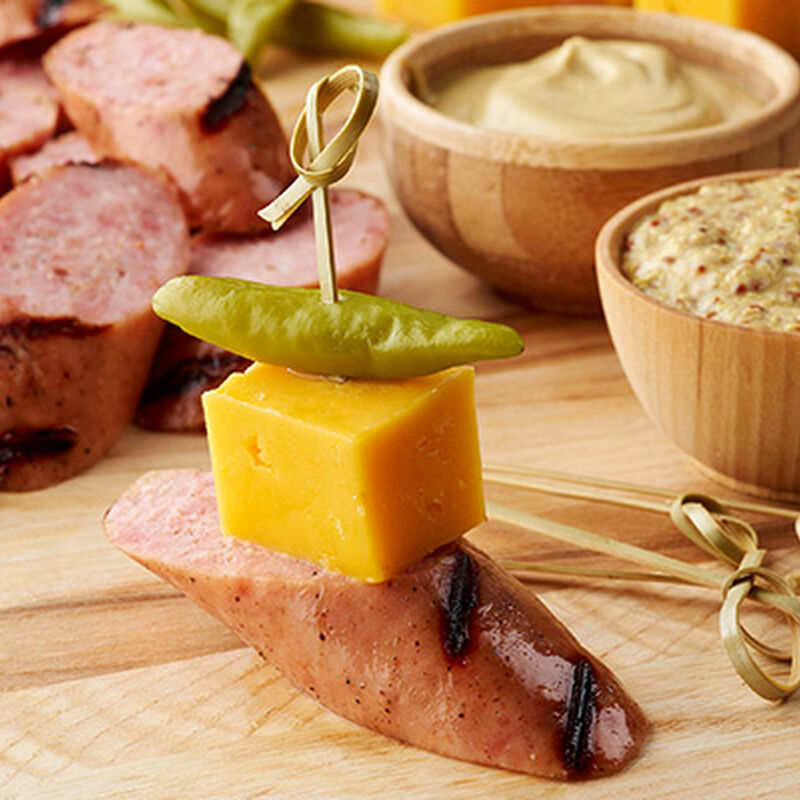 The easiest appetizer ever! Grill sausage, slice into bites and thread on skewers with cheese cubes and tomatoes or pickled peppers. Serve with your favorite mustard or flavored mayo for dipping.
Nutritional Information
Calories

150

Protein

7g

Sodium

530mg

Sat. fat

4g

Sugar

1g
Nutritional Information
*Percent Daily Values are based on a 2,000 calorie diet.
Ingredients
Ingredients
12 ounces Kielbasa
Cheese cubes
Cherry tomatoes
Whole grain mustard, horseradish mustard and dijonnaise for dipping
Flavored mayos for dipping
Skewers or fancy toothpicks
Timing
Timing
Prep
5 minutes
Cook
8 minutes
Step One
Step One
Grill sausage according to package directions, and then slice on the bias into bite-size pieces.
Step Two
Step Two
Place a sausage bite on skewer with cube of cheese and tomato (both optional) and serve with a variety of mustards and flavored mayos for dipping.