Garlic Asparagus Chicken With Mashed Potatoes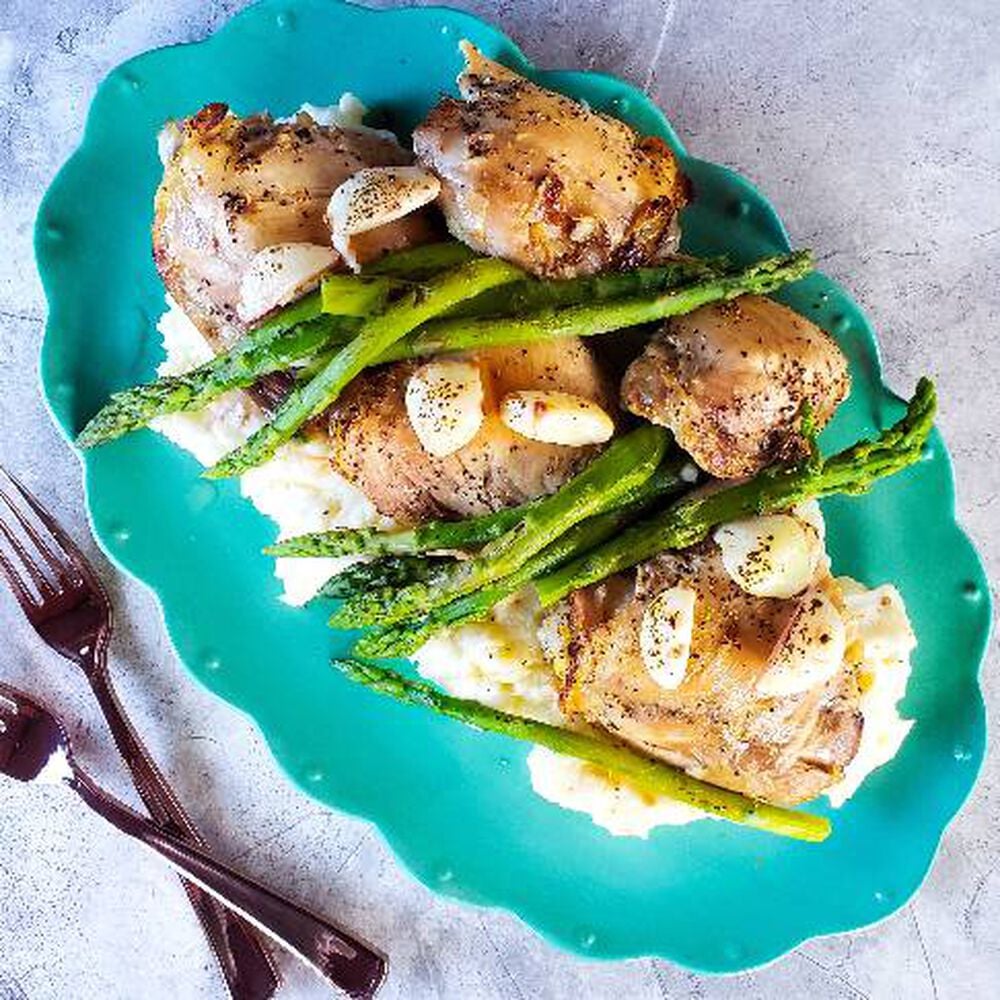 Garlic Asparagus Chicken With Mashed Potatoes
A healthier spin on fried chicken and potatoes, this recipe is packed with flavor and serves up half the guilt. Since it only takes about 30 to 40 minutes to make, it's perfect for meal prepping or busy weekday dinners. If you're serving any picky eaters, try subbing some of the asparagus for rainbow carrot slices, green beans or any other long veggies. Not only will it offer more variety, it will give even more pops of color. To maintain the bright colors of the asparagus or other veggies (and impress guests!), blanche veggies by dropping them in boiling water for a minute and transferring to ice water before sautéing with the garlic cloves!
Nutritional Information
6 Servings Per Recipe
Total Carbohydrate: 86.0g
*Percent Daily Values are based on a 2,000 calorie diet.
Ingredients
Ingredients
6 to 10 Perdue Harvestland Organic Boneless Skinless Chicken Thighs
1 small bundle fresh asparagus
4 pounds russet potatoes
1 garlic bulb, whole and peeled
3/4 cup red cooking wine
Butter (optional)
Salt and pepper, to taste
Approx. 3-lb. pack of meaty and delicious boneless thighs ― portioned into three 1-lb. pouches
Your Price
Limited Time Only Save 41%
Regular Price
$35.99
Sale Price
$20.99
Each
avg/ea
Approx. 3-lb. pack of rich, delicious boneless thighs ― portioned in three 1-lb. pouches
Step 1
Step 1
Preheat oven to 400 F. Place chicken on a sheet pan and sprinkle with salt and pepper. Cook for approximately 25 minutes until browned and juices run clear.
Step 2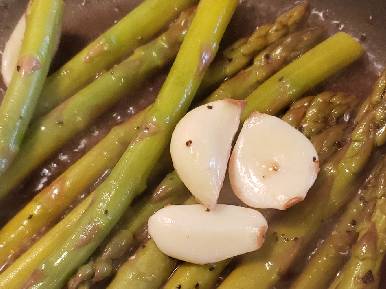 Step 2
In a small skillet, saute asparagus with whole garlic and wine until tender.
Step 3
Step 3
Plate chicken on a bed of mashed potatoes and smother with garlic asparagus glaze.