Greek Salad With Gluten-Free Chicken Tenders
Recipe Source

by the Perdue Farms Culinary Team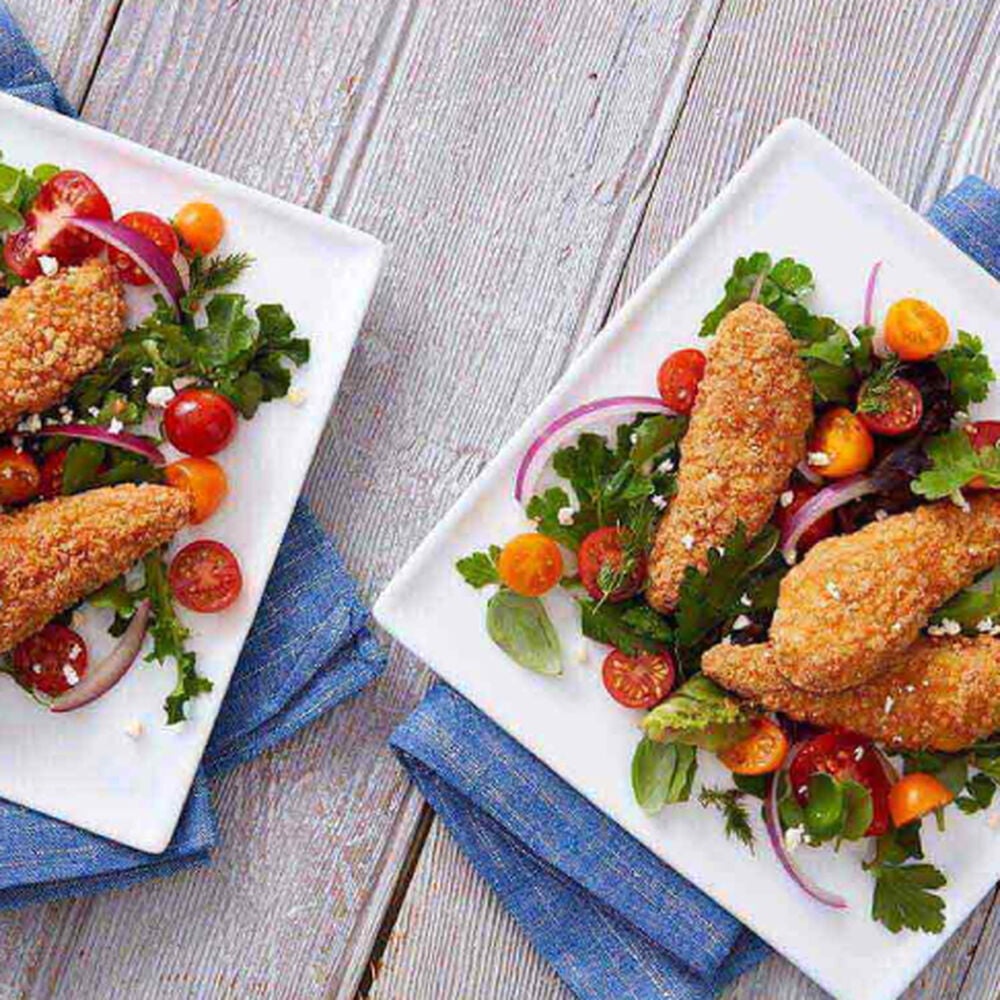 Greek Salad With Gluten-Free Chicken Tenders
Recipe Source

by the Perdue Farms Culinary Team
Homemade vinaigrette lends complexity to this garden-fresh Greek salad, which incorporates your favorite ripe tomatoes and tender, juicy gluten-free breaded chicken tenders. Serve for lunch or as a light dinner.
Nutritional Information
4 Servings Per Recipe
Total Carbohydrate: 36.0g
*Percent Daily Values are based on a 2,000 calorie diet.
Ingredients
Ingredients
12 Perdue SimplySmart Organics Breaded Chicken Breast Tenders
2 tablespoons red wine vinegar
1 teaspoon Dijon mustard
4 tablespoons olive oil
2 pounds of your favorite tomatoes
2 cups mixed herbs, such as basil, parsley, chives and dill
1 cup bagged spring mix greens
1/4 cup red onion, thinly sliced
1/2 cup feta or goat cheese, optional
Step 1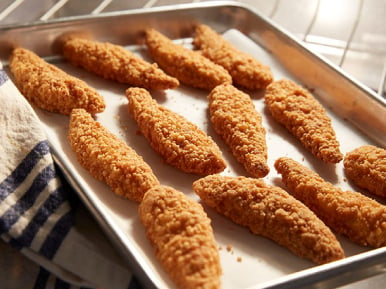 Step 1
Preheat oven to 425 F. Place chicken on baking sheet and heat for 10 minutes. Remove the tray from oven and flip each chicken piece. Heat for another 8 minutes. (If using refrigerated, reduce the heating time by 2 minutes.) Remove from the oven and let it cool.
Step 2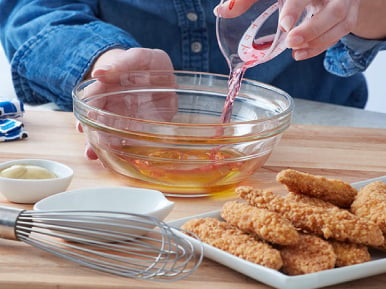 Step 2
Whisk together the red wine vinegar, Dijon mustard and olive oil until emulsified.
Step 3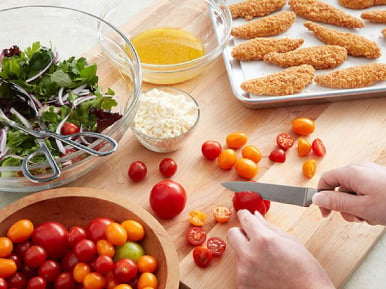 Step 3
Slice large tomatoes and halve smaller ones. Combine the tomatoes, herbs, greens and red onion. Toss with enough dressing to coat them.
Step 4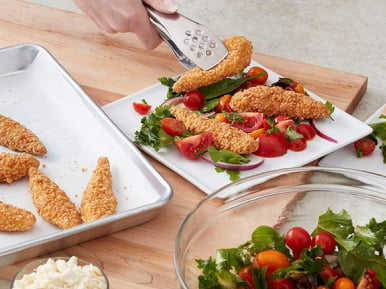 Step 4
To serve salad, transfer the tomato mixture to a large platter. Top with the chicken tenders and sprinkle with feta cheese, if desired. Serve the remaining dressing on the side.

This salad dressing is super simple, but you can also use your favorite store-bought dressing.
The Perdue Farms Culinary Team
Chef Chris Moyer, CEC, CRC, and Chef Shawn Reese, CEC, CRC, bring decades of combined culinary experience to their roles at Perdue Farms. The chefs contribute to recipe development, culinary ideation, and all culinary aspects of the company business.
MEET THE CHEFS