Grilled Bacon Jalapeno Poppers
Recipe Source

by the Ninja Test Kitchen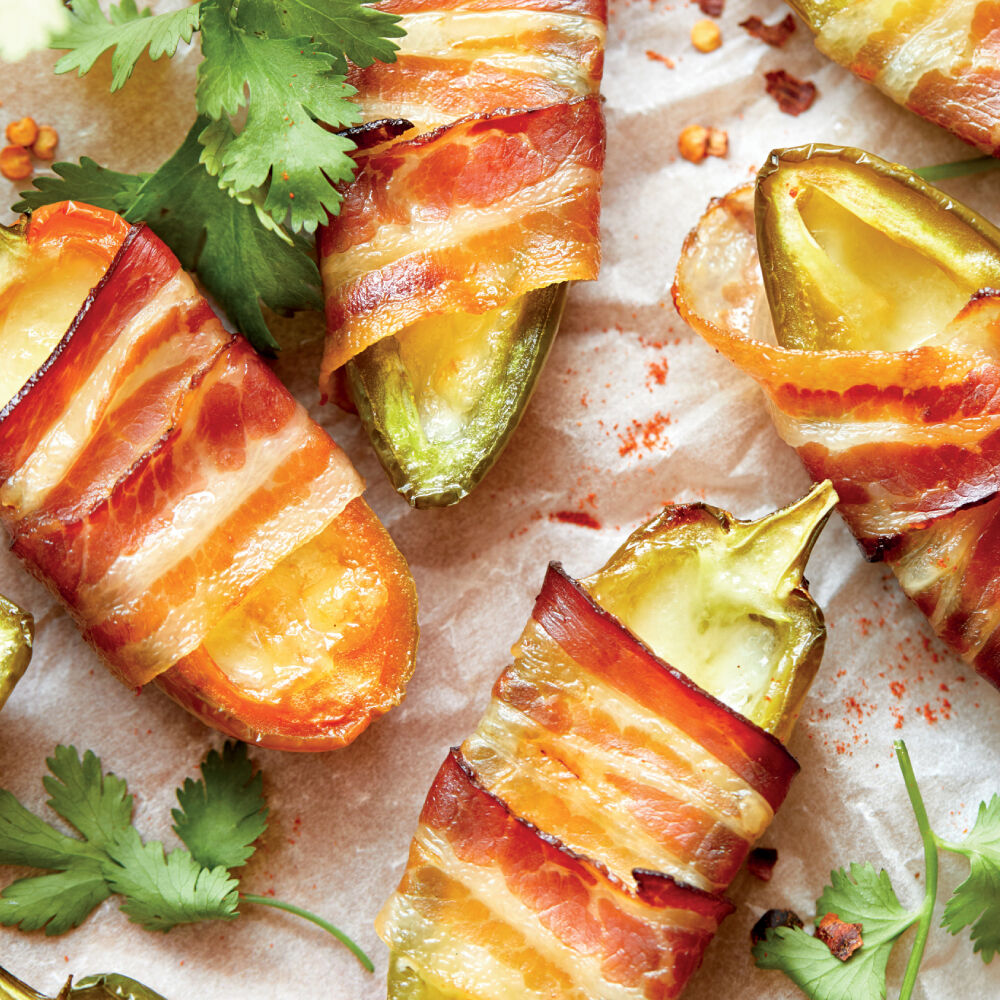 Grilled Bacon Jalapeno Poppers
Recipe Source

by the Ninja Test Kitchen
Use the Ninja® Foodi® Xl Pro Grill & Griddle to cook up this spicy game day treat!
Nutritional Information
Serving Size 6
Total Carbohydrate: 7.5g
3%
*Percent Daily Values are based on a 2,000 calorie diet.
Ingredients
Ingredients
6 to 8 large jalapeños, cut in half, seeds removed
8 slices Niman Ranch Uncured Double Smoked Bacon, chopped and divided
8 ounces cream cheese, room temperature
1 cup shredded cheddar, divided
3 tablespoons ranch seasoning
2 tablespoons fresh chives
Step 1
Step 1
To install the grill grate, slide it into the front of the base so it hooks in, then press down on the back until it clicks into place. Select GRILL, set temperature to MAX, and set time to 10 minutes. Close the hood and press the dial to begin preheating (preheating will take approximately 5 minutes).
Step 2
Step 2
When unit beeps to signal it has preheated, open hood and add the jalapeños halves, skin side down. Close hood to begin cooking. Cook for 7 to 10 minutes, flipping halfway through.
Step 3
Step 3
While jalapeños cook, prepare the filling. In a medium bowl, add cream cheese, 3/4 cup cheddar cheese, ranch seasoning, chives, and half the bacon. Mix until combined.
Step 4
Step 4
When jalapeños have grill marks, they are done cooking. Remove from grill and fill each half with 1 to 2 tablespoons of prepared cheese mixture. Top with a sprinkle of remaining cheddar cheese.
Step 5
Step 5
Place the jalapeños back on the grill, skin side down. Select BROIL and set time to 3 minutes. Since the grill will already be hot, skip preheating by pressing the PREHEAT button and close hood to begin cooking. Broil until cheese is melted and lightly browned.
Step 6
Step 6
When cooking is complete, open hood, remove jalapeños from the grill, and top with remaining chopped bacon.