Grilled Chicken, Green Beans and Leafy Greens Salad
Recipe Source

by the Perdue Farms Culinary Team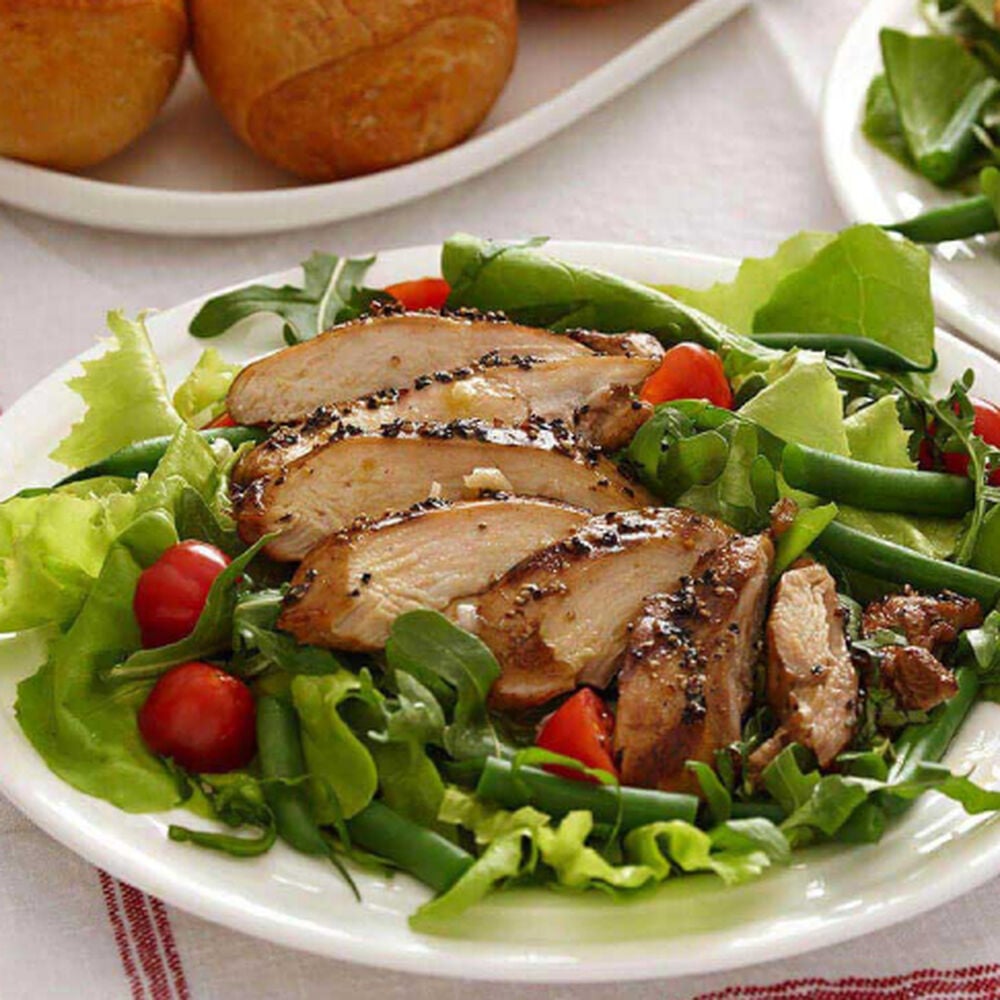 Grilled Chicken, Green Beans and Leafy Greens Salad
Recipe Source

by the Perdue Farms Culinary Team
A taste of summer no matter what the season! This salad recipe calls for grilled chicken thighs, green beans and a zesty homemade vinaigrette. Perfect for lunch or a light and healthy dinner.
Nutritional Information
*Percent Daily Values are based on a 2,000 calorie diet.
Ingredients
Ingredients
6 to 10 Perdue Harvestland Organic Boneless Skinless Chicken Thighs
4 tablespoons olive oil
1 cup cherry tomatoes, halved
1 bunch arugula, torn into pieces
1 tablespoon parsley, chopped
1 teaspoon coarsely ground or cracked black pepper
2 tablespoons Worcestershire sauce
2 tablespoons red wine vinegar
1 tablespoon Dijon mustard
1 tablespoon shallots, minced
1/4 teaspoon salt
1/2 pound green beans, cooked tender-crisp and cut into 1-inch pieces
1 small head Bibb or Boston lettuce, torn into pieces
1 tablespoon fresh basil, chopped
Approx. 3-lb. pack of meaty and delicious boneless thighs ― portioned into three 1-lb. pouches
Approx. 3-lb. pack of rich, delicious boneless thighs ― portioned in three 1-lb. pouches
Your Price
Limited Time Only Save 46%
Regular Price
$27.99
Sale Price
$14.99
Each
avg/ea
Step 1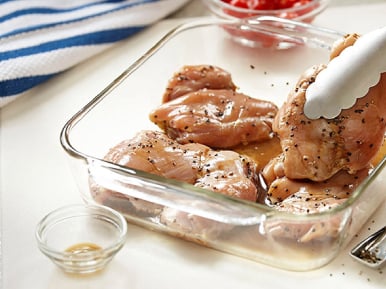 Step 1
Place the chicken thighs in a shallow baking dish. Toss with the cracked black pepper and the Worcestershire sauce. Turn to coat the chicken well, cover and refrigerate for 30 minutes or up to 8 hours.
Step 2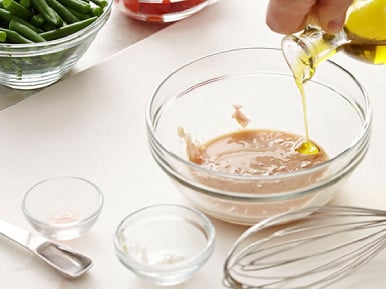 Step 2
For the dressing, whisk together the red wine vinegar, the Dijon mustard, minced shallots and salt. Continue whisking and drizzle in the olive oil. In a small bowl, combine half of the dressing with the green beans and cherry tomatoes and set aside to marinate. Reserve the remaining dressing for serving.
Step 3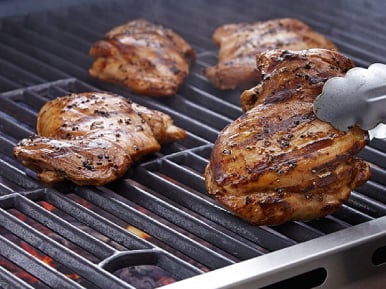 Step 3
Heat your lightly greased grill or grill pan to medium high heat. Grill the chicken thighs for 10 to 15 minutes on each side until firm to the touch and cooked through. Chicken is done when a meat thermometer inserted in the center reaches 170 F. Remove the cooked thighs from the grill and let rest 2 to 3 minutes before slicing.
Step 4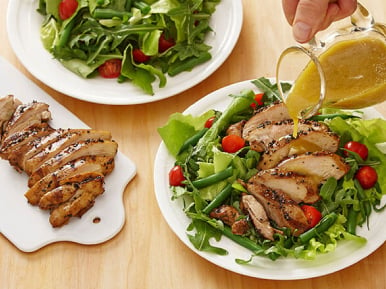 Step 4
To assemble your salad, divide the lettuces between 4 plates. Mound with equal portions of the marinated green beans and tomatoes. Slice the chicken and place on top of the salad. Drizzle with remaining salad dressing and garnish with chopped basil and parsley.
The Perdue Farms Culinary Team
Chef Chris Moyer, CEC, CRC, and Chef Shawn Reese, CEC, CRC, bring decades of combined culinary experience to their roles at Perdue Farms. The chefs contribute to recipe development, culinary ideation, and all culinary aspects of the company business.
MEET THE CHEFS