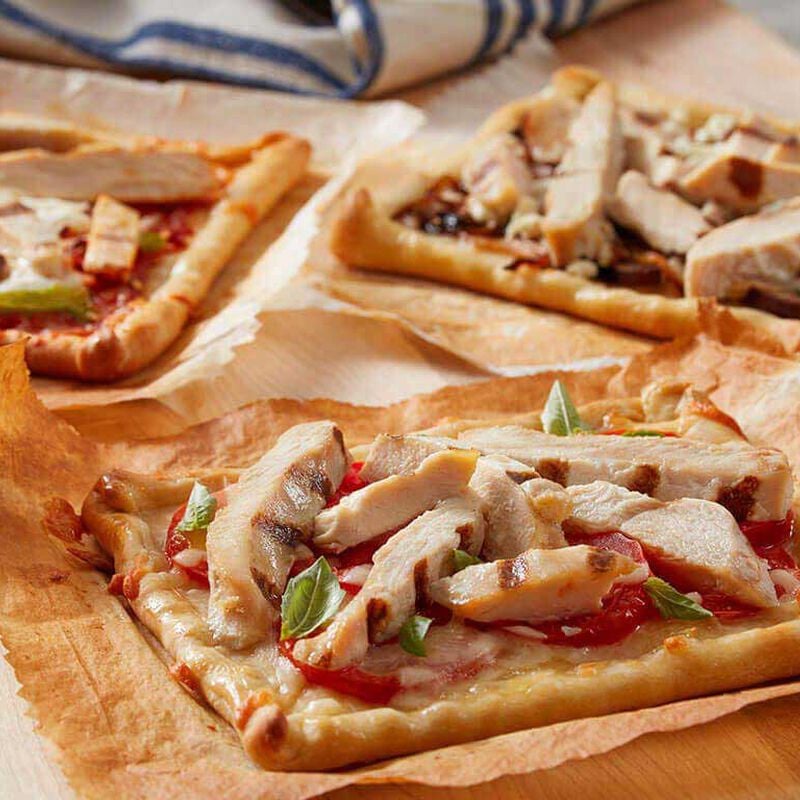 This kid-friendly recipe is also perfect for small gatherings. Put out a spread of pizza toppings, divide pizza dough into equal portions and let guests top their own individual pizzas. Grilled chicken strips add protein, plus a hint of smoke!
Nutritional information
Calories

560

Protein

37g

Sodium

1240mg

Sat. fat

9g

Sugar

12g
Nutritional information
Servings per recipe: 4
Amount per serving calories: 560
% daily value
Total fat: 22 g
Saturated fat: 9 g
Cholesterol: 95 mg
Sodium: 1240 mg
Total carbs: 53 g
Dietary fiber: 4 g
Sugar: 12 g
Protein: 37 g
*Percent Daily Values are based on a 2,000 calorie diet.
The link to Grilled Chicken Pizza has been copied
Ingredients
Ingredients
pound fresh or frozen dough
Veggie-Style Personal Pizza
Appetizer-Style Personal Pizza
Classic Margherita Personal Pizza
Step One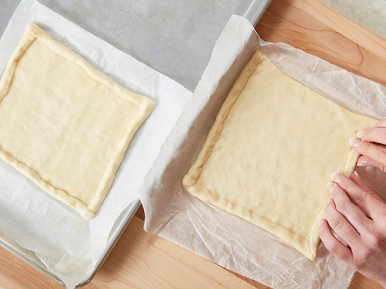 Step One
Preheat oven to 425 F. Divide the dough into 4 equal pieces. Press or roll the dough into 4 squares. Place the dough squares on a sheet tray lined with parchment paper. Roll the edges of the dough to form a rim.
Step Two
Step Two
Set out toppings and carved grilled strips and let guests build their own pizzas.
Step Three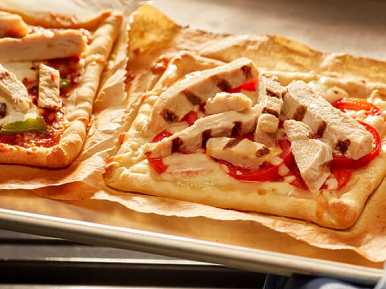 Step Three
Bake in oven for 8 to 10 minutes, until the crust is golden and the cheese is melted and bubbly. Cut pizzas with a pizza cutter or serve whole and enjoy!