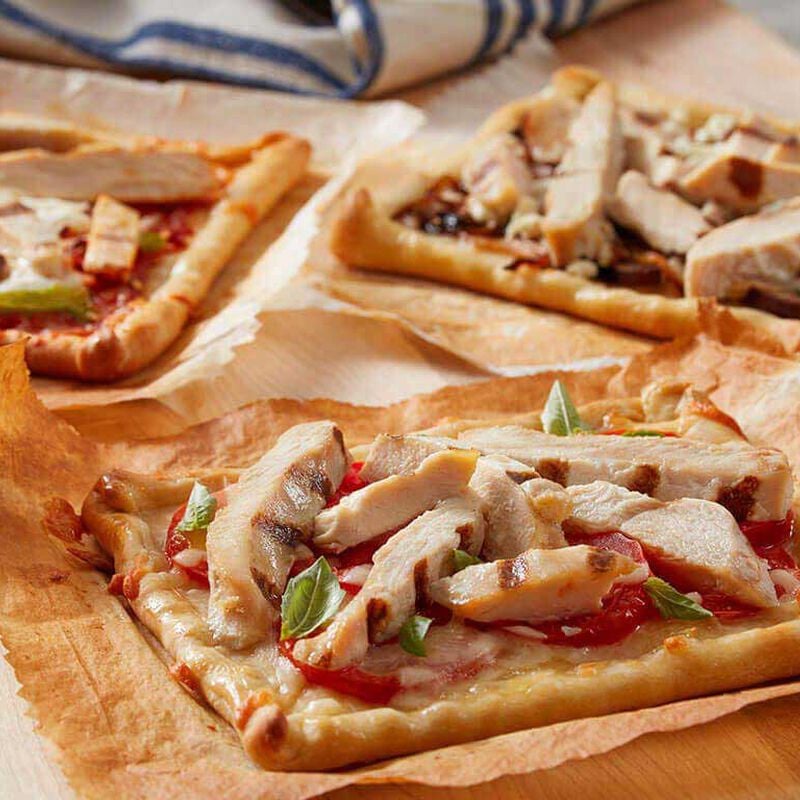 This kid-friendly recipe is also perfect for small gatherings. Put out a spread of pizza toppings, divide pizza dough into equal portions and let guests top their own individual pizzas. Grilled chicken strips add protein, plus a hint of smoke!
Nutritional Information
Calories

560

Protein

37g

Sodium

1240mg

Sat. fat

9g

Sugar

12g
Nutritional Information
4 servings per recipe
Total Carbohydrate: 53g
18%
*Percent Daily Values are based on a 2,000 calorie diet.
Ingredients
Ingredients
1 pound grilled chicken breast strips
1 pound fresh or frozen dough
Green bell pepper
Sweet onion
1 can marinara pizza sauce
Red pepper flakes
Ricotta cheese
Asiago cheese
Mushrooms, sliced
Caramelized sweet onion
Balsamic reduction
Goat cheese, crumbled
Roma or cherry tomatoes
Mozzarella balls
Fresh basil leaves
Extra virgin olive oil
Parmesan cheese, grated
Timing
Timing
Prep
10 minutes
Cook
10 minutes
Step One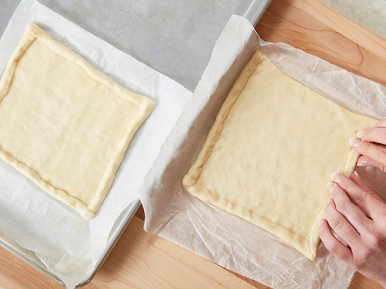 Step One
Preheat oven to 425 F. Divide the dough into 4 equal pieces. Press or roll the dough into 4 squares. Place the dough squares on a sheet tray lined with parchment paper. Roll the edges of the dough to form a rim.
Step Two
Step Two
Set out toppings and carved grilled strips and let guests build their own pizzas.
Step Three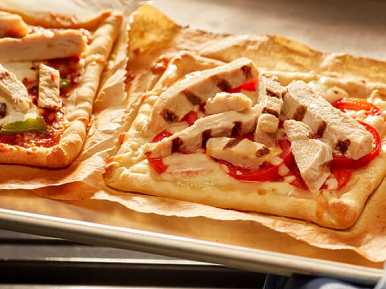 Step Three
Bake in oven for 8 to 10 minutes, until the crust is golden and the cheese is melted and bubbly. Cut pizzas with a pizza cutter or serve whole and enjoy!