Recipe Source

by the Perdue Farms Culinary Team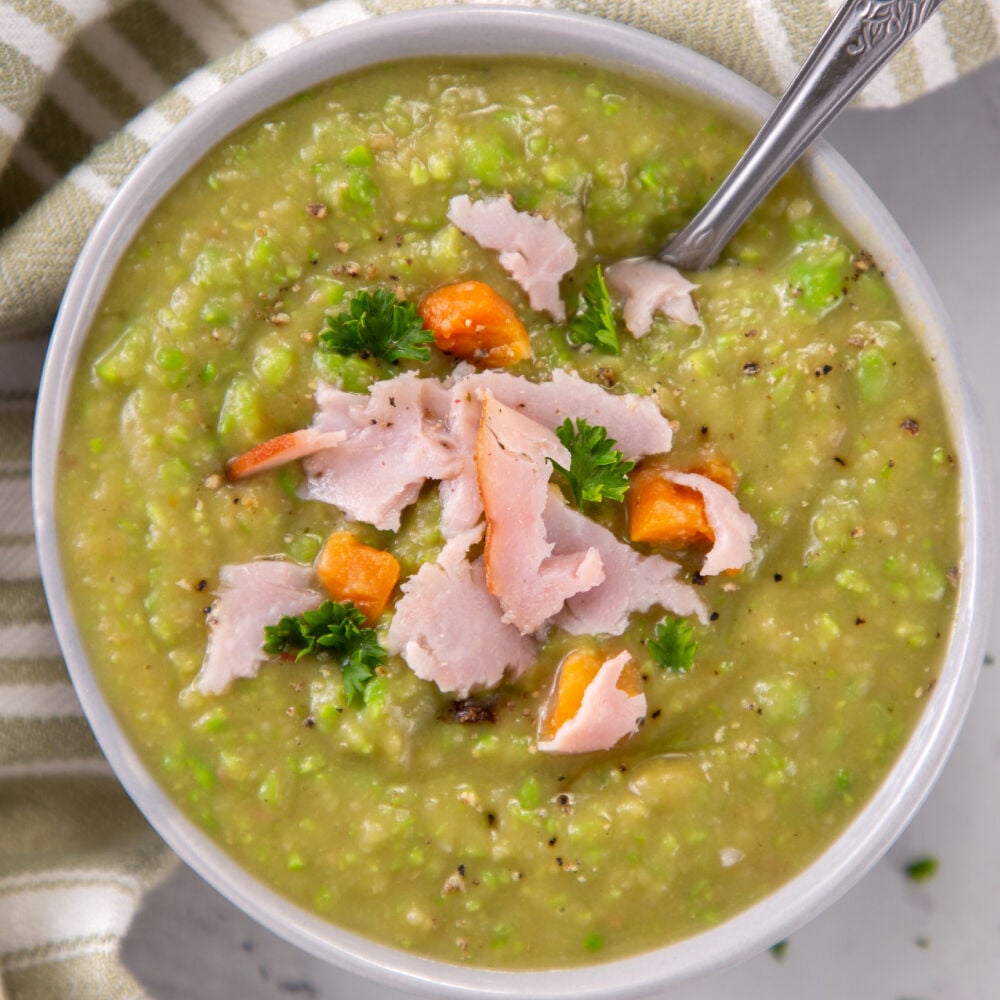 Recipe Source

by the Perdue Farms Culinary Team
You've had your fill of leftover ham from the holidays. Searching for another way to use up the last morsels of meat? Try this hearty split pea soup, which makes use of the ham bone and any last bites of delicious applewood-smoked ham. Make in a big batch and enjoy for lunches and quick and easy dinners throughout the week.
Nutritional Information
8 Servings Per Recipe
Total Carbohydrate: 40.4g
13%
*Percent Daily Values are based on a 2,000 calorie diet.
Ingredients
Ingredients
Meaty bone from Niman Ranch Spiral Ham
2 tablespoons vegetable oil
1 1/2 cups diced yellow onion
1 cup diced celery
1 cup diced carrots
1 tablespoon minced garlic
1 quart unsalted chicken stock
1 quart water
1 pound dried split peas
1 bay leaf
2 sprigs fresh thyme
1 tablespoon apple cider vinegar
Salt and pepper to taste
Fresh Italian parsley for garnish
Approx. 8-lb. spiral bone-in slightly sweet, smoky ham
Step 1
Step 1
Heat a large pot over medium heat. Once hot, add oil, followed by onions and celery. Cook for 3 to 4 minutes while stirring occasionally. Add garlic and cook an additional 2 minutes.
Step 2
Step 2
Add chicken stock and water, followed by the split peas, bay leaf, thyme and ham bone. Bring to a boil, then reduce to a simmer and cover. Cook for about 60 minutes while stirring occasionally.
Step 3
Step 3
Once ham and peas are tender, remove the ham bone to cool. Remove ham from bone, shred/rough chop and set aside.
Step 4
Step 4
Add vinegar and carrots and season soup with salt and pepper. Simmer for an additional 30 minutes, until peas are mostly broken down and liquid has reduced to desired thickness.
Step 5
Step 5
Add chopped ham, stir and garnish with parsley.
The Perdue Farms Culinary Team
Chef Chris Moyer, CEC, CRC, and Chef Shawn Reese, CEC, CRC, bring decades of combined culinary experience to their roles at Perdue Farms. The chefs contribute to recipe development, culinary ideation, and all culinary aspects of the company business.
MEET THE CHEFS