Healthy Cobb Salad with Pork and Peaches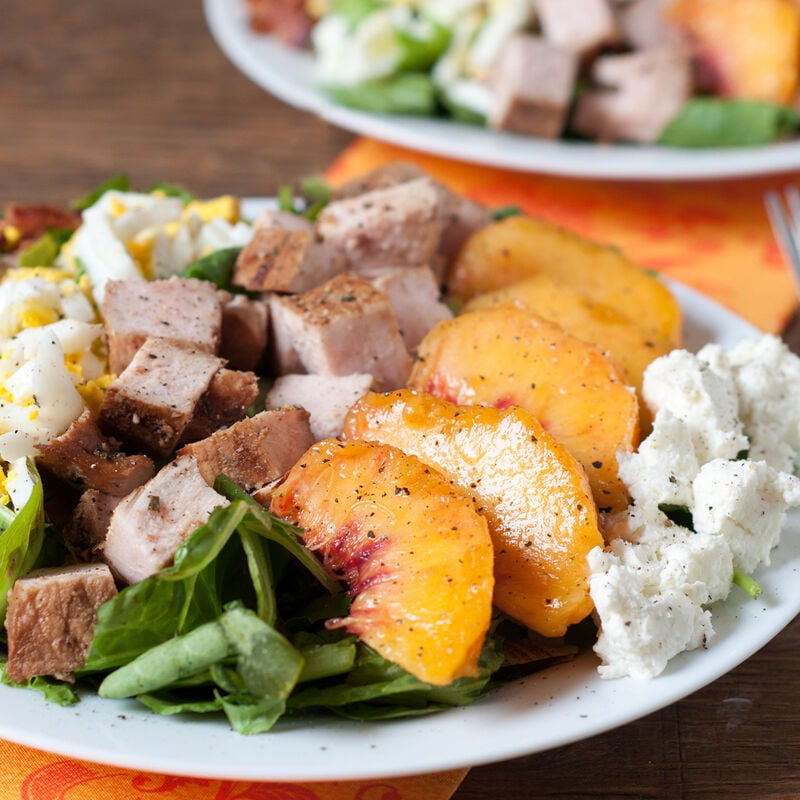 Healthy Cobb Salad with Pork and Peaches
Goat cheese, ripe, juicy peaches and cubed, roasted pork chops are the stars of this Cobb salad, a new twist on the classic chicken recipe. Serve for lunch or dinner in individual platters or family style. It's super easy to double or triple this recipe!
Nutritional Information
Calories

700

Protein

41g

Sodium

500mg

Sat. fat

18g

Sugar

8g
Nutritional Information
*Percent Daily Values are based on a 2,000 calorie diet.
Ingredients
Ingredients
6 to 8 ounces cooked pork, cooked and cubed
2 bacon slices, cooked and crumbled
4 cups mixed baby lettuce, spinach, or other salad greens
1 fresh peach, peeled and sliced
2 hard cooked eggs, chopped
2 ounces goat cheese, crumbled
Vinaigrette salad dressing, to taste
Timing
Timing
Prep
30 minutes
Cook
15 minutes
Step One
Step One
Divide the salad greens between two large plates.
Step Two
Step Two
Divide the pork cubes, peach slices, chopped eggs, crumbled bacon, and goat cheese between the two plates, lining up the ingredients in rows across the greens.
Step Three
Step Three
Drizzle each plate with desired amount of your favorite vinaigrette salad dressing and season with freshly cracked black pepper before serving.