Herb and Pommery Mustard-Crusted Leg of Lamb
Recipe Source

by the Perdue Farms Culinary Team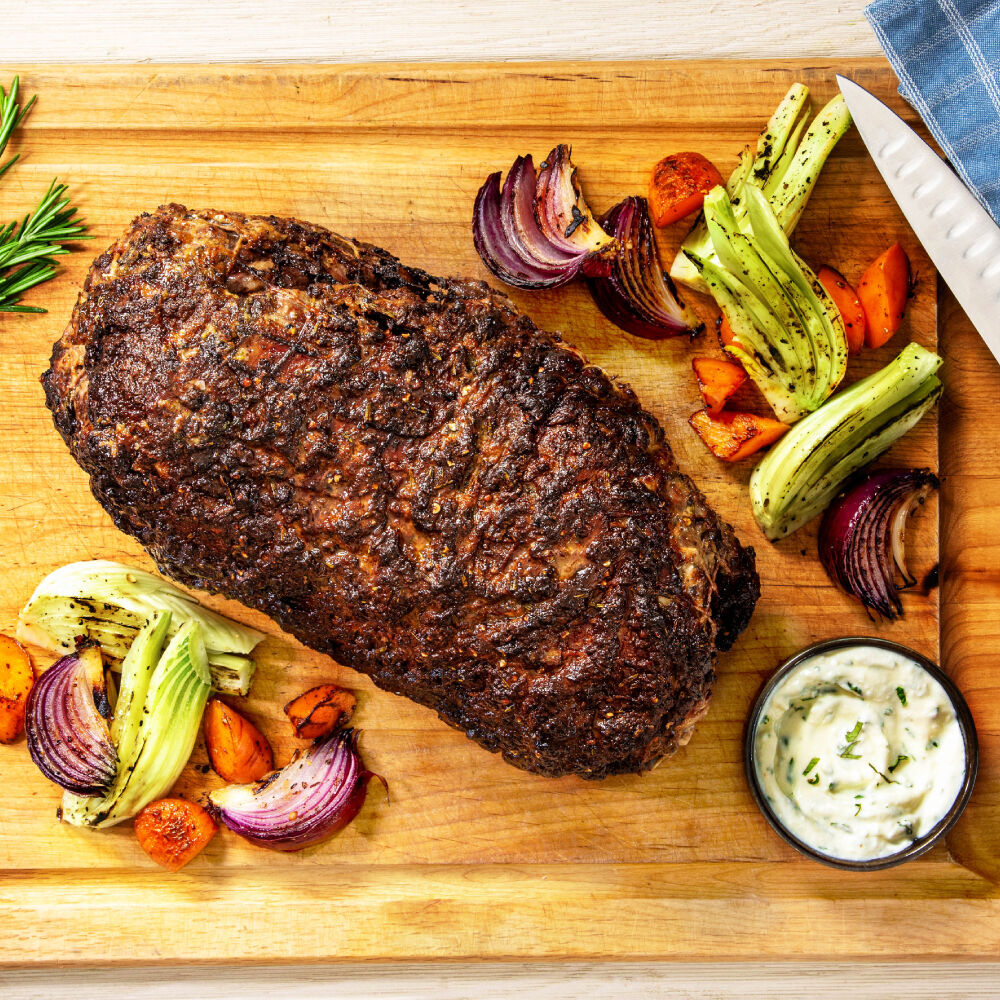 Herb and Pommery Mustard-Crusted Leg of Lamb
Recipe Source

by the Perdue Farms Culinary Team
Springtime celebrations call for this easy and elegant lamb recipe! A marinade of herbs and mustard create a delicious crust on leg of lamb, which is roasted to perfection.
Nutritional Information
12 Servings Per Recipe
Total Carbohydrate: 2.8g
1%
*Percent Daily Values are based on a 2,000 calorie diet.
Ingredients
Ingredients
1 Niman Ranch Boneless Leg of Lamb Roast
1/4 cup stone ground Pommery mustard
2 tablespoons minced garlic (approx. 3-4 large cloves)
1/4 cup minced onion
1/4 cup sherry vinegar
1/4 cup olive oil
1 tablespoon course black pepper
2 tablespoons kosher salt
3 tablespoons finely chopped fresh thyme
1 tablespoon finely chopped fresh rosemary
Step 1
Step 1
Remove lamb from package and pat dry. Keep netting on roast. Combine marinade ingredients in a mixing bowl. Liberally coat roast with marinade on all sides and under the netting. Marinate in the refrigerator, covered, overnight or for at least 2 hours before cooking.
Step 2
Step 2
Place lamb on a roasting rack in a shallow roasting pan and place uncovered in a 375 F oven for about 1 1/2 to 2 hours or until a digital meat thermometer, inserted into the thickest section of the lamb, measures 125 F to 130 F. The roast will carry over an additional 5 F to 10 F while resting for a good mid-rare temperature. Rest for 15 to 25 minutes before slicing. Carefully cut the netting off of the roast with scissors before carving.
The Perdue Farms Culinary Team
Chef Chris Moyer, CEC, CRC, and Chef Shawn Reese, CEC, CRC, bring decades of combined culinary experience to their roles at Perdue Farms. The chefs contribute to recipe development, culinary ideation, and all culinary aspects of the company business.
MEET THE CHEFS