Homemade Chicken and Mushroom Ramen
Recipe Source

by the Perdue Farms Culinary Team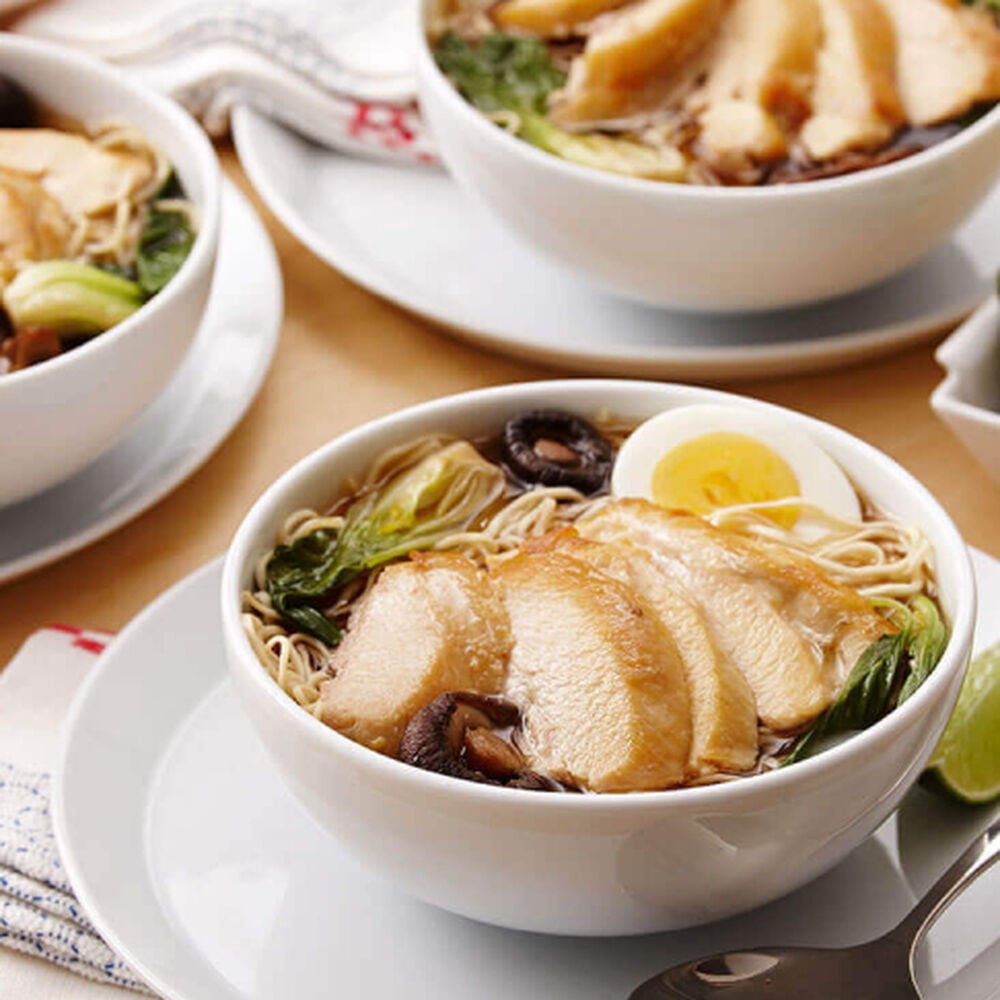 Homemade Chicken and Mushroom Ramen
Recipe Source

by the Perdue Farms Culinary Team
Comfort food can't get much better than this flavor-filled noodle bowl, which incorporates chicken thigh meat, shitake mushrooms and your favorite Asian spices. Serve with hot sauce on the side for those who enjoy a little kick.
Nutritional Information
4 Servings Per Recipe
Total Carbohydrate: 55.0g
*Percent Daily Values are based on a 2,000 calorie diet.
Ingredients
Ingredients
1 1/2 pounds Perdue Harvestland Organic Boneless Skinless Chicken Thighs
1 tablespoon soy sauce
1 ounce dried shiitake mushrooms, soaked in boiling water for 20 minutes
4 nests of dried Ramen noodles, cooked (2 ounces)
Lime wedges for serving
1 tablespoon olive oil
1/4 teaspoon Chinese five-spice powder
1/4 teaspoon salt
1/8 teaspoon black pepper
1 tablespoon minced fresh garlic
1 tablespoon grated ginger
4 cups chicken stock
2 teaspoons sugar
4 baby bok choy, cut in half
4 large eggs, hard boiled and cut in half
4 tablespoons sliced scallions
Sriracha sauce for serving
Step 1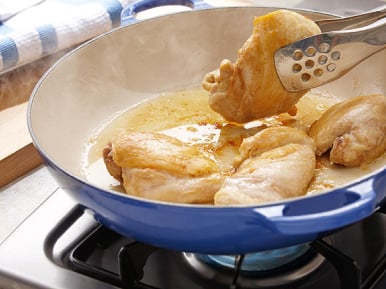 Step 1
Heat 1 tablespoon olive oil in large saucepan or Dutch oven over medium-high heat. Season chicken with Chinese five-spice powder, salt and pepper. Sauté chicken thighs for 5 to 7 minutes per side, until chicken is browned. Transfer chicken to plate. When cool, slice thighs into strips.
Step 2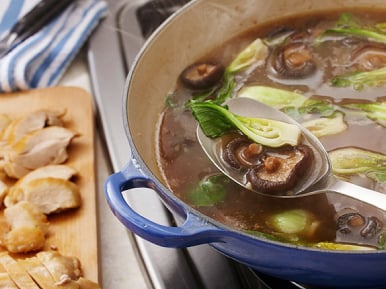 Step 2
Remove all but 1 teaspoon oil from Dutch oven and heat over medium-high heat. Add garlic and ginger, and sauté until fragrant, about 30 to 45 seconds. Add chicken stock, soy sauce and sugar. Remove stems from shiitake mushrooms, slice into strips and add to broth. Bring to boil, reduce heat and simmer 10 minutes. Add baby bok choy and sliced thighs to broth and simmer about 5 minutes or until bok choy is tender and chicken is cooked through.
Step 3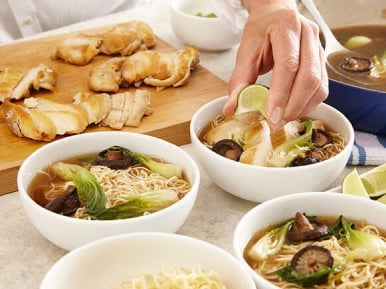 Step 3
Divide cooked ramen noodles into 4 bowls. Ladle in broth. Add mushrooms and bok choy from broth. Top with sliced chicken, scallions and hard-boiled eggs. Serve with Sriracha sauce and lime wedges on the side.
The Perdue Farms Culinary Team
Chef Chris Moyer, CEC, CRC, and Chef Shawn Reese, CEC, CRC, bring decades of combined culinary experience to their roles at Perdue Farms. The chefs contribute to recipe development, culinary ideation, and all culinary aspects of the company business.
MEET THE CHEFS