Hearty Homemade Ham and Bean Soup
Recipe Source

courtesy of Niman Ranch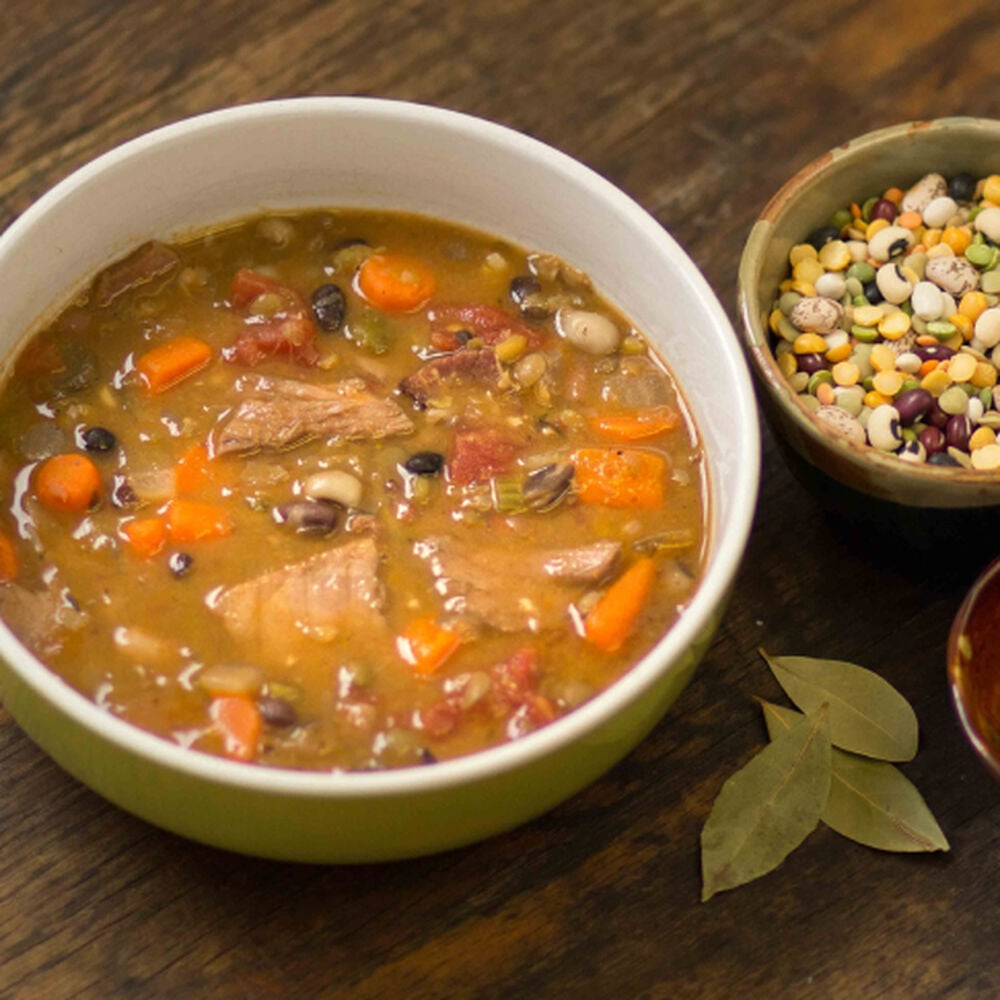 Hearty Homemade Ham and Bean Soup
Recipe Source

courtesy of Niman Ranch
This rich and satisfying soup is certain to warm you up on chilly autumn and winter days. This homemade ham and bean soup recipe will make good use of leftover ham. Add in your favorite 10 bean soup pack, garlic and seasonings and let simmer while you prepare the rest of your meal.
Nutritional Information
8 Servings Per Recipe
Total Carbohydrate: 54g
20%
*Percent Daily Values are based on a 2,000 calorie diet.
Ingredients
Ingredients
3 cups Niman Ranch Applewood Smoked Uncured Spiral Ham, chopped
5 slices Niman Ranch Applewood Smoked Uncured Bacon, chopped into 1/2-inch-wide pieces
3 cups 10 bean soup mix or 1/2 cup each dried great northern beans, kidney beans, navy beans, lima beans, butter beans and split green or yellow peas
2 quarts chicken stock
2 cups water
1 can (28 ounces) tomatoes with liquid, chopped or quartered
1 medium onion, chopped and separated into two equal portions
3 celery ribs, chopped and separated
4 medium carrots, peeled and sliced
1 garlic clove, chopped
2 garlic cloves, minced
4 bay leaves
2 tablespoons dried parsley flakes
2 teaspoons dried thyme
1 teaspoon ground mustard
1/2 teaspoon cayenne pepper
Approx. 8-lb. spiral bone-in slightly sweet, smoky ham
Step 1
Step 1
Wash all beans thoroughly; drain and place in a large saucepan. Add 5 cups of water. Bring to a rapid boil; boil for 2 minutes, stirring occasionally. Remove from the heat, cover and let stand for 1 hour.
Step 2
Step 2
Meanwhile, place a 4- to 6-quart pot on medium heat. Once heated, add bacon and cook until slightly brown. Add the chopped garlic, just under one half of the chopped onion and one of the chopped celery stalks. Sauté until the onions begin to look translucent, about 2 minutes. Add chicken stock and water, then cover and simmer until the beans are ready.
Step 3
Step 3
Drain and rinse the beans, then add to the stock with all other ingredients. Cover and simmer on low or medium-low heat for 2 to 3 hours, or until the larger beans are cooked through. Season with salt and pepper, then serve.