Sweet Honey Korean Chicken Wings
This honey wings recipe pairs the best of Asian seasonings with 100% pure, raw and unfiltered honey.
---
by Perdue Farms Corporate Chefs
|
June 2021
|
Yield: 6 to 8 Servings
---
Perdue Farms' culinary team partnered with the pros at Nature Nate's Honey Co. to develop a sticky, sweet and spicy honey chicken wings recipe that will make your taste buds sing!
If time allows and for optimal results, let wings marinate overnight in the homemade dressing. Then roast in a hot oven until crispy, golden and delicious.

Ingredients
3 to 4 pounds Perdue Chicken Wings (drums and flats)
For Marinade

1/4 cup gochujang (Korean chili paste)
2 tablespoons Sriracha sauce (optional, for more heat)
1/3 cup soy sauce
1/4 cup water
2 tablespoons rice wine vinegar
1 tablespoon toasted sesame oil
2 tablespoons finely grated garlic
2 tablespoons finely grated ginger
2 teaspoons kosher salt
1 teaspoon black pepper
Sesame seeds and chopped green onions (for garnish)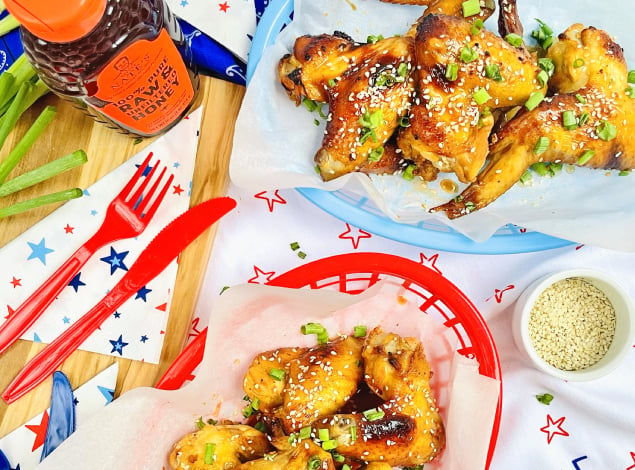 Step 1: Make Marinade
Whisk marinade ingredients together. Add wings to a large zipper closure bag and pour mixture over, making sure to evenly coat wings. Refrigerate overnight (or 4 hours, if you're in a pinch).
Step 2: Oven Roast
Preheat oven to 375 F. Spray a parchment-lined sheet tray with cooking spray; place the wings evenly onto the tray, making sure not to overlap. Drizzle remaining marinade over the wings, and cook for 40 to 55 minutes, turning once halfway through cooking. Wings are done when digital thermometer, inserted in thickest part of wings, registers 180 F and the bones no longer look red/raw.
Step 3: Plate
Place wings on a serving platter; drizzle with any excess cooking liquid from the sheet tray and garnish with sesame seeds and green onions.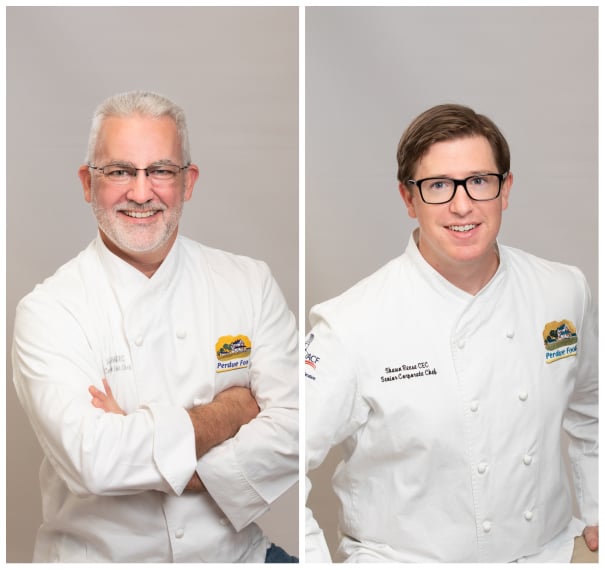 Meet the Perdue Farms Corporate Culinary Team
Chef Chris Moyer, CEC, CRC, and Chef Shawn Reese, CEC, CRC, bring decades of combined culinary experience to their roles at Perdue Farms. Day to day, the chefs contribute to recipe development, culinary ideation and all culinary aspects of the company business. Along with keeping a close eye on emerging trends, new flavors and innovations in the industry, Chefs Chris and Shawn are involved in food photography for Perduefarms.com and head up planning and preparation of meals for both internal corporate functions and external consumer-focused events. The duo represents Perdue Farms and its brands at food shows across the country and remain 100% focused on a positive consumer experience with Perdue Farms products. "We truly love what we do," they say, "and it is exciting to be in an environment that allows us the freedom to be innovative."
LEARN MORE