Hot Honey Mustard Chicken Sandwich
The secret to this declious grilled chicken sandwich recipe? Nature Nate's 100% pure, raw and unfiltered honey!
---
by Perdue Farms Corporate Chefs
|
June 2021
|
Yield: 4 Servings
---
As they say, the secret's in the sauce! Perdue Farms' culinary team and the pros at Nature Nate's Honey Co. have teamed up to develop this simply delicious grilled chicken sandwich recipe – with a hot and spicy honey mustard sauce that will knock your socks off!
Chicken breasts can be cooked on the grill or in a grill pan and the amount of hot sauce can be adjusted to suit your tastes.

Ingredients
1 package Perdue Boneless Skinless Chicken Breast Filets
1 tablespoon olive oil
1/2 teaspoon salt
1/4 teaspoon black pepper
For Sauce

2 tablespoons whole grain mustard
1 tablespoon white wine vinegar
2 teaspoons hot sauce (add more for a little more heat)
4 sesame seeded buns
1 cup mayonnaise
4 leaves of bib lettuce
1 medium tomato, thinly sliced
1 medium red onion, thinly sliced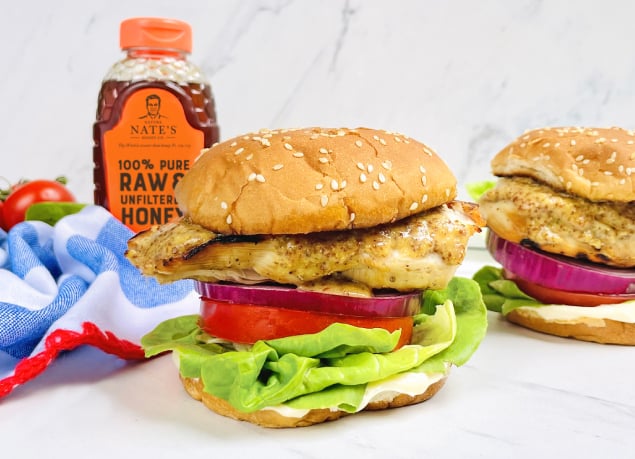 Step 1: Grill Chicken
Preheat a grill or grill pan over medium high heat. Season chicken with olive oil, salt and pepper. Grill for 7 to 8 minutes on one side, then flip over and grill for another 7 to 8 minutes. Chicken is done when a meat thermometer inserted in the center reaches 170 F.
Step 2: Make Sauce
Combine honey, mustard, vinegar and hot sauce and set aside.
Step 3: Dress Chicken
Coat each chicken breast with sauce.
Step 4: Build Sandwiches
Spread 2 tablespoons of mayonnaise on each sesame seed bun. Layer with Bibb lettuce, tomato and onion. Top with chicken, more sauce and the bun topper. Serve warm with extra sauce on the side.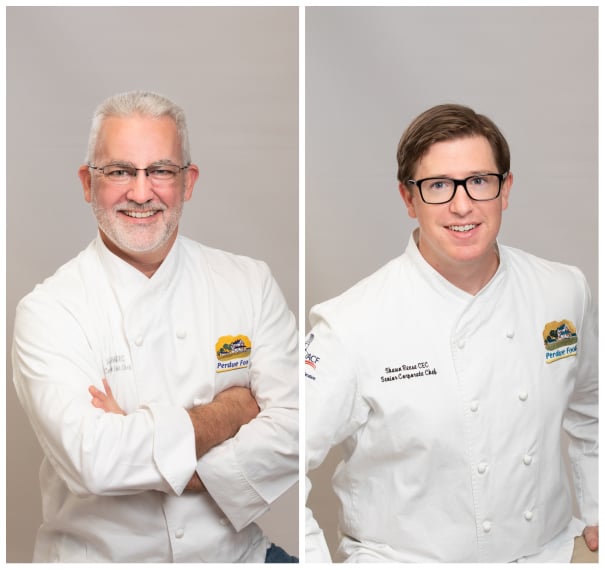 Meet the Perdue Farms Corporate Culinary Team
Chef Chris Moyer, CEC, CRC, and Chef Shawn Reese, CEC, CRC, bring decades of combined culinary experience to their roles at Perdue Farms. Day to day, the chefs contribute to recipe development, culinary ideation and all culinary aspects of the company business. Along with keeping a close eye on emerging trends, new flavors and innovations in the industry, Chefs Chris and Shawn are involved in food photography for Perduefarms.com and head up planning and preparation of meals for both internal corporate functions and external consumer-focused events. The duo represents Perdue Farms and its brands at food shows across the country and remain 100% focused on a positive consumer experience with Perdue Farms products. "We truly love what we do," they say, "and it is exciting to be in an environment that allows us the freedom to be innovative."
LEARN MORE