Meyer Lemon Honey- and Herb-Roasted Half Chicken
Recipe Source

by the Perdue Farms Culinary Team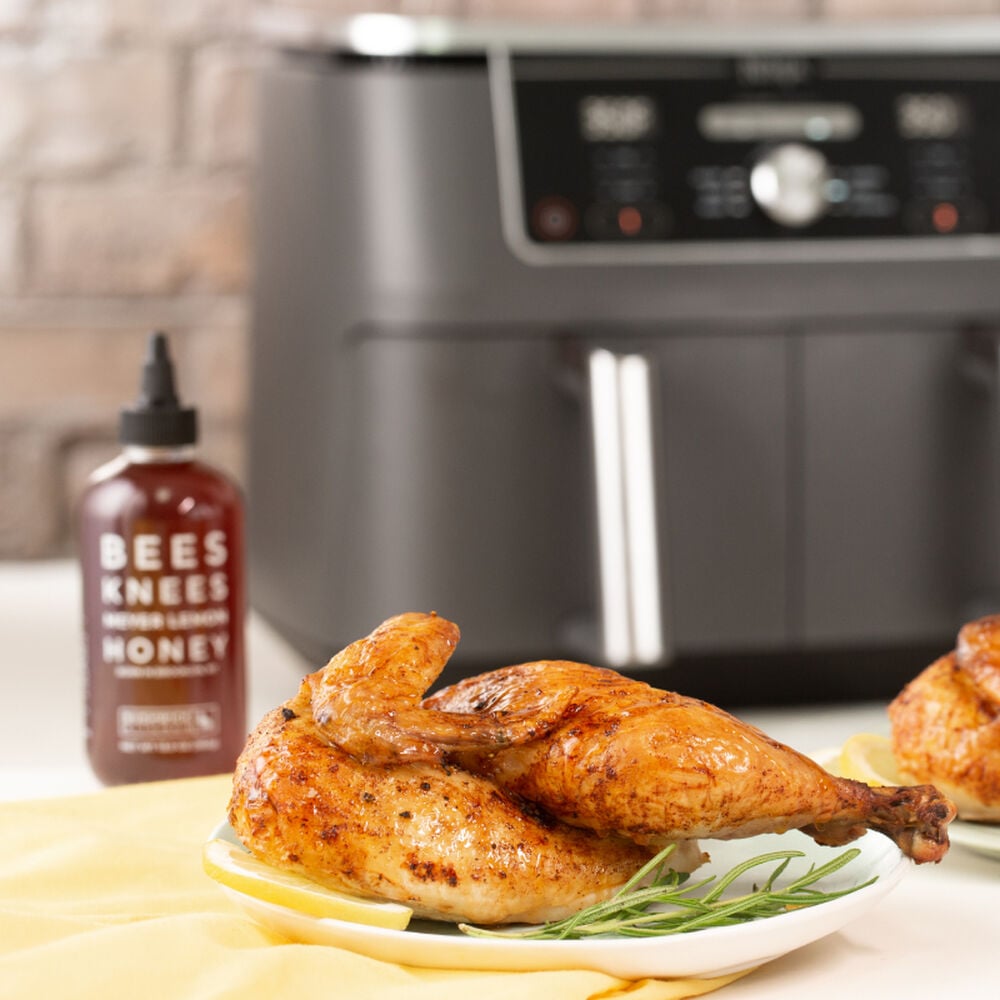 Meyer Lemon Honey- and Herb-Roasted Half Chicken
Recipe Source

by the Perdue Farms Culinary Team
Shallot- and herb-brined half chicken roasted with a Meyer lemon honey glaze
Nutritional Information
4 Servings Per Recipe
Total Carbohydrate: 12.3g
4%
*Percent Daily Values are based on a 2,000 calorie diet.
Ingredients
Ingredients
2 shallots, chopped
3 garlic cloves, chopped
1/3 cup salt
1 tablespoon sugar
6 cups water
2 bay leaves
2 sprigs fresh thyme
2 sprigs fresh rosemary
1 tablespoon black pepper
Bushwick Kitchen Bees Knees Meyer Lemon Honey to taste
1/2 Classic Whole Chicken
Approx. 4-lb. plump, tender and juicy whole chicken
Step 1
Step 1
To make the brine, combine first nine ingredients in a pot. Place pot on the stove and bring to a boil.
Step 2
Step 2
Remove brine from heat and cool to room temperature. Place defrosted chicken halves in a large platter or roasting pan and pour brine over. Store chicken, covered, in refrigerator overnight. Note: To save time, make brine with 3 cups of water and, once removed from heat, add approximately 3 1/4 cups of ice and stir to melt.
Step 3
Step 3
Install the crisper plate into each basket of the Ninja Foodi XL 2-Basket Air Fryer. Then, pat chicken dry and place into the baskets, bone side down.
Step 4
Step 4
Select Zone 1, select ROAST, then set temperature to 375 F and the time to 35 minutes. Then select Match Cook. This feature easily syncs cook settings across both zones.
Step 5
Step 5
Press the START/PAUSE button to begin cooking. When the Zone 1 and 2 times reach 5 minutes, press START/PAUSE to pause the unit. Remove the baskets and brush honey on chicken. Reinsert the baskets and press START/PAUSE to resume cooking. Continue to cook until chicken reaches an internal temperature of 180 F when measured with a digital meat thermometer.
The Perdue Farms Culinary Team
Chef Chris Moyer, CEC, CRC, and Chef Shawn Reese, CEC, CRC, bring decades of combined culinary experience to their roles at Perdue Farms. The chefs contribute to recipe development, culinary ideation, and all culinary aspects of the company business.
MEET THE CHEFS