Smokey Honey-Sambal Cornish Hens
Recipe Source

by the Perdue Farms Culinary Team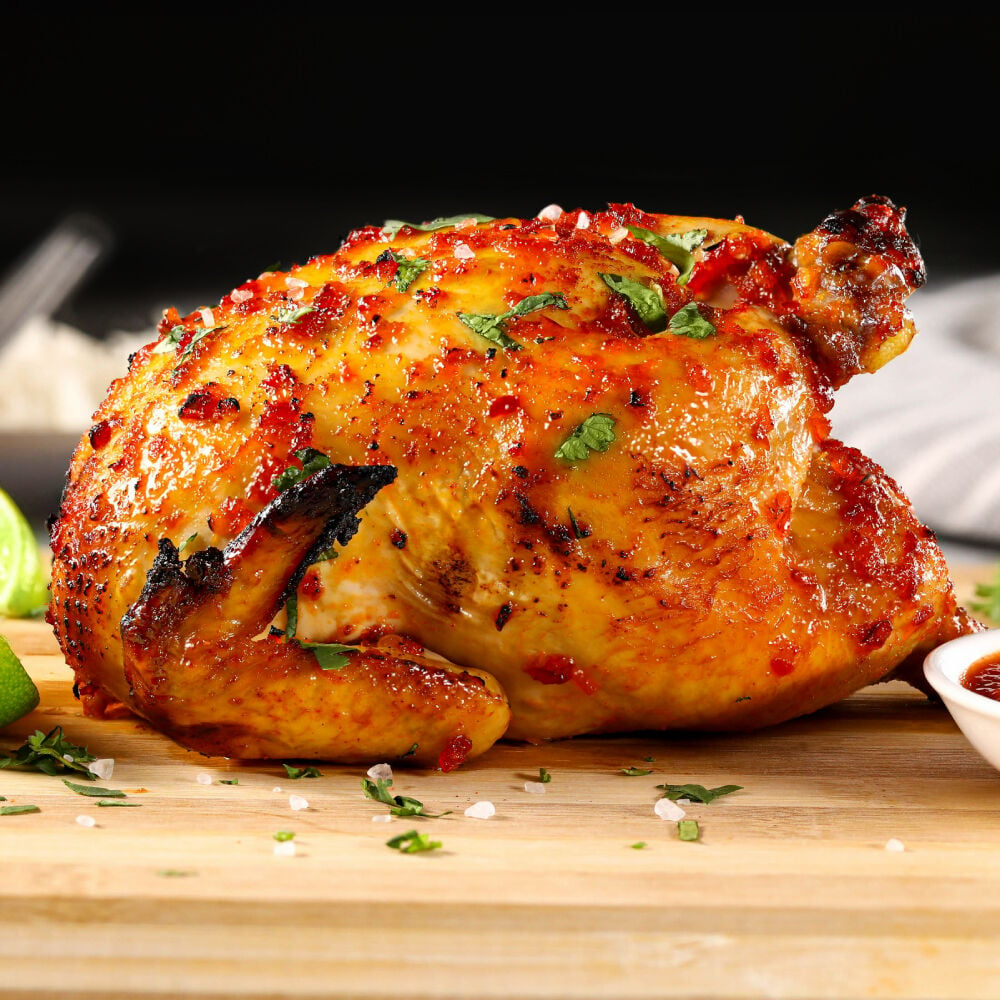 Smokey Honey-Sambal Cornish Hens
Recipe Source

by the Perdue Farms Culinary Team
The perfect blend of sweet and spicy, this Cornish hens recipe is easy and delicious for dinner or any special occasion. Honey, Sambal Oelek and smoked paprika add just the right hint of Indonesian flavor.
Nutritional Information
4 Servings Per Recipe
Total Carbohydrate: 12.8g
4%
*Percent Daily Values are based on a 2,000 calorie diet.
Ingredients
Ingredients
2 Cornish hens
4 cloves garlic, minced
2 tablespoons olive oil
1 tablespoon sambal oelek
2 tablespoons honey
3 teaspoons kosher salt
1 teaspoon smoked paprika
1 lime, juiced
Cilantro for garnish
Step 1
Step 1
Preheat oven to 375 F.
Step 2
Step 2
In a medium mixing bowl, whisk together garlic, olive oil, Sambal, honey, salt, paprika and lime juice. Rub the mixture over the entire outside of both Cornish hens, cover and let marinate in the refrigerator for 45 minutes to an hour.
Step 3
Step 3
Place the marinated birds in a roasting pan with a rack. Cook for 25 to 30 minutes; brush with drippings. If skin is darkening too quickly, tent Cornish hens with foil for the remainder of the cooking time, 20 to 30 minutes or until a meat tested with a digital meat thermometer registers 180 F.
Step 4
Step 4
Brush again with drippings, garnish with chopped cilantro and serve.
The Perdue Farms Culinary Team
Chef Chris Moyer, CEC, CRC, and Chef Shawn Reese, CEC, CRC, bring decades of combined culinary experience to their roles at Perdue Farms. The chefs contribute to recipe development, culinary ideation, and all culinary aspects of the company business.
MEET THE CHEFS