Boneless Hot Wyngz and Blue Cheese Bites
Recipe Source

by the Perdue Farms Culinary Team
Boneless Hot Wyngz and Blue Cheese Bites
Recipe Source

by the Perdue Farms Culinary Team
This appetizer is destined to become your football party food favorite! With all the flavor of hot wings minus the mess, these mini skewers, made with precooked chicken chunks, come together quickly. Serve with your favorite Buffalo sauce and blue cheese dressing.
Nutritional Information
*Percent Daily Values are based on a 2,000 calorie diet.
Ingredients
Ingredients
1 bag Perdue Breaded Popcorn Chicken
6 stalks celery
Blue cheese dressing for dipping (optional)
1 (7-ounce) package chive-flavored cream cheese, softened
6 tablespoons crumbled blue cheese
1 cup hot sauce
Skewers
Step 1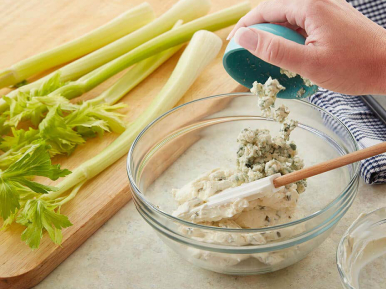 Step 1
Preheat your oven to 425 F and bake the chicken chunks according to package directions. When done, remove the chunks from the oven and allow to cool. Meanwhile, in a bowl, combine the cream cheese and blue cheese.
Step 2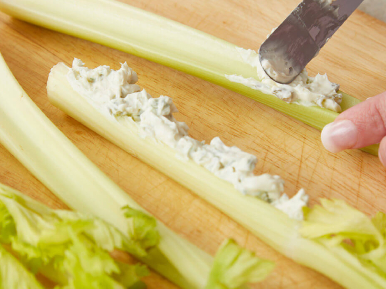 Step 2
With a butter knife or offset spatula, stuff the blue cheese mixture into the celery stalks and then slice into about 1-inch pieces. You should get about 6 pieces per stalk.
Step 3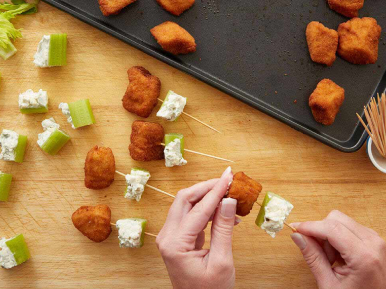 Step 3
Skewer 1 piece of stuffed celery, through its side with the blue cheese mixture facing up, onto a wooden skewer. Skewer a chicken chunk after the celery.
Step 4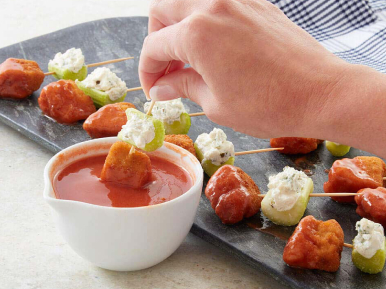 Step 4
Dip the skewered chicken chunk in hot sauce (unless using buffalo-style wyngz) and place on a serving tray. Continue with remaining chunks and celery pieces. Serve skewers with extra hot sauce and blue cheese dressing on the side.
The Perdue Farms Culinary Team
Chef Chris Moyer, CEC, CRC, and Chef Shawn Reese, CEC, CRC, bring decades of combined culinary experience to their roles at Perdue Farms. The chefs contribute to recipe development, culinary ideation, and all culinary aspects of the company business.
MEET THE CHEFS