Italian Sausage, Roasted Tomato and Eggplant Gnocchi
Recipe Source

courtesy of Niman Ranch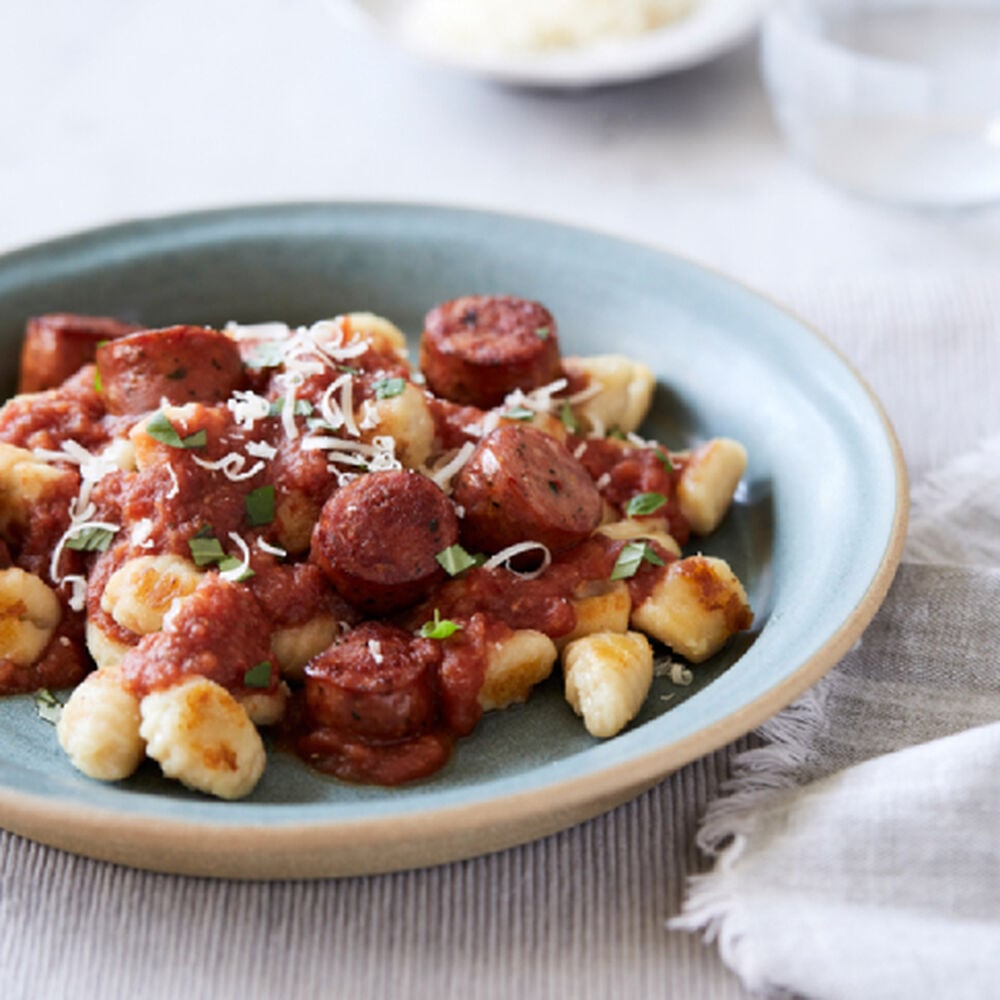 Italian Sausage, Roasted Tomato and Eggplant Gnocchi
Recipe Source

courtesy of Niman Ranch
We think this might just be the best of all recipes using gnocchi! Eggplant, tomatoes and garlic come together in a chunky sauce that's served atop steamed, sautéed gnocchi and Niman Ranch's famous Italian sausage. Fresh basil garnish and a sprinkle of Parmesan make this dish a feast for the eyes and the soul!
Nutritional Information
*Percent Daily Values are based on a 2,000 calorie diet.
Ingredients
Ingredients
4 links Niman Ranch Sweet Italian Sausage, sliced into 1-inch pieces
2 pounds eggplant, trimmed and cut in half lengthwise
6 peeled garlic cloves
3 tablespoons plus 1 teaspoon olive oil
1 28-ounce can whole peeled tomatoes, drained, liquid reserved
1 17.5-ounce package prepared gnocchi
Kosher salt and black pepper
1/4 teaspoon dried chili flakes
Fresh basil and grated Parmesan cheese for serving
Step 1
Step 1
Heat oven to 425 F. Place the cut eggplant, flesh side down, on a baking sheet lined with parchment. Add the garlic to the pan and drizzle with 1 teaspoon oil. Roast 25 minutes. Remove pan and add the drained tomatoes. Roast another 15 minutes until the eggplant is soft.
Step 2
Step 2
Meanwhile, cook the gnocchi according to package directions in salted water. Heat 1 tablespoon olive oil in a non-stick skillet and add the drained, cooked gnocchi. Sauté until just golden and crisp on the sides. Set aside. In the same pan sauté sausage in 1 tablespoon oil until just crisped.
Step 3
Step 3
Remove the eggplant, garlic and tomatoes from the oven. Scoop the flesh out of the eggplant into a blender or food processor, add the roasted tomatoes, garlic, salt and chili flakes. Pulse into a chunky sauce. If the sauce is too thick, add the reserved tomato liquid, 1 tablespoon at a time.
Step 4
Step 4
To serve, put the gnocchi and sausage on a platter and top with sauce. Garnish with basil and Parmesan.