Sweet, spicy with an unbelievable crunch! That's what you can expect from this creative take on a Thanksgiving classic. This original grilled turkey recipe, developed by Perdue Farms' own corporate chefs, is inspired by West Coast food truck cuisine, specifically Korean BBQ.
Turkey is quartered, marinated for two days in an Asian-style brine and then grilled to perfection. A honey-, chili paste- and Sriracha-infused glaze caramelizes in the last few minutes of grilling time, creating a golden brown crust that's simply delectable. We suggest that you reserve some glaze as a dipping sauce and serve turkey with your favorite Asian-style sides.
| | | |
| --- | --- | --- |
| PREP | MARINATE | COOK |
| 20 | 48 | 70 |
| MINUTES | HOURS | MINUTES |
Ingredients



Bulgogi Marinade

1/4 cup Gochujang paste
1 cup soy sauce
2 tablespoons sesame oil
2 tablespoons rice wine vinegar
1 tablespoon fish sauce
3 tablespoons (5 cloves) garlic, minced
3 green onions, minced
2 tablespoons ginger, minced
2 habanero peppers, minced
1 teaspoon black pepper
3 tablespoons honey



Glaze

1 cup honey
1/2 cup Sriracha
1/2 cup Gochujang paste
1 teaspoon cayenne pepper
2 teaspoons sesame seeds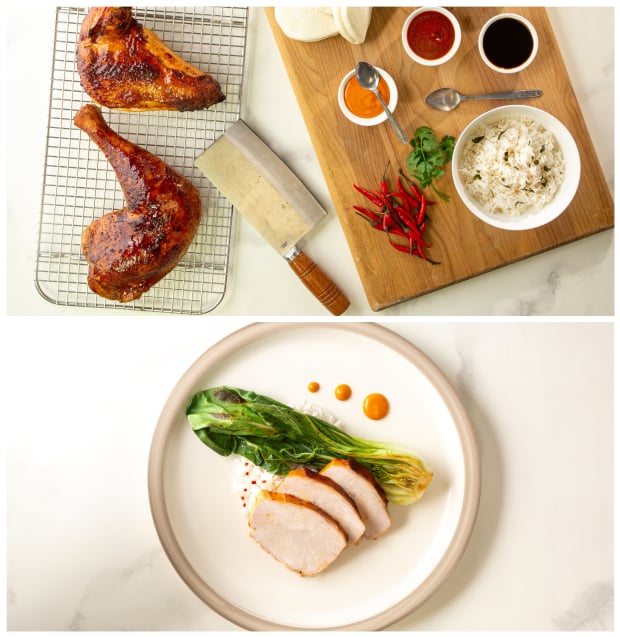 Step 1: Break Down Turkey
Cut the back out of the turkey, similar to the Spatchcock method.


Cut through the breast by taking the knife on either side of the keel bone in the center of the two lobes.


Remove excess rib bones from the underside of the halves along with cutting between the back quarter and the front quarter to separate.


Push down on meat with a Jaccard Meat tenderizer or kitchen fork to help separate the muscle fibers.


Remove tips of wings. Reserve, along with the back and the neck, for a stock or gravy.
Step 2: Make the Marinade and Glaze
Mince the garlic, ginger, green onions and habanero pepper. Note: Wear food gloves when handling the pepper.


Add the rest of the ingredients and mix well.


Place turkey parts in a large food-safe zipper storage bag or container. Add marinade and distribute so all parts are well covered.


Place turkey in the refrigerator for up to 48 hours. To create the glaze, mix all ingredient together, blend well and reserve.
Step 3: Grill the Turkey
Preheat the grill using all burners to 450 F.


Remove turkey pieces from the marinade, one by one. Place each piece onto a square of aluminum foil and wrap loosely. Be sure to use a pan release spray so the skin does not stick to the foil.


Create an indirect cooking area in the middle of the grill by by keeping burners on each end of grill lit and turn center burners off.


Place the turkey, bone side down, on the indirect area of the grill.


Close the lid and bring the temperature of the grill back up to 350 F. Maintain a consistent temperature by adjusting the two lit burners.


Cook the turkey in the foil for an hour. Remove the foil and place turkey, skin side up, on the indirect area of the grill.


When turkey reaches an internal temperature of 160 F, brush glaze on turkey.


Continue cooking, brushing turkey with glaze periodically, until the internal temperature of turkey reaches 170 F.


Remove turkey from grill and let rest for 10 minutes before carving.
WHY YOU'LL LOVE
A Versatile Recipe
You can serve this dish for the holidays or any occasion when you're in the mood to grill. What should you do with the leftover turkey? We suggest Korean-style tacos.
Korean Tacos Recipe
Shred cooked turkey. Place a portion in a warmed flour or corn tortilla, drizzle with reserved glaze and top with Asian-style slaw, kimchi and a cilantro crema.

THINGS TO CONSIDER
Korean-Style Sides
Pair this sweet and spicy turkey with sides that might be served at an Asian restaurant. Suggestions include:
To Customize the Recipe
Reserve some glaze that guests can drizzle over turkey. For a spicier turkey, add cayenne pepper, hot sauce or other condiment to the glaze.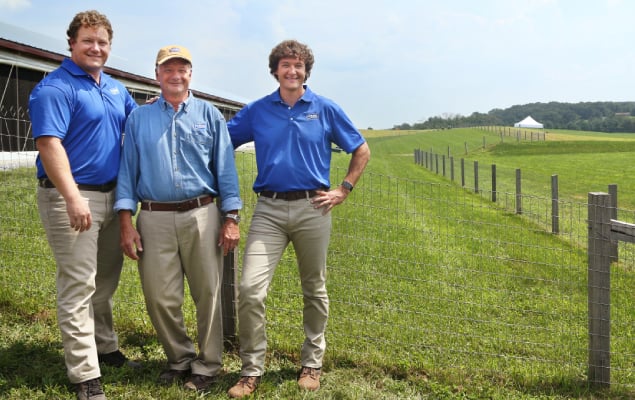 Why Choose Perdue Farms
When it comes to the food you feed your family, quality matters. And while there are a lot of options out there, Perdue Farms stands apart. In business for over 100 years, we are a fourth-generation, family owned American food and agriculture business that from the beginning has worked with family farmers.