Recipe Source

by the Perdue Farms Culinary Team
Recipe Source

by the Perdue Farms Culinary Team
An Asian twist on a Southern classic, chicken pieces are marinated in a Korean-style sauce, dredged in a cornstarch mixture, deep fried and covered in a spicy Bulgogi glaze.
Nutritional Information
6 Servings Per Recipe
Total Carbohydrate: 20.2g
7%
*Percent Daily Values are based on a 2,000 calorie diet.
Ingredients
Ingredients
1 Perdue Harvestland Organic Whole Chicken, cut into 10 pieces (2 wings, 2 drums, 2 thighs and 2 breasts cut in half)
3 tablespoons Gochujang paste
1/2 cup soy sauce
1 tablespoon sesame oil
1 tablespoon rice vinegar
1/2 tablespoon fish sauce
5 cloves garlic, minced
3 green onions, minced
1 tablespoon ginger, minced
1 habanero pepper, minced
1 teaspoon black pepper
1 1/8 cups honey
2 cups cornstarch
1 teaspoon baking powder
Oil for frying
1/2 cup Sriracha
1/2 cup Gochujang
1 teaspoon cayenne pepper
2 teaspoons sesame seeds
Approx. 4-lb. plump, tender and juicy organic whole chicken
Step 1
Step 1
Make marinade by combining Gochujang paste, soy sauce, sesame oil, vinegar, fish sauce, minced garlic, minced onions, minced ginger, minced pepper, black pepper and 3 tablespoons honey. Place chicken in a bowl and cover with marinade. Refrigerate for 4 to 8 hours.
Step 2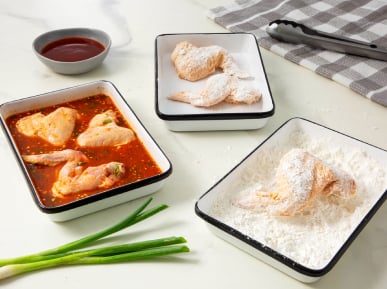 Step 2
In a bowl, mix corn starch and baking powder. Remove chicken from the marinade and pat dry. Dredge chicken pieces in cornstarch mixture, shaking off excess. Let rest for 5 to 10 minutes.
Step 3
Step 3
Pour enough oil in a medium to large pot to fill it halfway. Using a digital thermometer to check temperature, heat oil over medium heat to 340 F. Reduce heat to low when oil reaches appropriate temperature.
Step 4
Step 4
Place chicken in pot, starting with drums and thighs, following with breasts and finally wings. Cook until the internal temperature, when measured with a digital meat thermometer, reaches 185 F. Remove chicken from pot and place on a paper towel-lined plate or platter to drain
Step 5
Step 5
Make Bulgogi glaze by combining 1 cup honey with last four ingredients. Set aside. Heat oil in pot to 360 F. Place chicken back in oil and cook until brown. Remove chicken from pot, toss in glaze and serve. Note: Glaze can also be served on the side.
The Perdue Farms Culinary Team
Chef Chris Moyer, CEC, CRC, and Chef Shawn Reese, CEC, CRC, bring decades of combined culinary experience to their roles at Perdue Farms. The chefs contribute to recipe development, culinary ideation, and all culinary aspects of the company business.
MEET THE CHEFS