Lemon and Mint Lamb Kebabs With Yogurt Sauce
Recipe Source

courtesy of Niman Ranch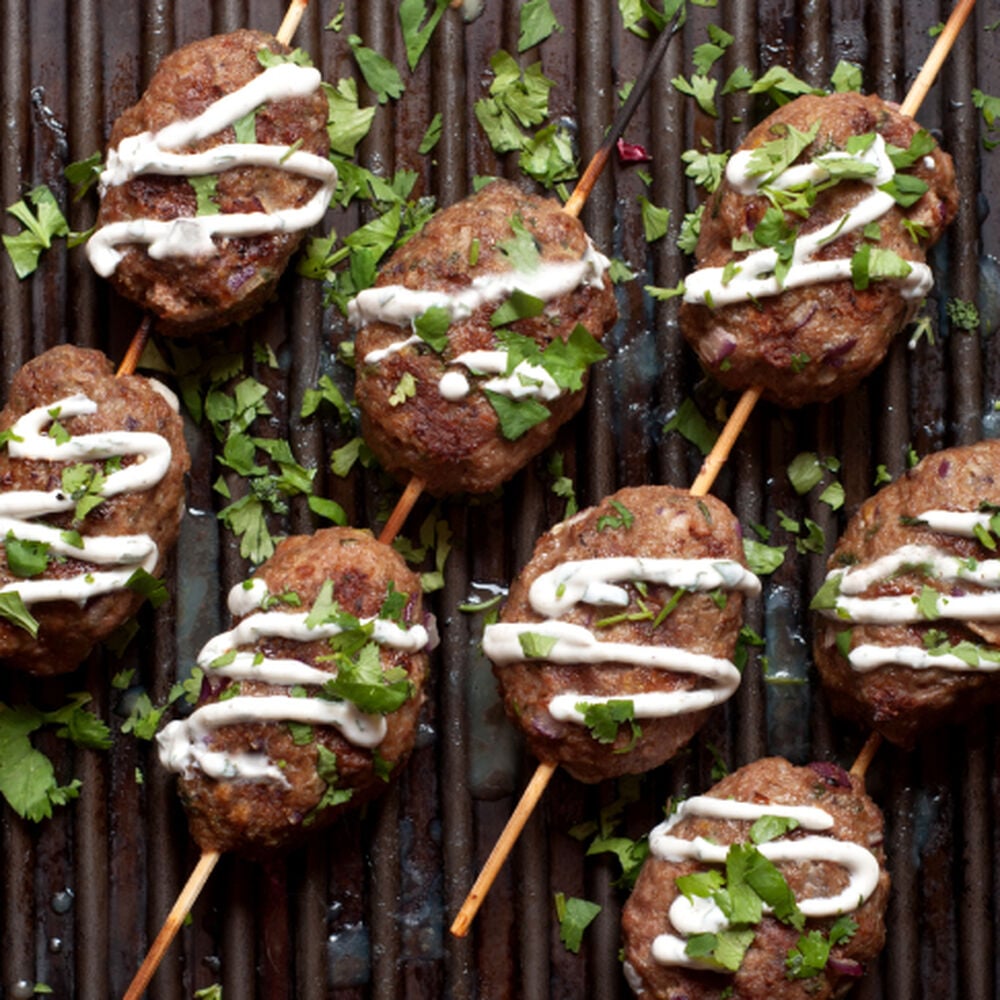 Lemon and Mint Lamb Kebabs With Yogurt Sauce
Recipe Source

courtesy of Niman Ranch
This Middle Eastern main dish is just right for hot summer days when the thought of heating up the kitchen is the last thing on your mind. A cool and refreshing yogurt sauce pairs nicely with these rich and satisfying kebabs, which can be tucked in naan bread or a pita.
Nutritional Information
4 Servings Per Recipe
Total Carbohydrate: 12g
4%
*Percent Daily Values are based on a 2,000 calorie diet.
Ingredients
Ingredients
1 pound Niman Ranch Ground Lamb
1/4 cup minced onion
1/2 teaspoon cinnamon
1/2 teaspoon cumin
1/2 teaspoon curry powder
1/2 teaspoon salt
1/2 teaspoon pepper
1/4 cup breadcrumbs
1 egg, lightly beaten
1 lemon, zested and juiced, juice reserved
1 tablespoons finely chopped mint, divided
1 cup plain Greek yogurt
Salt and pepper
Naan bread or pita bread, for serving
Chopped cilantro, for garnish
Step 1
Step 1
Preheat the grill to high heat. If using wooden skewers, soak in water to prevent burning. Stir together the onion, cinnamon, cumin, curry, salt, pepper, breadcrumbs, egg, lemon zest and half of the mint.
Step 2
Step 2
Add the ground lamb and gently mix until all ingredients are well combined.
Step 3
Step 3
Shape the lamb into 8 oval meatballs. Slide two meatballs onto each of 4 skewers, then flatten them slightly.
Step 4
Step 4
Reduce the grill to medium high and grill the kebabs until the meat is cooked through, about 4 to 5 minutes per side.
Step 5
Step 5
While the kebabs are grilling, make the yogurt sauce by stirring the reserved lemon juice and remaining mint into the yogurt. Season with salt and pepper to taste, and let stand for the flavors to meld.
Step 6
Step 6
Heat the naan bread for a minute on the grill. Place the kebabs on a piece of naan. Drizzle with the yogurt sauce, garnish with cilantro and serve.