Recipe Source

by the Perdue Farms Culinary Team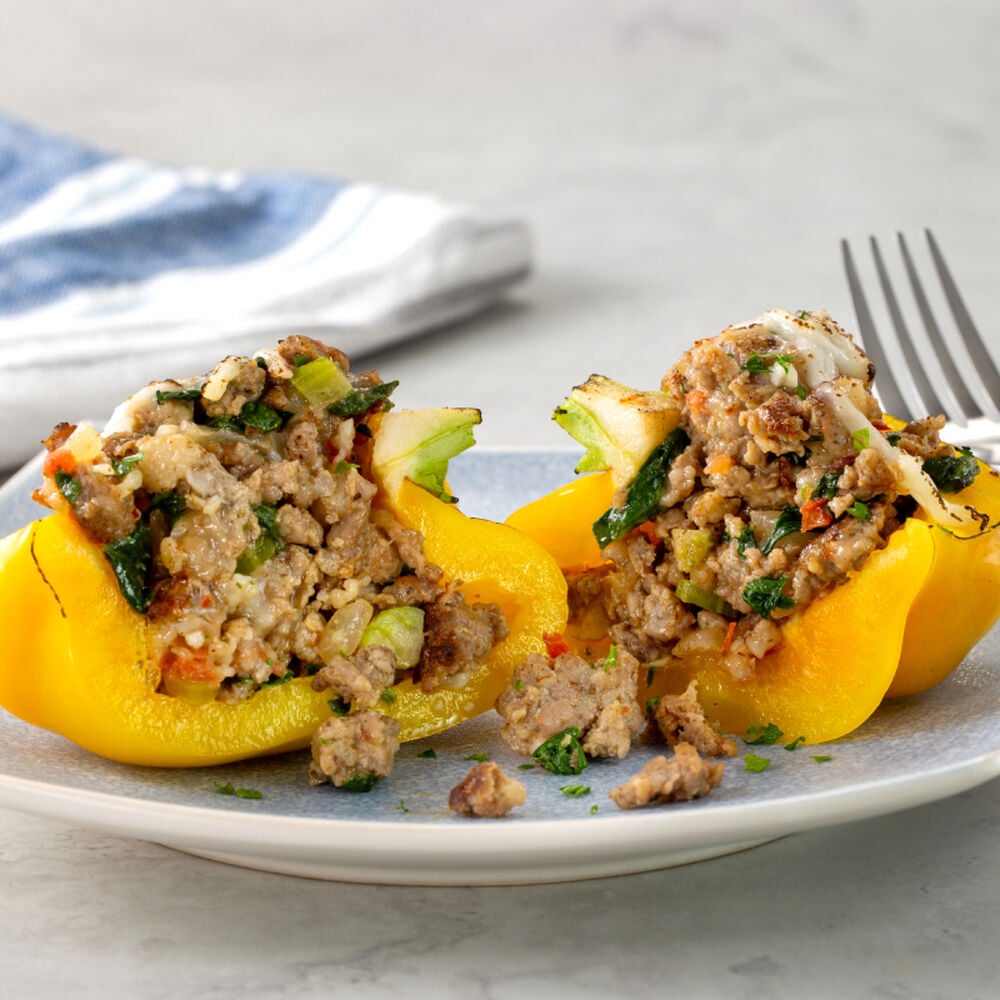 Recipe Source

by the Perdue Farms Culinary Team
A new spin on traditional stuffed peppers! Hearty ground sausage and Italian herbs and seasonings are used to fill red and yellow bell peppers. Topped with melted mozzarella, this low carb main course is the perfect way to enjoy late-harvest veggies.
Nutritional Information
4 Servings Per Recipe
Saturated Fat: 25.2g
126%
Total Carbohydrate: 22.3g
7%
*Percent Daily Values are based on a 2,000 calorie diet.
Ingredients
Ingredients
1 pound Coleman Natural Ground Sausage (regular or hot)
2 yellow peppers
2 red peppers
2 tablespoons grapeseed oil
2 cloves garlic, minced
1/2 cup diced onions
1 stalk celery, diced
1/2 cup diced fresh tomatoes
1 cup chopped fresh spinach
1 teaspoon chopped fresh thyme
1 teaspoon chopped fresh oregano
6 ounces grated mozzarella cheese
6 ounces grated parmesan cheese
1/2 teaspoon salt
1/2 teaspoon cracked black pepper
Step 1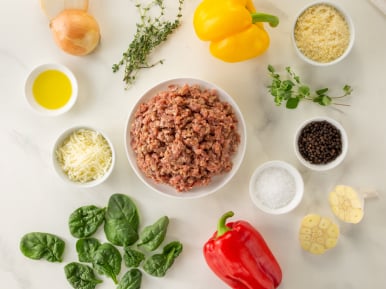 Step 1
Preheat oven to 350 F. Cut peppers in half vertically. Remove and discard seeds. Place peppers cut-side up in a baking dish sprayed with pan-release spray. Heat 1 tablespoon grapeseed oil in a large skillet over medium-high heat. Add sausage and cook, breaking up larger pieces, until meat is cooked through and just beginning to brown, 8 to 10 minutes. Remove to a colander over a plate to drain the fat.
Step 2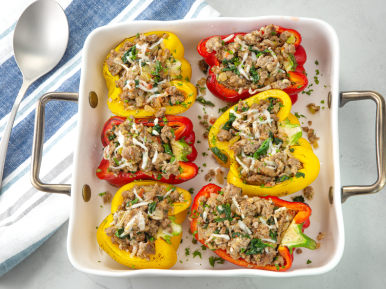 Step 2
Add remaining tablespoon of oil to skillet. Add onions and celery and cook until they begin to soften, 3 to 4 minutes. Add garlic and cook for 1 more minute. Add tomatoes, spinach and oregano and cook until heated through, then stir in sausage and parmesan cheese. Season with salt and pepper. Fill peppers with mixture and top each with mozzarella cheese. Cover with foil and bake for 15 minutes. Uncover and bake until cheese is melted and lightly browned, another 10 to 15 minutes.
The Perdue Farms Culinary Team
Chef Chris Moyer, CEC, CRC, and Chef Shawn Reese, CEC, CRC, bring decades of combined culinary experience to their roles at Perdue Farms. The chefs contribute to recipe development, culinary ideation, and all culinary aspects of the company business.
MEET THE CHEFS