Oven-Baked Creamy Pork Chops and Noodles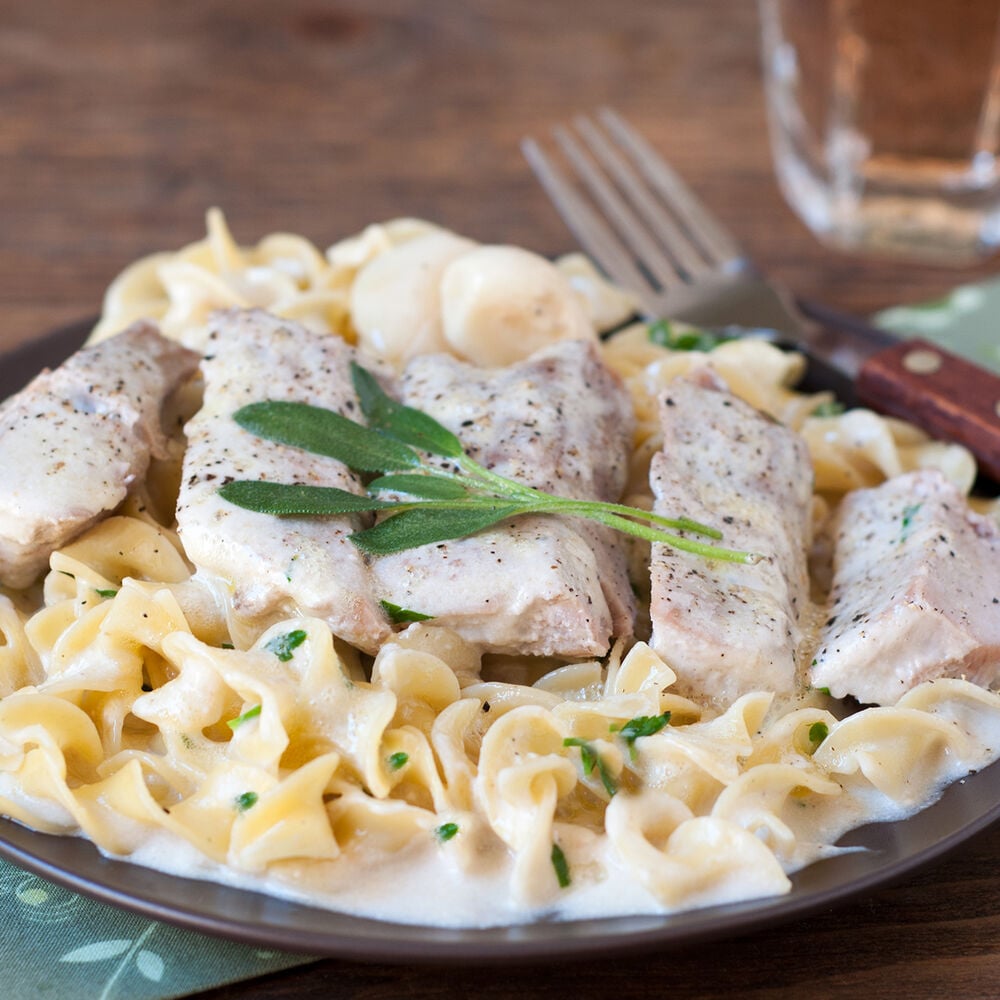 Oven-Baked Creamy Pork Chops and Noodles
This recipe is easy to make ahead. Prep the pork and store in the refrigerator overnight. Bake the next day, boil the noodles and enjoy a one-plate dinner infused with lemon, herb and garlic flavors.
Nutritional Information
6 Servings Per Recipe
Total Carbohydrate: 43g
16%
*Percent Daily Values are based on a 2,000 calorie diet.
Ingredients
Ingredients
6 Coleman Natural Boneless Pork Chops
Salt and pepper
2 lemons
1 cup heavy cream
6 whole garlic cloves, peeled (or more if desired)
8 large fresh sage leaves, chopped (plus more for garnish if desired)
1/4 cup grated Parmesan cheese
1/4 cup cold water
1 tablespoon flour
1 tablespoon chopped parsley (optional)
12 ounces egg noodles, cooked and drained
11-oz. pack of flavor-packed boneless pork chops ― 2 chops total
Step 1
Step 1
Preheat oven to 300 F. Place the pork into a 13x9x2-inch baking dish and season with salt and pepper.
Step 2
Step 2
Peel the lemons with a vegetable peeler and reserve lemons for another use. Pour the cream over the meat. Plunge the garlic cloves and lemon peel into the cream around the meat, and sprinkle the chopped sage on top. Sprinkle with grated cheese, cover with foil, and bake until tender, about an hour.
Step 3
Step 3
Remove the meat and garlic cloves to a cutting board; strain the cream and discard the solids. Pour the cream sauce into a small saucepan. Combine the water and flour in a small covered container and shake well to mix. Stir into the cream over medium-high heat until the cream thickens. Add the parsley and the cooked egg noodles and toss together.
Step 4
Step 4
To serve, spoon the noodles onto a large platter. Slice the pork in large pieces and lay over the top. Pour the remaining cream sauce from the pan over the pork and add the garlic cloves to the platter. Garnish with fresh sage if desired.