Oven-Roasted Citrus Cornish Hens
Recipe Source

by the Perdue Farms Culinary Team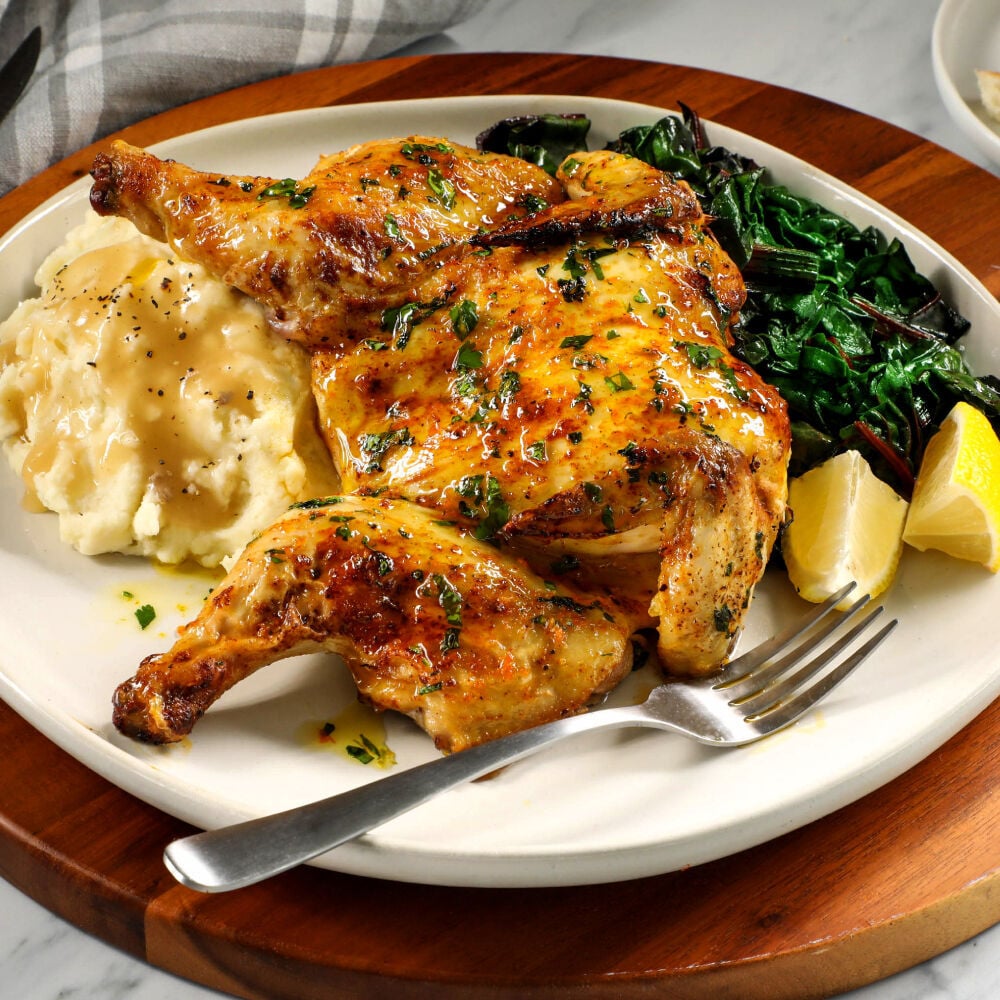 Oven-Roasted Citrus Cornish Hens
Recipe Source

by the Perdue Farms Culinary Team
A fresh, zesty take on traditional roast chicken. Lemon and orange juice combine in a marinade that lends flavor and tenderness. Roasting hens in the oven on high heat results in fall-of-the-bone tenderness. Perfect for Sunday dinner!
Nutritional Information
4 Servings Per Recipe
Total Carbohydrate: 7.5g
3%
*Percent Daily Values are based on a 2,000 calorie diet.
Ingredients
Ingredients
2 Cornish hens
1 lemon, zest and juice
1 orange, zest and juice
1/4 cup rough-chopped flat leaf parsley,
1 tablespoon fresh thyme (remove from stem and rough chop)
1 tablespoon minced garlic
1/2 teaspoon smoked paprika
1/2 teaspoon cumin
2 tablespoons olive oil
2 teaspoons Dijon mustard
1 teaspoon cracked black pepper
2 teaspoons kosher salt
Step 1
Step 1
Using kitchen shears, remove backbone from each hen and then proceed to cut down the center of the breast plate to cut each bird into two even halves. Place hens into a large food-safe resealable bag.
Step 2
Step 2
In a large mixing bowl, combine remaining ingredients, reserving about half of the lemon juice to drizzle over Cornish hens after cooked. Once mixed, add the marinade to the bag with hens, and agitate to evenly coat. Marinade for at least 45 minutes in the refrigerator.
Step 3
Step 3
Preheat oven to 400 F. Place hens skin side down in a greased cast iron pan, and preferably place a grill press/foil-wrapped brick on top of hens to cook more evenly and create a seared crust on skin. Place pan in oven and cook for 20 to 25 minutes. Remove grill press, flip hens so they are skin side up. Cook for an additional 15 to 20 minutes, or until a digital meat thermometer registers 180 F. Drizzle with remaining lemon juice and serve.
The Perdue Farms Culinary Team
Chef Chris Moyer, CEC, CRC, and Chef Shawn Reese, CEC, CRC, bring decades of combined culinary experience to their roles at Perdue Farms. The chefs contribute to recipe development, culinary ideation, and all culinary aspects of the company business.
MEET THE CHEFS