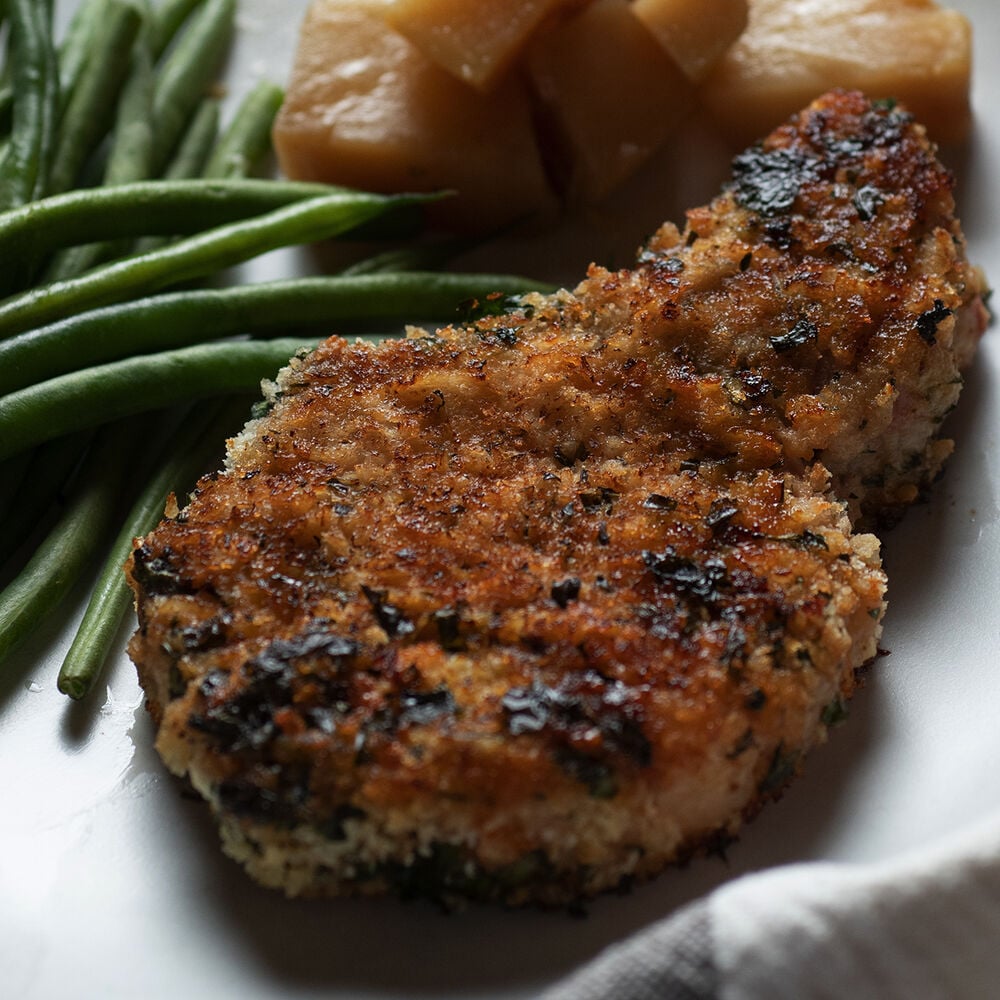 A pinch of mustard gives these pork chops just the right hint of flavor. And a Panko breading crisps up nicely when fried in a cast iron pan. Serve chops for dinner with green beans and a side salad.
Nutritional Information
4 Servings Per Recipe
Total Carbohydrate: 26g
9%
*Percent Daily Values are based on a 2,000 calorie diet.
Ingredients
Ingredients
4 Coleman Natural Boneless Pork Chops
3/4 cup bread flour
1 teaspoon salt
1/2 teaspoon freshly ground black pepper
3 tablespoons Dijon mustard
3 tablespoons water
3/4 cup panko breadcrumbs
3 tablespoons flat leaf parsley, finely chopped
1 tablespoon fresh tarragon, finely chopped
1/4 cup canola oil
11-oz. pack of flavor-packed boneless pork chops ― 2 chops total
Step 1
Step 1
Preheat oven to 425 F. Place flour, salt and pepper on a plate and mix with a fork to combine. In a medium sized bowl, combine mustard and water. On another plate, combine panko crumbs, parsley and tarragon.
Step 2
Step 2
Dredge each chop in the flour mixture, then dip into mustard and water mixture, then into panko and herb mixture until coated on both sides.
Step 3
Step 3
Heat oil in heavy-bottomed skillet (preferably cast iron) until quite hot but not smoking. Cook chops for 5 to 6 minutes on each side, until cooked through and nicely browned. Serve immediately with your favorite side dishes.