Pastry Wrapped Beer Brats with Dijon Dipping Sauce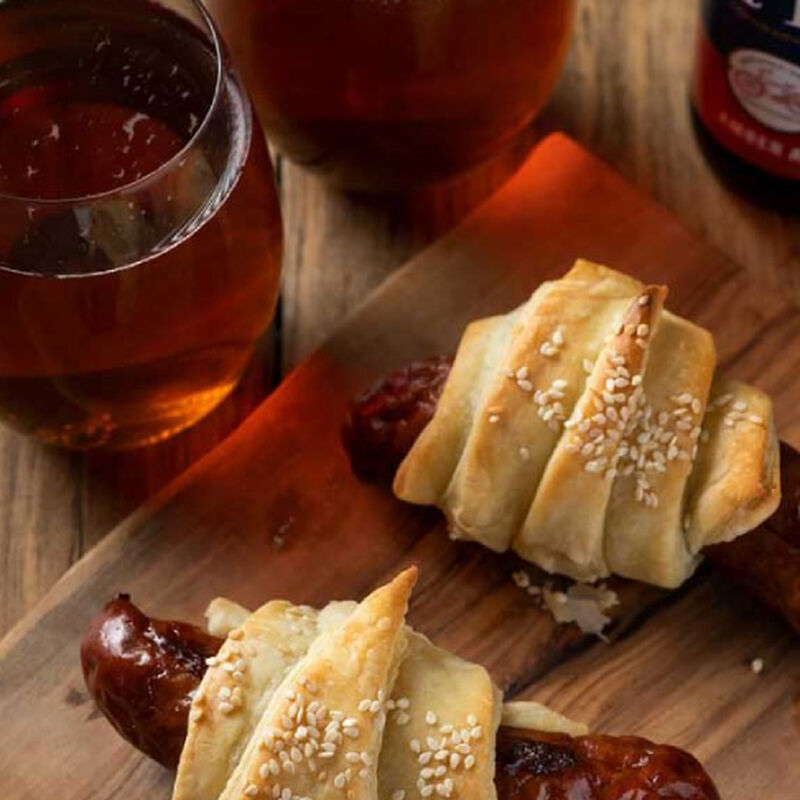 Pastry Wrapped Beer Brats with Dijon Dipping Sauce
Whether planning a tailgate menu or gathering that calls for football party food, this dish should be on the list! These pastry dough-wrapped brats, from Niman Ranch's specialty line, are served up with a sensational mustard dipping sauce. Your crowd will dunk and devour in no time flat!
Nutritional information
Calories

210

Protein

6g

Sodium

380mg

Sat. fat

6g

Sugar

1g
Nutritional information
Servings per recipe: 16
Amount per serving calories: 210
% daily value
Total fat: 15 g
Saturated fat: 6 g
Cholesterol: 25 mg
Sodium: 380 mg
Total carbs: 13 g
Dietary fiber: 1 g
Sugar: 1 g
Protein: 6 g
*Percent Daily Values are based on a 2,000 calorie diet.
The link to Pastry Wrapped Beer Brats with Dijon Dipping Sauce has been copied
Ingredients
Ingredients
package frozen puff pastry, thawed
egg, slightly beaten with 1 teaspoon of water
tablespoons Dijon or grainy mustard
Step 1
Step 1
Preheat oven to 400 F. Place thawed puff pastry on lightly floured counter and cut into long triangle shapes, angling from top to bottom and utilizing the full length of the sheet
Step 2
Step 2
Place sausage at the wide end of pastry and roll tightly until tip or narrowest end is on top.
Step 3
Step 3
Brush pastry with egg mixture and press down tip so it stays in place. Repeat until all sausages are rolled with puff pastry and are coated with egg mixture.
Step 4
Step 4
Place all sausages onto a parchment-lined baking sheet. Sprinkle each one with sesame seeds and place in preheated oven.
Step 5
Step 5
Bake for 20 to 25 minutes or until golden brown. Meanwhile, mix mustard and sour cream together. Serve sausages warm, accompanied with mustard dipping sauce.