Grilled Peruvian Chicken with Aji Verde
Recipe Source

by the Perdue Farms Culinary Team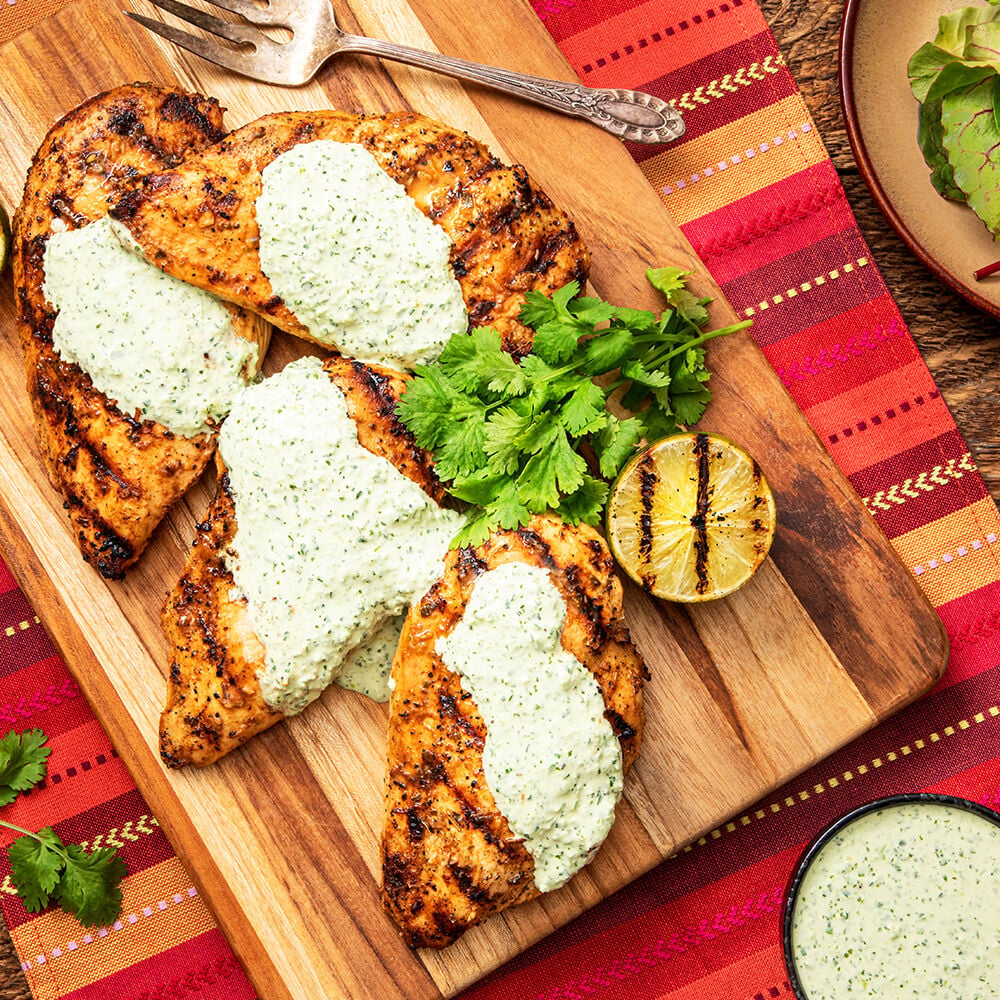 Grilled Peruvian Chicken with Aji Verde
Recipe Source

by the Perdue Farms Culinary Team
Ready to try new flavors at your cookout? This Peruvian recipe has just the right amount of spice and heat to please everyone in the family. A creamy citrus-based sauce makes the perfect topping.
Nutritional Information
Total Carbohydrate: 23.5g
8%
*Percent Daily Values are based on a 2,000 calorie diet.
Ingredients
Ingredients
2 pounds boneless skinless chicken breasts
1/3 cup soy sauce
4 cloves garlic
2 tablespoons lime juice
1 tablespoon olive oil
2 teaspoons cumin
1 teaspoon paprika
1/2 teaspoon dried oregano
1/2 teaspoon cracked black pepper
2 jalapenos (stem, seeds, and ribs removed)
1 cup fresh cilantro
1/4 cup fresh parsley leaves
2 cloves garlic
1/2 cup mayonnaise
1/4 cup sour cream
2 tablespoons olive oil
1 tablespoon lime juice
1/2 teaspoon salt
Approx. 3-lb. pack of succulent and juicy chicken breasts ― portioned in three 1-lb. pouches
Step 1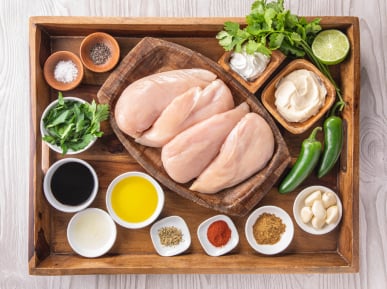 Step 1
Whisk marinade ingredients together in a medium mixing bowl; add chicken. Marinate directly in bowl or transfer to a sealable plastic bag to marinate between 4 and 24 hours.
Step 2
Step 2
When ready to grill, preheat gas grill on medium high heat to 400 F.
Step 3
Step 3
Remove chicken from marinade, and pat dry. Brush some oil on grill grates to avoid sticking. Cook over direct heat while flipping every three to four minutes. Cook chicken to an internal temperature of 165 F.
Step 4
Step 4
To make Aji Verde: Place last ten ingredients into a food processor or blender, and puree until mostly smooth.

Nutritional information for marinade only.
The Perdue Farms Culinary Team
Chef Chris Moyer, CEC, CRC, and Chef Shawn Reese, CEC, CRC, bring decades of combined culinary experience to their roles at Perdue Farms. The chefs contribute to recipe development, culinary ideation, and all culinary aspects of the company business.
MEET THE CHEFS