Apple Cider Pork Roast With Honey-Dijon Glaze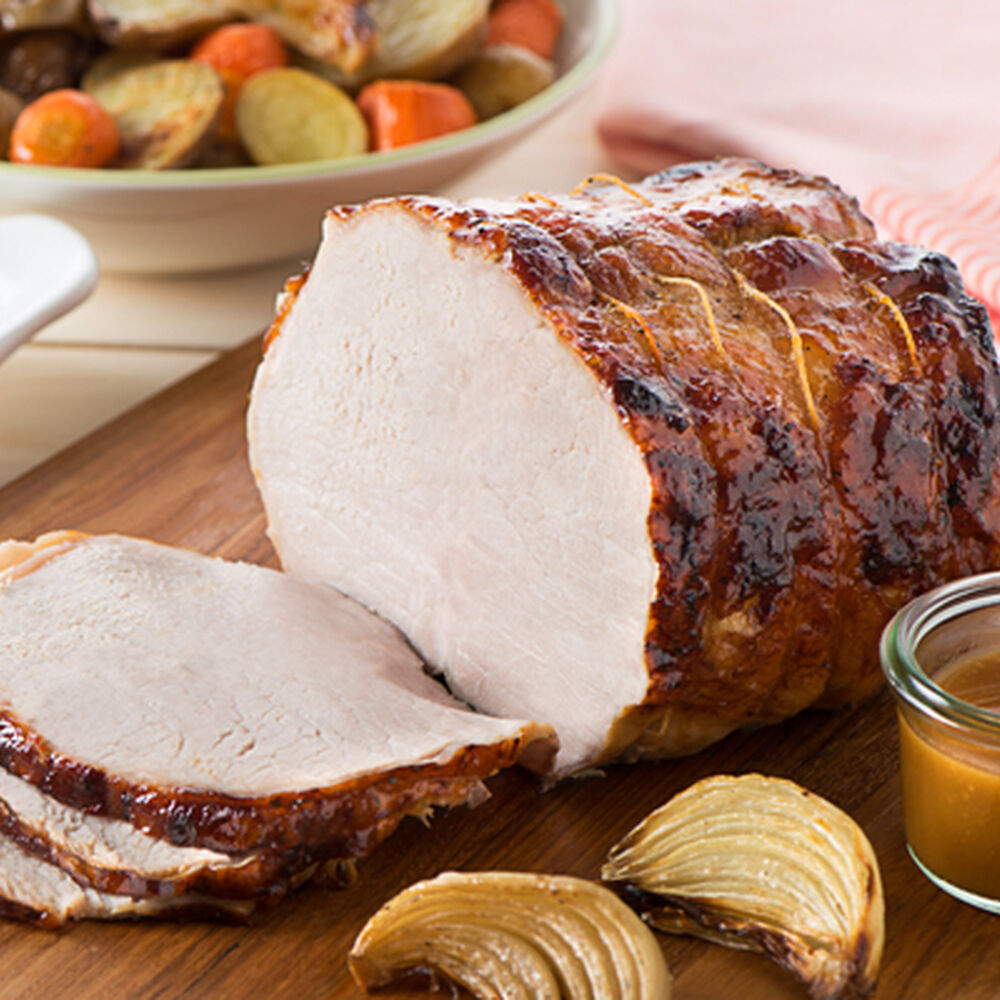 Apple Cider Pork Roast With Honey-Dijon Glaze
Searching for Sunday dinner ideas? This pork roast recipe is easy to prepare and slow roasts in the oven with vegetables - the perfect one-pan meal. The roast is glazed in a mixture of apple cider, honey and Dijon mustard, fall flavors fit for a harvest feast!
Nutritional Information
8 Servings Per Recipe
Total Carbohydrate: 58g
21%
*Percent Daily Values are based on a 2,000 calorie diet.
Ingredients
Ingredients
4-pound Coleman Natural Boneless Pork Loin Roast
1/4 cup Dijon mustard
1/4 cup apple cider or apple juice
2 tablespoons honey
1 tablespoon finely chopped fresh thyme (or 1 teaspoon dry)
2 cloves garlic, minced
2 pounds new baby potatoes, halved
2 pounds carrots, peeled and cut into chunks
2 onions, peeled and cut into wedges
3 tablespoons canola oil
1 tablespoon finely chopped fresh thyme
1 teaspoon salt, divided
1/2 teaspoon freshly ground pepper, divided
1 cup chicken broth
1/2 cup white wine (or same amount of chicken broth)
3 tablespoons all-purpose flour
1/2 cup apple cider or apple juice
Step 1
Step 1
Whisk the mustard with the apple cider, honey, thyme and garlic; set aside.
Step 2
Step 2
Roast: Preheat the oven to 425 F. Toss the potatoes with the carrots, onions, oil, thyme and half the salt and pepper. Arrange in an even layer in a large roasting pan. Roast for 30 minutes or until lightly browned.
Step 3
Step 3
Meanwhile, pat the pork dry with paper towel. Season all over with remaining salt and pepper. Place over the vegetables. Pour the broth and wine into the roasting pan. Reduce the temperature to 325 F. Roast, basting every 30 minutes with the glaze, for 2 to 2 1/2 hours or until an instant read thermometer registers 145 F when inserted into the center of the pork.
Step 4
Step 4
Transfer the pork to a platter or carving board; tent with foil. Using a slotted spoon, transfer the vegetables to a serving bowl; tent with foil. Transfer the cooking liquid to a small saucepan; bring to a simmer. Whisk the flour with the apple cider until smooth. While whisking constantly, slowly pour the apple mixture into the saucepan. Cook, stirring, for 5 minutes or until thickened. Season with salt and pepper to taste.