Quick Cornish Hens with Bacon and Mushroom Gravy
Recipe Source

by Mitzi Perdue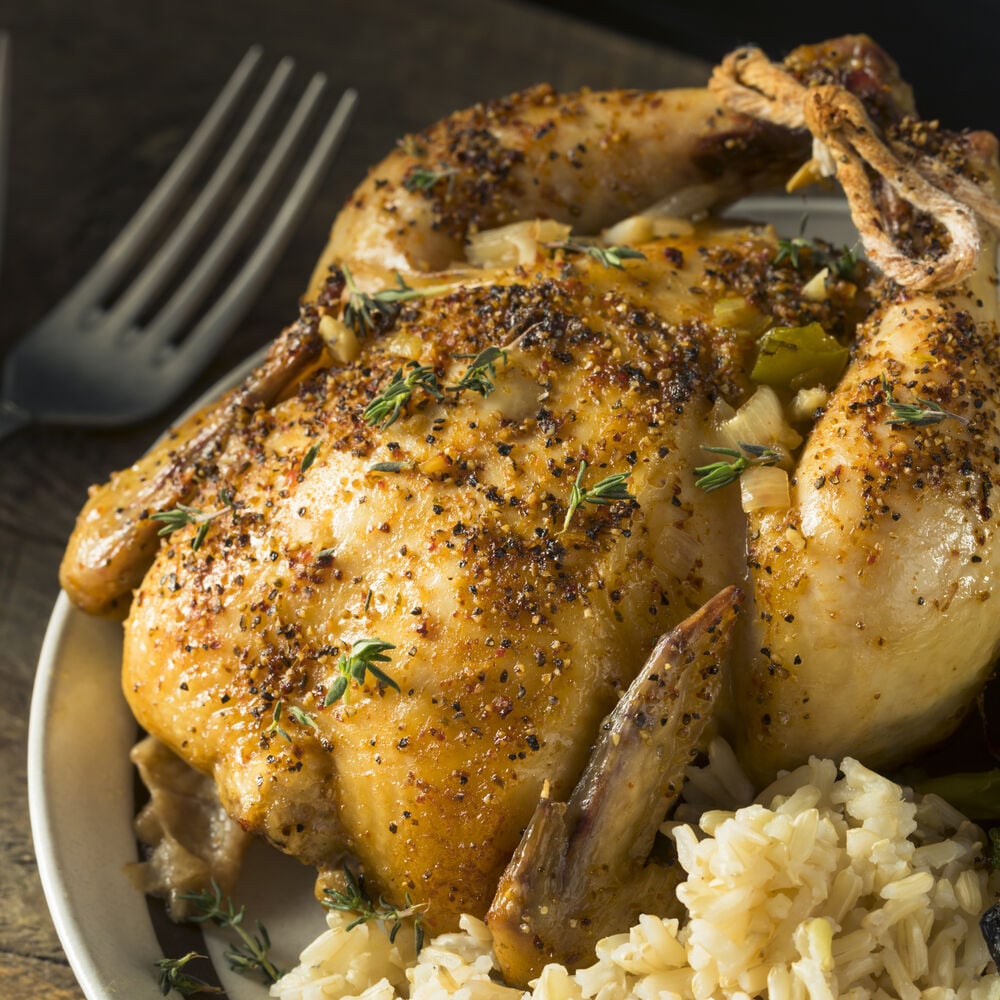 Quick Cornish Hens with Bacon and Mushroom Gravy
Recipe Source

by Mitzi Perdue
In this easy dinner recipe, crispy, oven-roasted Cornish hens are placed atop a bed of wild rice. A rich and creamy bacon and wild mushroom gravy, drizzled overtop, makes this dish a meal to remember.
Nutritional Information
*Percent Daily Values are based on a 2,000 calorie diet.
Ingredients
Ingredients
4 Perdue Cornish Hens
Salt and pepper to taste
1 tablespoon minced, fresh thyme or 1 teaspoon dried
1 bunch fresh parsley
4 small bay leaves
1/4 cup butter or margarine, melted
2 cups hot, cooked wild rice
1 lemon cut in wedges as garnish
1 ounce dried wild mushrooms (cepes, morels or porcini)
1 cup boiling water
1/4 pound bacon, diced
Giblets reserved from hens, chopped
1/3 cup chopped onions
1/4 cup dry sherry
1/4 cup flour
2 1/2 cups chicken broth or water
Step 1
Step 1
Place rack in lower half of oven; preheat to 500 F. If you have a ventilator fan on stove, turn it on.
Step 2
Step 2
Reserving other giblets for gravy, discard necks and livers. Season hen cavities with salt, pepper and thyme. Trim stem ends from parsley and add 1 tablespoon to each cavity, along with a bay leaf. Tie legs together, fold back wings and place hens, breast side up, in a roasting pan.
Step 3
Step 3
Roast hens about 30 minutes, basting once with butter, until skin is brown and crisp and juices run clear with no hint of pink when thigh is pierced. Remove hens from pan and skim off all but 3 tablespoons drippings to be used in gravy. Serve on a bed of wild rice; garnish with parsley and lemon wedges and pass the gravy separately.
Step 4
Step 4
To reconstitute mushrooms well, pour boiling water over them and allow to steep 10 minutes. Strain through a coffee filter and reserve liquid. Rinse mushrooms to remove any sand; chop finely. In a large skillet over medium-low heat, fry bacon until crisp. Drain bacon on paper towels. Leaving 2 tablespoons bacon fat in pan, add giblets, mushrooms and onion and brown about 5 minutes. Add to Cornish drippings in roasting pan. Whisk in sherry and flour. Cook, whisking frequently, 3 to 4 minutes or until flour is browned. Add bacon, reserve mushroom liquid and broth to flour mixture. Bring to a boil, whisking frequently, and cook gravy to thicken. Serve with hens.

Source: The Perdue Chicken Cookbook by Mitzi Perdue, ©2000. Perdue Farms.

Nutritional information based on Cornish hens without gravy.