Roasted Chicken With Sangria Stuffing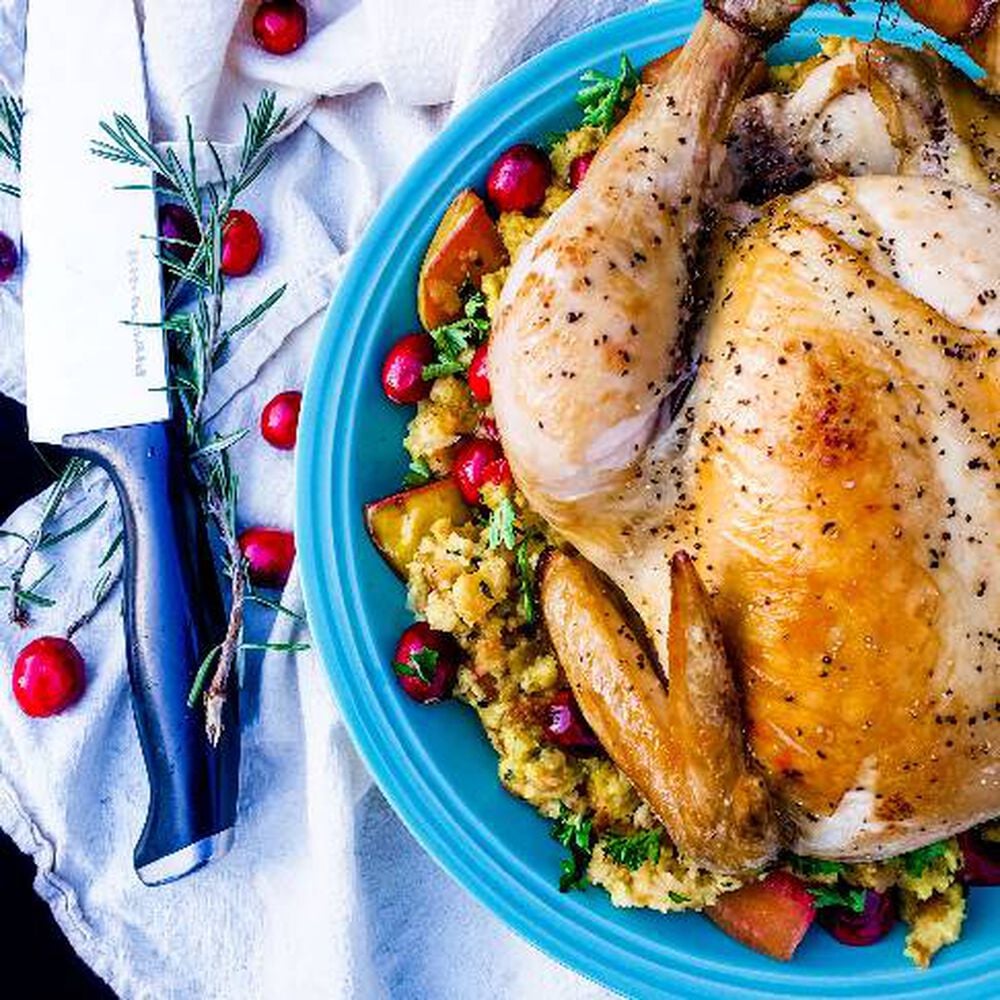 Roasted Chicken With Sangria Stuffing
Can you say Thanksgiving worthy, or what?! This dish is perfect for special occasions, parties or even holiday dinners. But you'll probably want to make it more often than that! This tasty meal is a two-in-one treat. It takes a little time, but is so worth it — especially when there is wine involved! Make your favorite sangria the night before, red or white, and sip as you cook. The flavors of this dish are divine; the classic, crispy chicken stays perfectly moist and the stuffing is unlike anything you've tried before. Make sure to add bits of color, like fresh parsley, whole cranberries or even sprigs of sage, when you plate.
Nutritional Information
6 Servings Per Recipe
Total Carbohydrate: 76.0g
*Percent Daily Values are based on a 2,000 calorie diet.
Ingredients
Ingredients
1 Perdue Harvestland Organic Whole Chicken
1 bottle red wine
1 bottle Prosecco
2 cups orange juice
2 cups sparkling water
1 cup brandy
1 cup mulled simple syrup (1/2 cup white sugar, 1/2 cup water, mulled spices)
2 diced green apples
2 cups cranberries
1 cup sliced oranges
3 sliced limes
2 tablespoons butter
1/2 teaspoon dried rosemary
1/2 teaspoon dried thyme
1/2 teaspoon dried sage
Salt and pepper
Standard cornbread stuffing mix
Approx. 4-lb. plump, tender and juicy organic whole chicken
Step 1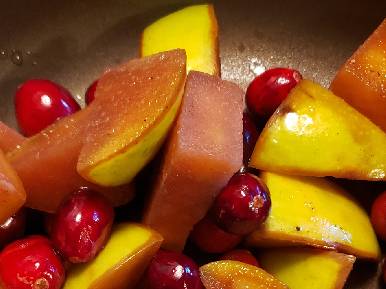 Step 1
A day ahead, make Sangria by combining wine, juice, spirits, simple syrup and fresh fruits.

Mulled Simple Syrup
Combine sugar, water and mulled spices in a small saucepan. Bring to a boil, strain and set aside to cool.
Step 2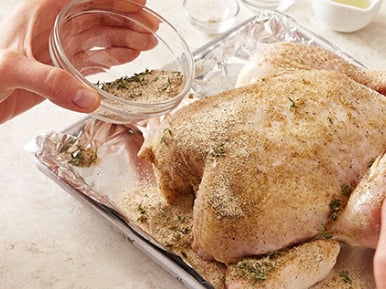 Step 2
Day of: Preheat oven to 400 F. Place chicken on a sheet pan and smother with butter and herbs. Bake for 40 to 45 minutes, or until the juices run clear.
Step 3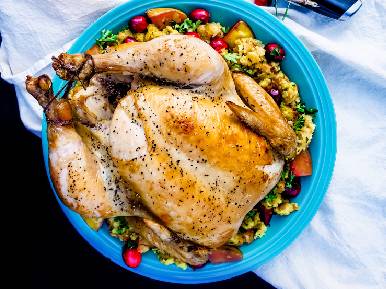 Step 3
Prepare cornbread stuffing, following package instructions and folding in approximately 2 cups of apple and cranberry from sangria. Bake. Plate chicken and stuffing and serve.