Sausage, Goat Cheese and Brussels Sprouts Crostini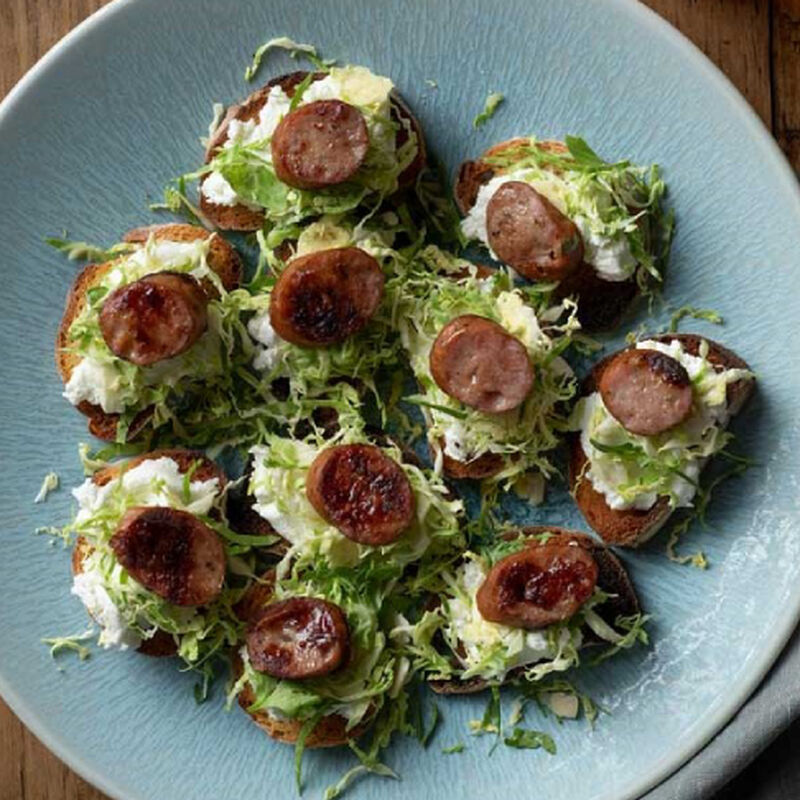 Sausage, Goat Cheese and Brussels Sprouts Crostini
A party appetizer guaranteed to please your crowd! Specialty beer brats are paired with creamy goat cheese and a shaved Brussels sprouts slaw to make a crostini topping that transcends marinated tomato and basil.
Nutritional Information
Calories

90

Protein

4g

Sodium

230mg

Sat. fat

2.5g

Sugar

1g
Nutritional Information
*Percent Daily Values are based on a 2,000 calorie diet.
Ingredients
Ingredients
4 bratwurst, sliced into rounds
1 French baguette
12 medium to large sized Brussels sprouts
6 ounces of goat cheese at room temperature
3 to 4 tablespoons heavy cream
1 tablespoon chopped fresh herbs, such as tarragon, parsley or thyme, leaves only
3 tablespoons olive oil
1 tablespoon champagne (or other mild) vinegar
1 tablespoon Dijon mustard
1/2 teaspoon salt
1/4 teaspoon freshly ground black pepper
Timing
Timing
Prep
20 minutes
Cook
15 minutes
Step One
Step One
Preheat broiler to 500 F. Slice baguette on the bias into at least 12 slices, 1/4-inch thick for the crostini, then place crostini on baking sheet. Set aside.
Step Two
Step Two
In a heavy-bottomed skillet (preferably cast iron), cook sausage rounds over medium heat until browned on both sides.
Step Three
Step Three
Using a mandoline or very sharp knife, slice Brussels sprouts into paper-thin slices. Using your hands, toss Brussels sprouts to loosen and separate slices, place in a medium size bowl.
Step Four
Step Four
In a small bowl, combine olive oil, vinegar, Dijon mustard and salt and pepper to make a dressing, pour over sliced Brussels sprouts and toss to coat evenly. In another bowl, mix goat cheese, heavy cream and fresh herbs together. Stir with a large spoon until well combined.
Step Five
Step Five
Place crostini on baking sheet and toast under broiler until golden brown. Keep oven door cracked open while broiling and watch carefully so they don't burn.
Step Six
Step Six
Remove crostini from oven and spread goat cheese mixture on each one while they are still warm. Top each crostini with a tablespoon or more of the dressed Brussels sprouts. Add 2 to 3 sausage rounds to the top of each crostini. Serve warm or at room temperature