Classic Smoked Brisket
Slow cooked all day, this tender and juicy cut of beef is the perfect game-day protein!
---
by Perdue Farms Corporate Chefs
|
January 2021
|
Yield: 12 Servings
---
A topical rub lends flavor to this grass-fed cut of beef. For best results, let brisket rest at room temperature for an hour before placing in the smoker. The position of the brisket in the smoker (fat side up or down) should be based on the model of your smoker and personal preference.
Allow 10 to 14 hours for brisket to cook to an internal temperature of 203 F, and let rest for 45 minutes before slicing.

Ingredients
Rub

4 to 6 tablespoons kosher salt, course
4 to 6 tablespoons black pepper, course grind
2 tablespoons granulated garlic (optional)
Brisket Mop/Spritze

1/4 cup Worcestershire sauce
1/2 cup apple cider vinegar
1/2 cup water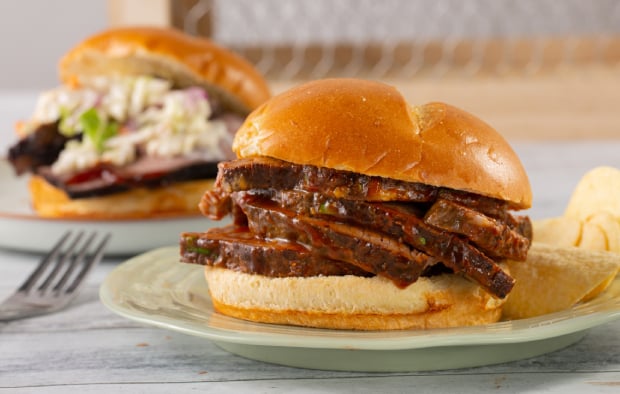 Step 1: Prepare Smoker and Set Out Brisket
Preheat smoker to 250 F. While the smoker is heating up, rub seasoning on all sides of brisket and set out at room temperature for 1 hour. (This will help to ensure even cooking.)
Step 2: Slow Smoke and Baste Brisket
Place the brisket into the smoker*, along with a shallow pan of water. Spritze/mop the top of brisket every 2 to 3 hours throughout the cooking process.
Step 3: Wrap Brisket
Periodically check internal temperature of meat with a digital thermometer. When brisket reaches 170 F, remove it from the smoker, wrap in butcher paper/foil and place back into the smoker. Note: The meat will almost always plateau in the cooking process around 150 F, and may stay at that temperature for several hours.
Step 3: Cook Through, Remove and Let Rest
Cook until a digital meat thermometer, inserted in the thickest portion of the brisket, registers 203 F. Remove brisket from the smoker and, while still covered, let rest for at least 45 minutes.
*While there's debate over whether to place brisket in the smoker fat side down or up, both methods have benefits; make the decision based on your type of smoker and preference. We strongly recommend that you face the fatty point of the brisket toward the heat source, as the larger/fattier side can withstand more direct heat.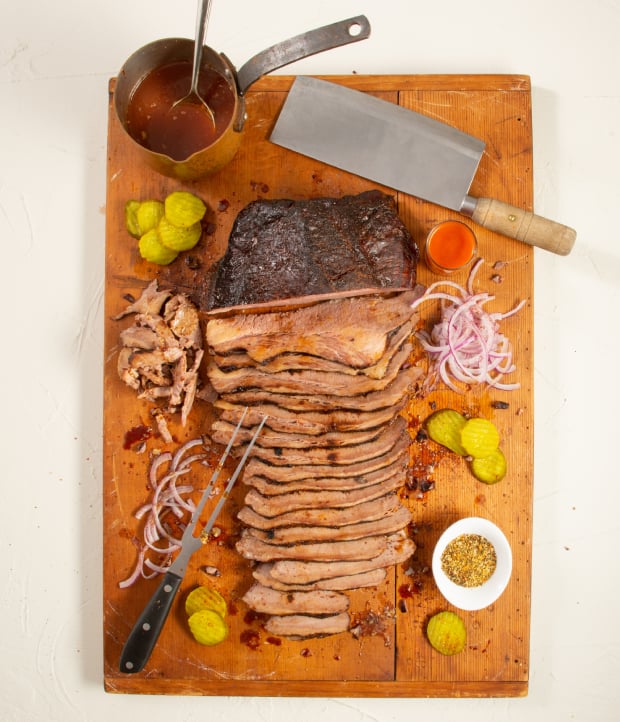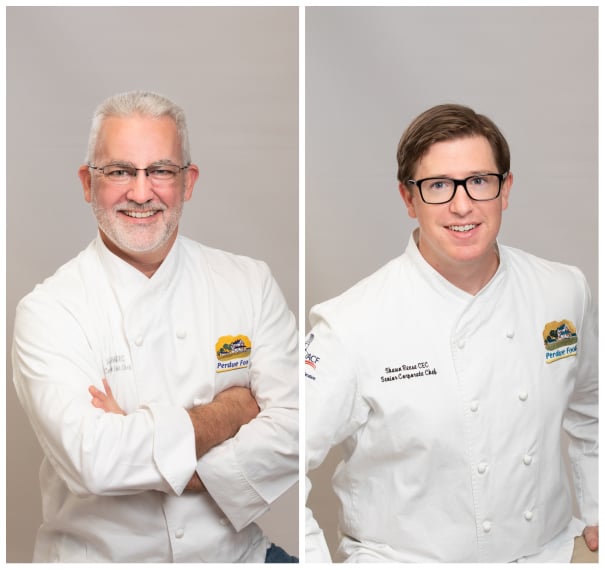 Meet the Perdue Farms Corporate Culinary Team
Chef Chris Moyer, CEC, CRC, and Chef Shawn Reese, CEC, CRC, bring decades of combined culinary experience to their roles at Perdue Farms. Day to day, the chefs contribute to recipe development, culinary ideation and all culinary aspects of the company business. Along with keeping a close eye on emerging trends, new flavors and innovations in the industry, Chefs Chris and Shawn are involved in food photography for Perduefarms.com and head up planning and preparation of meals for both internal corporate functions and external consumer-focused events. The duo represents Perdue Farms and its brands at food shows across the country and remain 100% focused on a positive consumer experience with Perdue Farms products. "We truly love what we do," they say, "and it is exciting to be in an environment that allows us the freedom to be innovative."
LEARN MORE