Grilled Tandoori Chicken Skewers with Cilantro Lime Cream
Recipe Source

by the Perdue Farms Culinary Team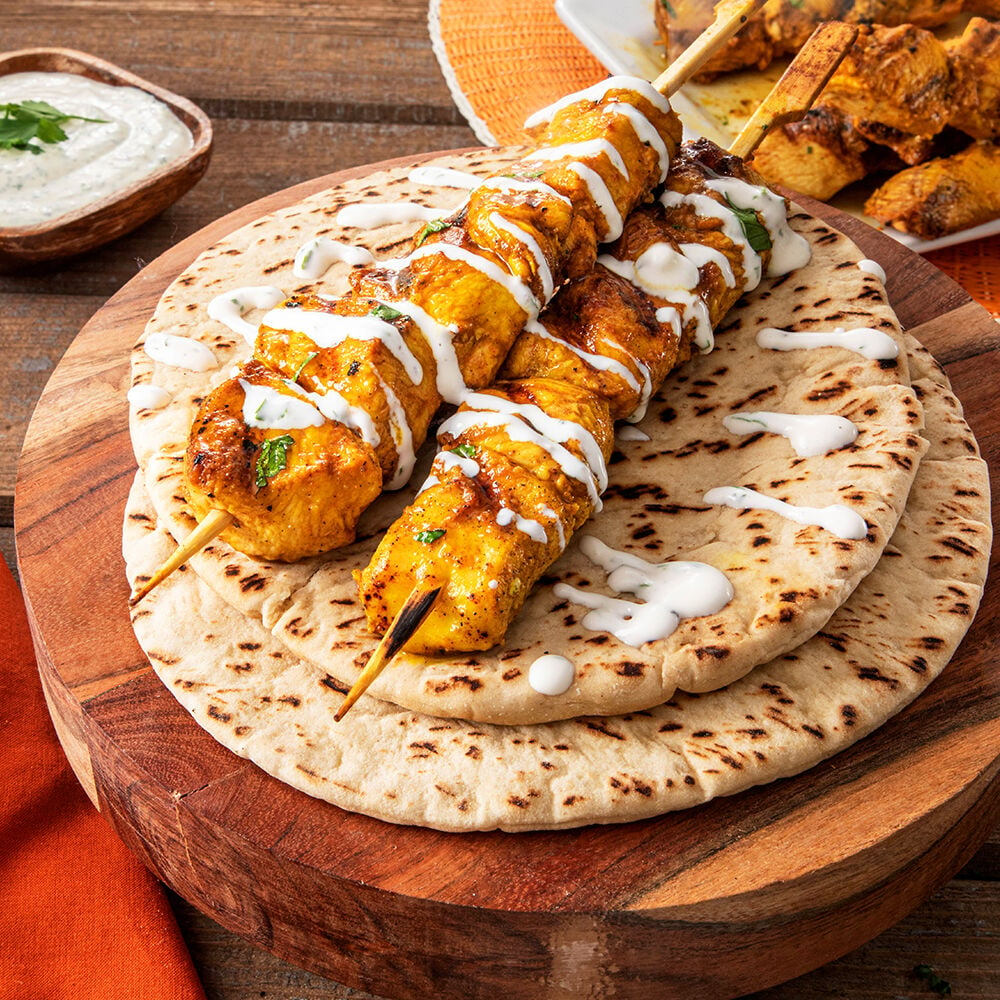 Grilled Tandoori Chicken Skewers with Cilantro Lime Cream
Recipe Source

by the Perdue Farms Culinary Team
We bring a classic Indian dish to the summer BBQ! A medley of spices in the chicken marinade tenderizes and flavors chicken, which cooks up quickly on the grill. Serve chicken bites in Naan bread topped with cream sauce.
Nutritional Information
Total Carbohydrate: 34.3g
11%
*Percent Daily Values are based on a 2,000 calorie diet.
Ingredients
Ingredients
4 boneless skinless chicken breasts, cut into 1-inch cubes
12 wooden skewers, soaked in water
Naan bread
1 lemon, zested and juiced
2 tablespoons water
1/2 cup Greek yogurt
1 teaspoon chopped garlic
1 teaspoon fresh chopped ginger
1 tablespoon tomato paste or ketchup
1/4 teaspoon ground turmeric
1/4 teaspoon curry powder
2 teaspoons salt
1 teaspoon ground coriander
1 tablespoon cumin
1/2 teaspoon cayenne
1/4 cup sour cream
1/4 cup mayonnaise
1 tablespoon lime juice
2 tablespoons cilantro
1 clove garlic
1/2 teaspoon salt
1/2 teaspoon pepper
Approx. 3-lb. pack of succulent and juicy chicken breasts ― portioned in three 1-lb. pouches
Step 1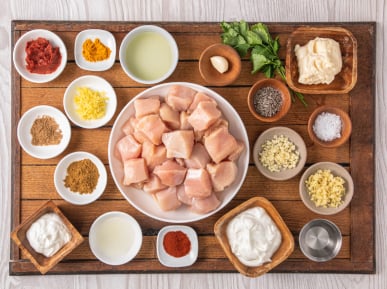 Step 1
Combine lemon, water, yogurt, garlic, ginger, tomato, turmeric, curry, salt, coriander, cumin and cayenne. Place chicken in bowl, cover with marinade, toss to coat, cover, place in refrigerator and marinate for one to two hours. When ready, remove chicken from bowl and thread cubes onto skewers, four to five pieces per kebab.
Step 2
Step 2
To make cream: Puree last seven ingredients together until smooth. Set aside.
Step 3
Step 3
When ready to grill, preheat gas grill on medium high heat to 400 F. Grill chicken for eight to 10 minutes or until the internal temperature reaches 165 F.
Step 4
Step 4
To serve: Remove chicken from skewers and place into warmed Naan bread. Top with a dollop of cream, a squeeze of lime and a sprinkle of fresh chopped cilantro.

Nutritional information for marinade only.
The Perdue Farms Culinary Team
Chef Chris Moyer, CEC, CRC, and Chef Shawn Reese, CEC, CRC, bring decades of combined culinary experience to their roles at Perdue Farms. The chefs contribute to recipe development, culinary ideation, and all culinary aspects of the company business.
MEET THE CHEFS