The Ultimate Thanksgiving Leftover Sandwich
Recipe Source

by the Perdue Farms Culinary Team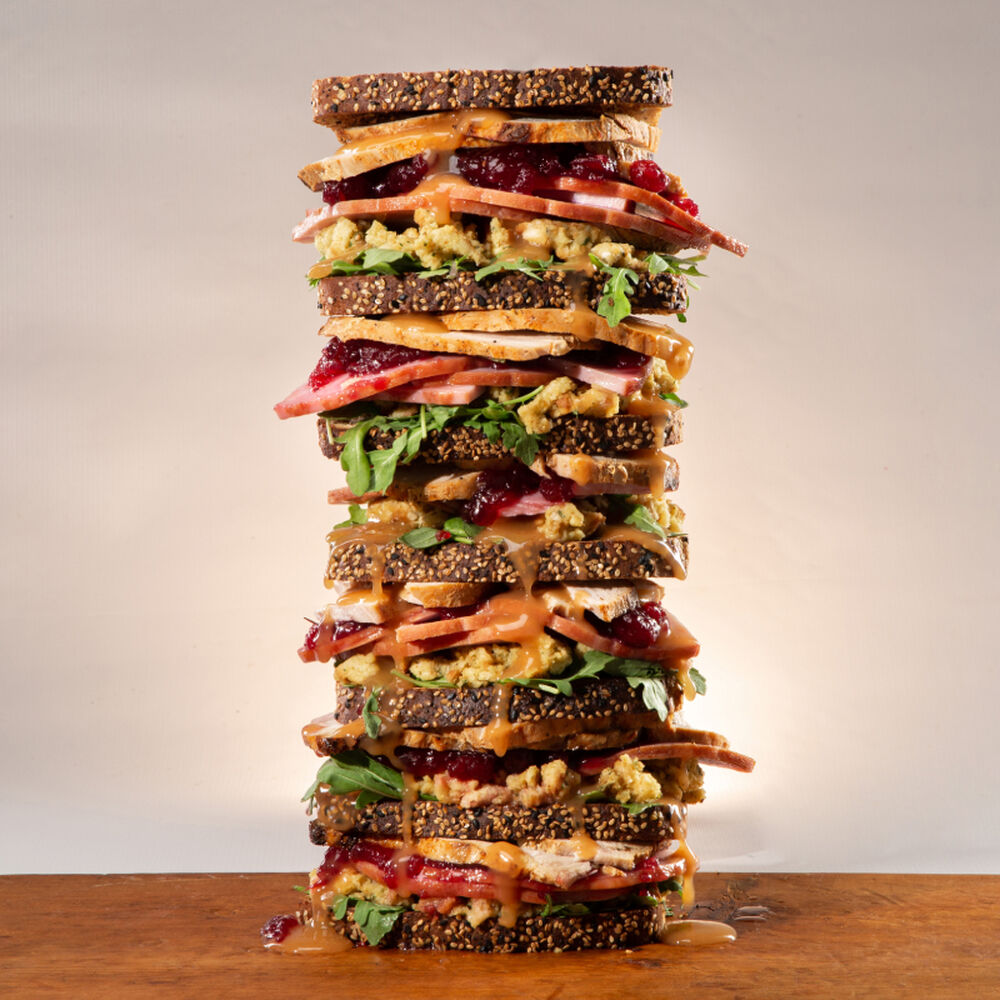 The Ultimate Thanksgiving Leftover Sandwich
Recipe Source

by the Perdue Farms Culinary Team
Wondering what to do with all that leftover turkey and ham from your holiday feast? Try this delicious Dagwood sandwich, packed with stuffing, arugula and cranberry sauce. See how high you can stack it — we dare you to try!
Nutritional Information
1 Servings Per Recipe
Total Carbohydrate: 52.7g
18%
*Percent Daily Values are based on a 2,000 calorie diet.
Ingredients
Ingredients
2 to 3 ounces sliced Perdue Whole Turkey
2 to 3 ounces sliced Niman Ranch Applewood Smoked Uncured Spiral Ham
1/3 cup stuffing, warmed
1 tablespoon cranberry sauce
1/2 cup arugula
2 tablespoons turkey gravy, warmed
1 tablespoon mayonnaise (optional)
2 slices bread
Approx. 8-lb. spiral bone-in slightly sweet, smoky ham
Step 1
Step 1
Toast bread and spread a thin layer of mayo on the inside of both slices (optional).
Step 2
Step 2
Top one side with an even layer of stuffing, followed by half of gravy.
Step 3
Step 3
On top of gravy, add sliced turkey and remaining gravy.
Step 4
Step 4
Shingle ham on top, followed by cranberry sauce and arugula
Step 5
Step 5
Top with remaining toasted bread and enjoy!
The Perdue Farms Culinary Team
Chef Chris Moyer, CEC, CRC, and Chef Shawn Reese, CEC, CRC, bring decades of combined culinary experience to their roles at Perdue Farms. The chefs contribute to recipe development, culinary ideation, and all culinary aspects of the company business.
MEET THE CHEFS