Warm German Potato Salad with Grilled Kielbasa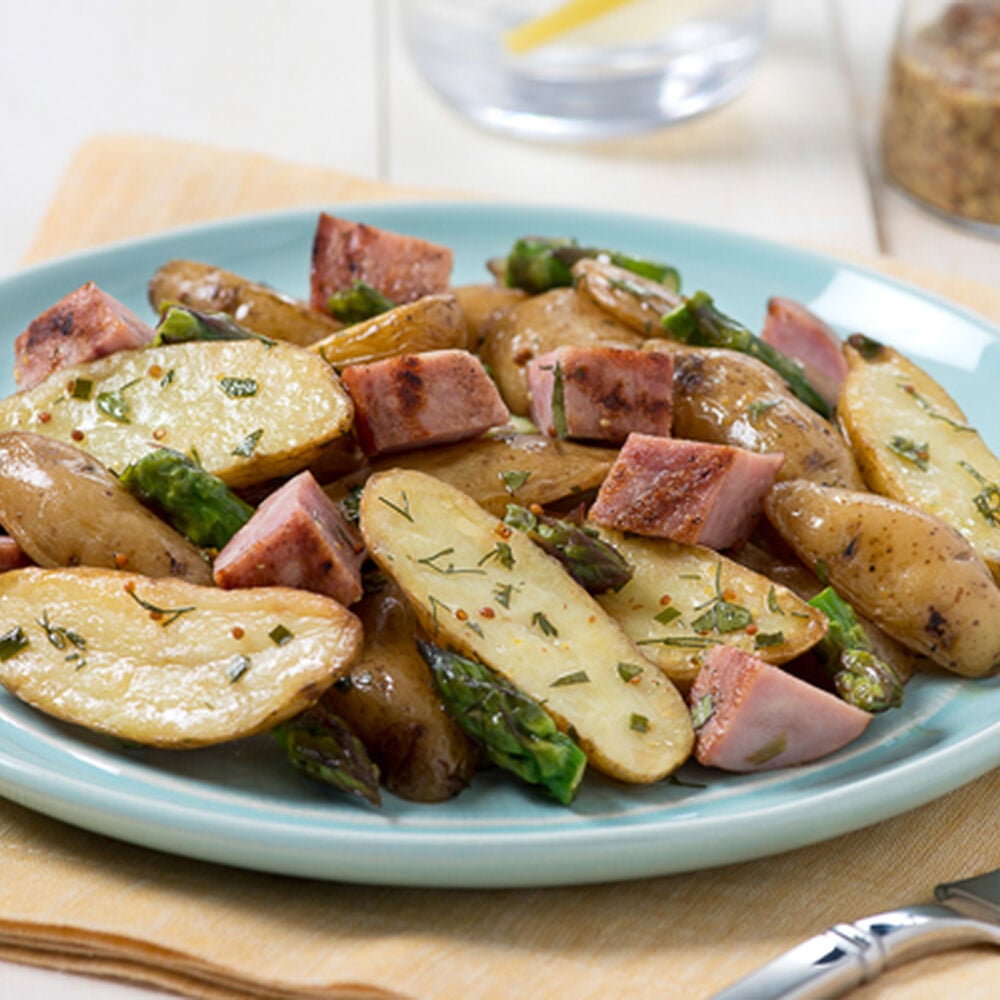 Warm German Potato Salad with Grilled Kielbasa
With grilled asparagus and kielbasa, this vinegar-based potato salad becomes a one-bowl meal. If you can't find fingerling potatoes, use baby new potatoes. And for added nutrition, toss in baby spinach and halved cherry tomatoes before serving.
Nutritional Information
*Percent Daily Values are based on a 2,000 calorie diet.
Ingredients
Ingredients
12 ounces Coleman Natural Kielbasa Rope
1/3 cup olive oil, divided
1/4 cup apple cider vinegar
2 tablespoons chopped fresh dill
2 tablespoons chopped fresh parsley
2 tablespoons chopped fresh chives
1 tablespoon grainy mustard
1 tablespoon honey
1/2 teaspoon each salt and freshly ground pepper, divided
2 1/2 pounds fingerling potatoes, halved lengthwise
1 bunch asparagus
Step 1
Step 1
Whisk 1/4 cup oil with vinegar, gherkins, dill, parsley, chives, mustard, honey and half the salt and pepper. Set aside.
Step 2
Step 2
Cook the potatoes in boiling salted water for 10 minutes or until fork tender. Drain well. Toss with the remaining oil, salt and pepper. Transfer to a disposable foil roasting pan.
Step 3
Step 3
Preheat the grill to medium-high; lightly coat the grate with cooking oil. Place the roasting pan on the grill. Cook, stirring occasionally, for 10 minutes, or until lightly golden brown. Toss the asparagus with 2 tablespoons of the vinaigrette. Grill, turning as needed, for 5 minutes or until tender-crisp. Grill the kielbasa for 1 to 2 minutes per side or until well-marked and heated through.
Step 4
Step 4
Cut asparagus into bite-size pieces. Toss potatoes, asparagus and kielbasa with remaining vinaigrette. Serve warm or room temperature.