Warm German Potato Salad with Grilled Kielbasa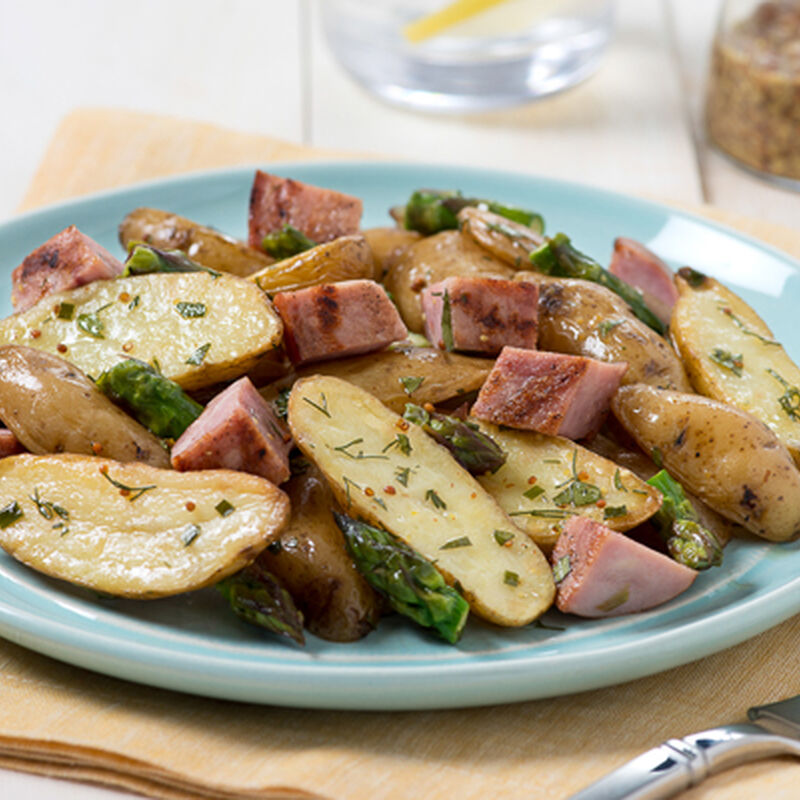 Warm German Potato Salad with Grilled Kielbasa
With grilled asparagus and kielbasa, this vinegar-based potato salad becomes a one-bowl meal. If you can't find fingerling potatoes, use baby new potatoes. And for added nutrition, toss in baby spinach and halved cherry tomatoes before serving.
Nutritional Information
Calories

390

Protein

9g

Sodium

520mg

Sat. fat

6g

Sugar

7g
Nutritional Information
*Percent Daily Values are based on a 2,000 calorie diet.
Ingredients
Ingredients
12 ounces kielbasa
1/3 cup olive oil, divided
1/4 cup apple cider vinegar
2 tablespoons chopped fresh dill
2 tablespoons chopped fresh parsley
2 tablespoons chopped fresh chives
1 tablespoon grainy mustard
1 tablespoon honey
1/2 teaspoon each salt and freshly ground pepper, divided
2 1/2 pounds fingerling potatoes, halved lengthwise
1 bunch asparagus
Timing
Timing
Prep
7 minutes
Cook
27 minutes
Step One
Step One
Whisk 1/4 cup oil with vinegar, gherkins, dill, parsley, chives, mustard, honey and half the salt and pepper. Set aside.
Step Two
Step Two
Cook the potatoes in boiling salted water for 10 minutes or until fork tender. Drain well. Toss with the remaining oil, salt and pepper. Transfer to a disposable foil roasting pan.
Step Three
Step Three
Preheat the grill to medium-high; lightly coat the grate with cooking oil. Place the roasting pan on the grill. Cook, stirring occasionally, for 10 minutes, or until lightly golden brown. Toss the asparagus with 2 tablespoons of the vinaigrette. Grill, turning as needed, for 5 minutes or until tender-crisp. Grill the kielbasa for 1 to 2 minutes per side or until well-marked and heated through.
Step Four
Step Four
Cut asparagus into bite-size pieces. Toss potatoes, asparagus and kielbasa with remaining vinaigrette. Serve warm or room temperature.