Keto-Friendly Baked Chicken Flautas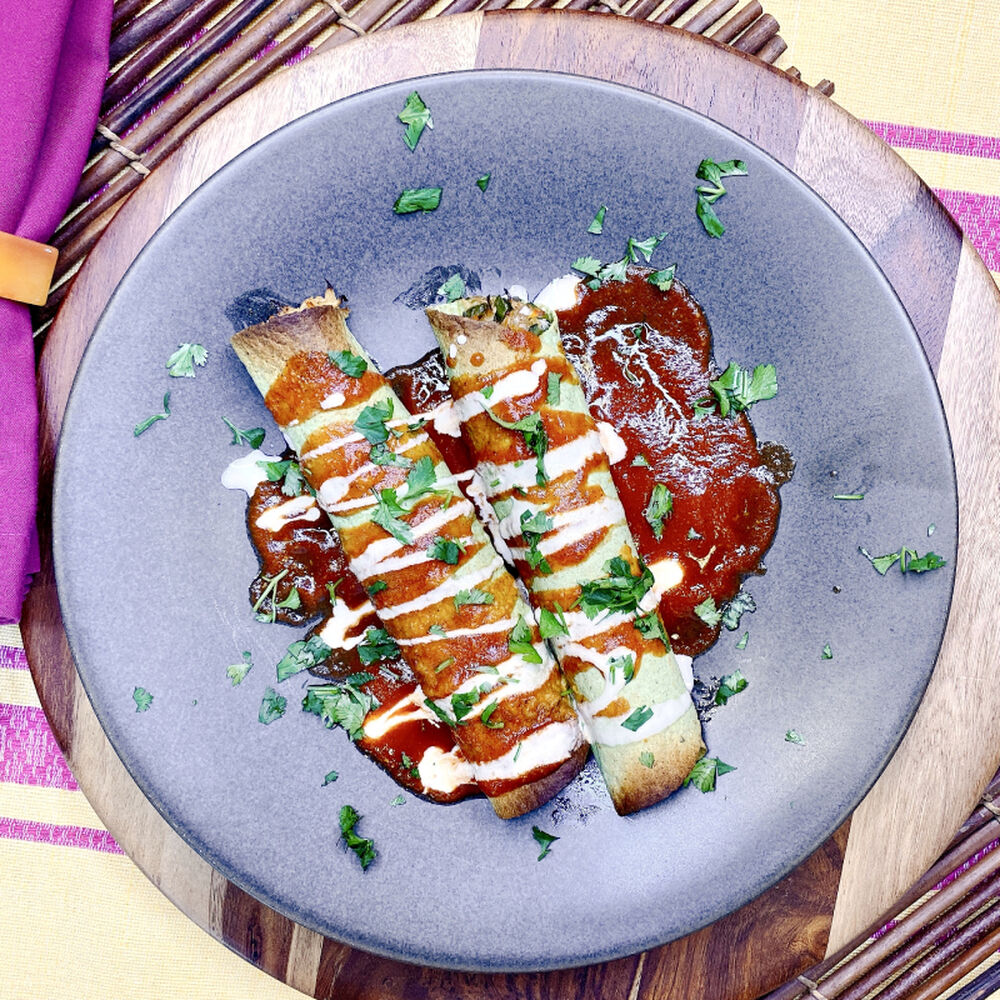 Keto-Friendly Baked Chicken Flautas
Using shredded meat from slow-cooked chicken thighs, flautas come together quickly and can bake in the oven while you prepare sides, toppings and dessert.
Nutritional Information
8 Servings Per Recipe
Total Carbohydrate: 59.2g
*Percent Daily Values are based on a 2,000 calorie diet.
Ingredients
Ingredients
2 cups shredded Perdue Bone-In Chicken Thighs meat
4 tablespoons olive oil, divided
1 cup chopped red onion
1 poblano pepper, chopped
3/4 cup cored and chopped red or yellow bell pepper
2 garlic cloves, chopped
1 jalapeño pepper, cored and chopped
1 1/2 cups shredded cheddar cheese
7 to 8 spinach tortillas
One 15-ounce can tomato sauce
One 1-ounce packet taco seasoning
1/4 cup chopped cilantro leaves
1/4 cup sour cream
Salt and pepper, to taste
Step 1
Step 1
Preheat oven to 400 F. In a large pan set over medium heat, add 2 tablespoons olive oil. Add onion, peppers, garlic, salt and pepper, stirring occasionally to cook until soft, about 5 minutes. Mix in shredded chicken and 1/2 cup water, cooking for another 2 minutes until well combined. Remove from heat.
Learn how to make shredded chicken here
.
Step 2
Step 2
Using a flat surface, place 1/2 cup of chicken mixture in a line across center of one tortilla. Sprinkle with cheese and roll tightly with ends open. Place flauta on cookie sheet with the seam side down, pressing down to fix firmly in place. Repeat with remaining tortillas until all filling is used. Brush tops and sides of flautas with a light layer of oil, using about 1 tablespoon total spread across all the flautas. Place in oven and bake for 15 minutes.
Step 3
Step 3
In another pan, heat 1 tablespoon olive oil over medium heat. Add entire packet of taco seasoning and stir to mix. Add tomato sauce and 1/2 cup water to pan, stirring well, over medium heat for about 3 minutes or until bubbling.
Step 4
Step 4
Remove flautas from oven when done, placing 1 or 2 on each dish to serve. Top generously with tomato sauce mixture, sprinkle with chopped cilantro and add a dollop of sour cream, if desired.